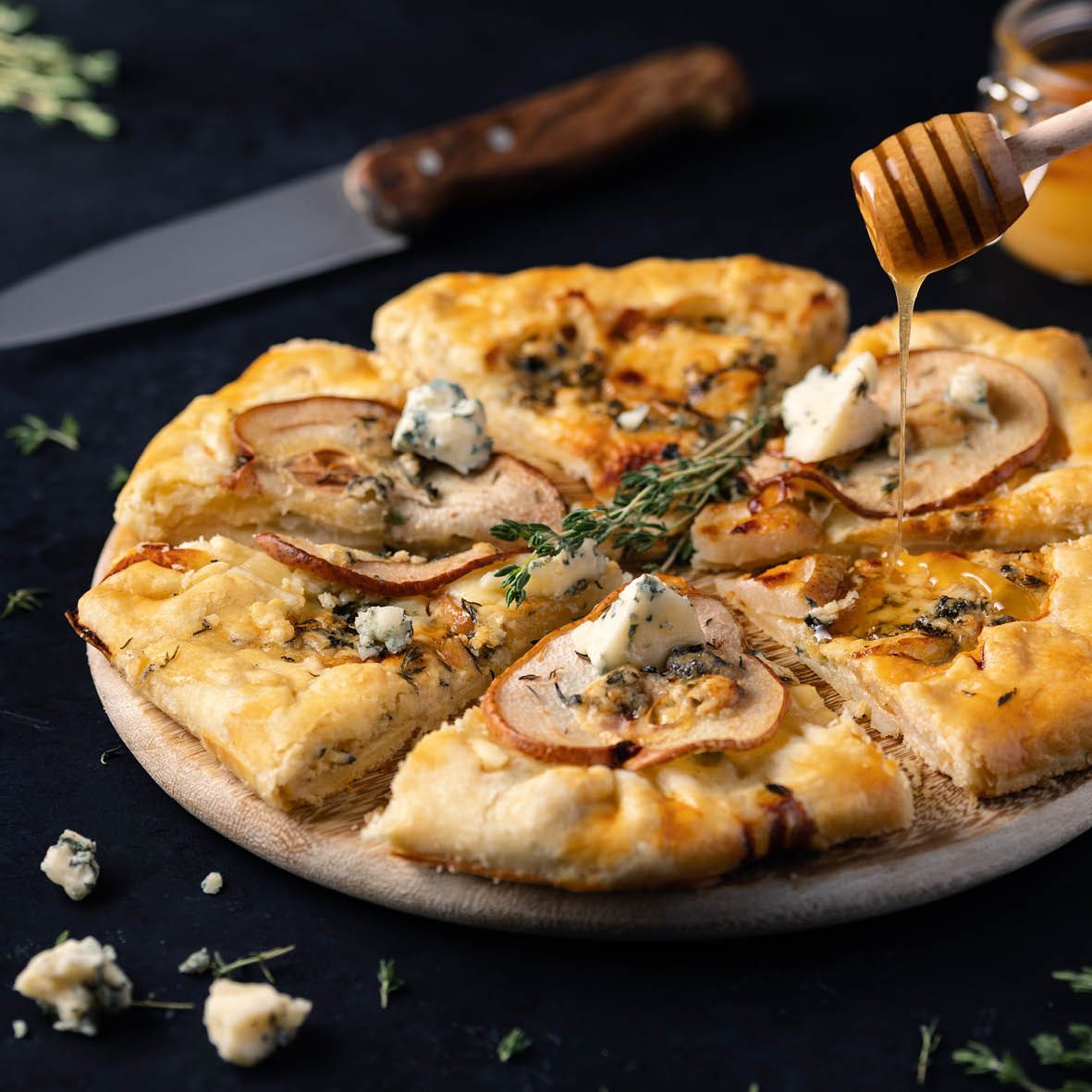 Galette with Saint Agur, Pears and Honey
A buttery homemade galette crust is topped with fresh Tasmanian pears and Saint Agur cheese. Made from pasteurised cow's milk Saint Augur is a blue cheese with a salty, tangy taste and smooth and creamy texture that makes it ideal for cooking.
How long will it take?
2 hours, including chilling time
What's the serving size?
Serves 2
---
What do I need?
210 g plain flour, plus extra for dusting
½ tsp salt
140 g cold unsalted butter, cubed
4-5 tbsp ice-cold water
2 Beurre Bosc Pears, thinly sliced
150 g Saint Agur
1 large free range egg yolk, beaten
50 mL honey for drizzling
How do I make it?
Place flour and salt in a food processor with butter. Pulse until the mixture resembles small clumps, then turn the machine on and add in 4 tablespoons of the water gradually. If the dough does not start to come together add remaining tablespoon of water.
Transfer onto a lightly floured surface and lightly knead so that no dry spots remain, then form the dough into a 10 centimetre disc and wrap with clingfilm. Place in the fridge for at least 1 hour.
Remove dough from fridge 10 minutes before you are ready to roll it out.
Preheat oven to 200C. Line a baking tray with baking paper.
Lightly flour working surface and roll dough into a 20-centimetre circle and transfer to baking tray. Top dough with slices of pear and Saint Agur leaving a 3-centimetre border. Use your fingers to bring edges of dough up and brush with egg. Bake, rotating once, until the crust is golden brown and cooked through, about 40 minutes. Let cool slightly before drizzling with honey and serving.
---
Share this recipe
---
More recipes like this