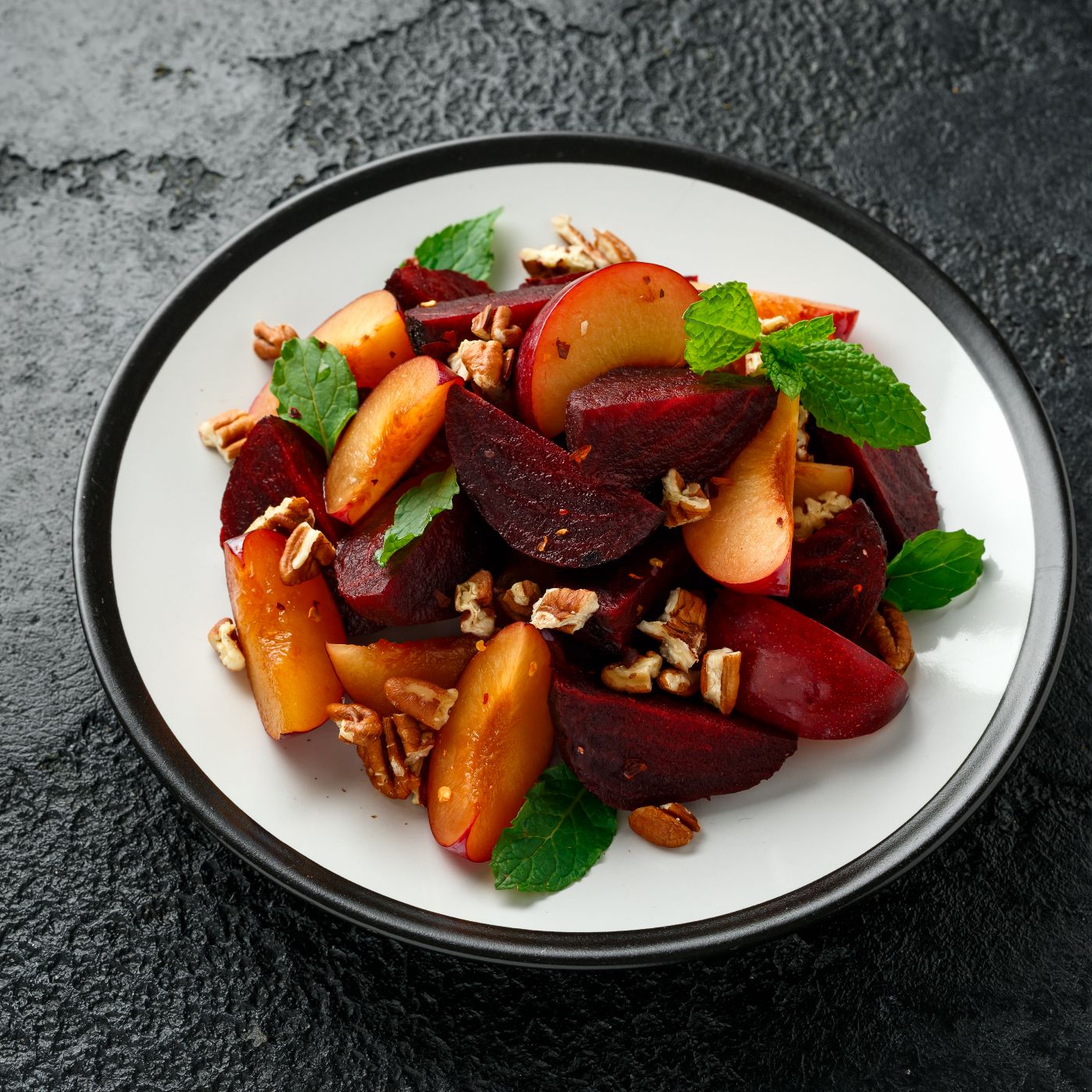 Plum, Beet, and Pecan Salad
Beetroot and plums are the flavour combination you didn't know you needed. The sweetness of the plums balances the earthy roasted beetroot to produce a thoroughly delicious salad that works well as an accompaniment to lamb, duck or beef.
How long will it take?
1 hour
What's the serving size?
Serves 4 as a side salad
---
What do I need?
4 beetroot, about tennis ball size
6 plums, cut into wedges
80 g pecans, toasted and roughly chopped
½ bunch mint, leaves
1 ½ tbsp olive oil
½ tbsp red wine vinegar
½ tbsp pomegranate molasses
How do I make it?
Preheat oven to 200C.
Remove any leaves from beetroot, leaving a 2 ½ centimetre stem. Rinse beetroot under cold running water and then wrap each beetroot loosely in aluminium foil. Place in a limed baking tray and cook for 45 – 60 minutes or until they are knife tender. Remove from oven and set aside to cool a little in the foil.
While the beetroot are warm, use a sharp knife to trim the stem and root ends and to peel the skin from the beetroot. Cut beetroot into wedges.
Add beetroot, plums, pecans, and three-quarters of the mint to a bowl.
Mix olive oil, red wine vinegar and pomegranate molasses in a small bowl and pour over the salad and toss to coat.
Garnish with remaining mint and serve.
---
Share this recipe
---
More recipes like this