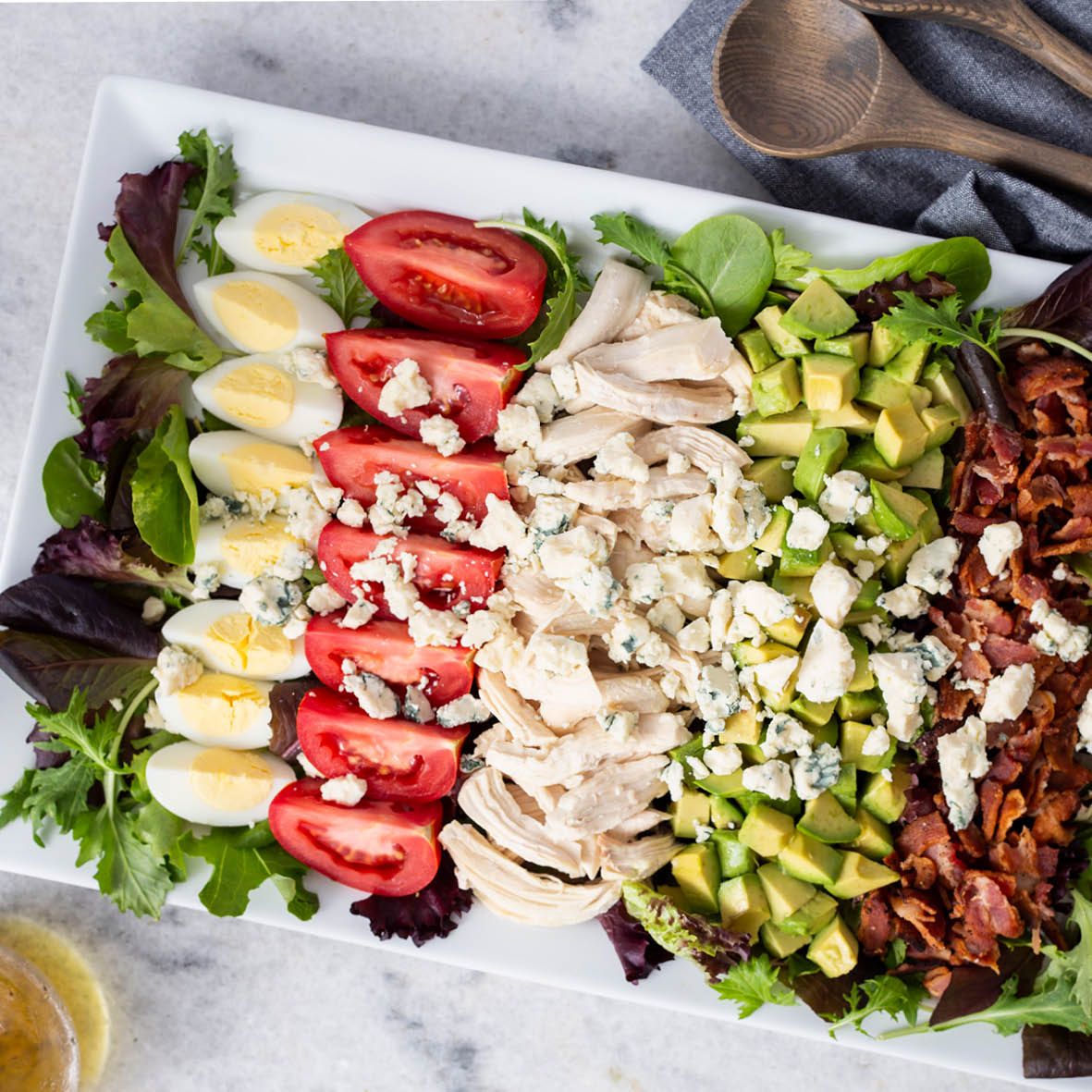 Cobb Salad
A favourite in the United States, Cobb Salad is a great addition to your recipe repertoire. It's packed full of familiar flavours, and because it is traditionally served with the ingredients laid out in rows, fussy eaters can select the ingredients they want. We used a cold barbecue chicken to make our Cobb Salad because it's quick and easy but you could cook and chop chicken breasts if you prefer.
How long will it take?
35 minutes
What's the serving size?
Serves 6
---
What do I need?
For the Dressing
1/3 cup red wine vinegar
1 tbsp Dijon mustard
2/3 cup olive oil
1 garlic clove, minced
Salt to taste
Freshly ground black pepper to taste
For the Salad
8 rashers bacon, roughly chopped
4 large free range eggs
1 cos lettuce, roughly chopped
3 cups barbecue chicken, chopped
3 tomatoes, quartered
1 avocado, peeled and diced
125 g blue cheese, crumbled
How do I make it?
Add dressing ingredients to a jar and shake well to combine. Set aside.
Preheat oven to 200C. Line a baking tray with baking paper and lay bacon on the tray. Cook in oven for 10 minutes, then flip pieces and return to the oven for a further 5 minutes or until the bacon is well cooked and starting to crisp.
Meanwhile place eggs in a saucepan and cover with cold water (you should fill the pan to approximately 1 centimetre above the eggs. Cook over high heat until the water comes to the boil. When the water is boiling, remove from saucepan from the heat and cover with a lid. Leave for 6 minutes before removing eggs and placing in a bowl of iced water to cool for 10 minutes. When eggs have cooled, remove the shell and cut them into quarters.
Arrange lettuce on a platter and then add rows of chicken, bacon, avocado, tomato and avocado.
When ready to serve, shake the dressing and drizzle over salad, before crumbling blue cheese on the top.
---
Share this recipe
---
More recipes like this