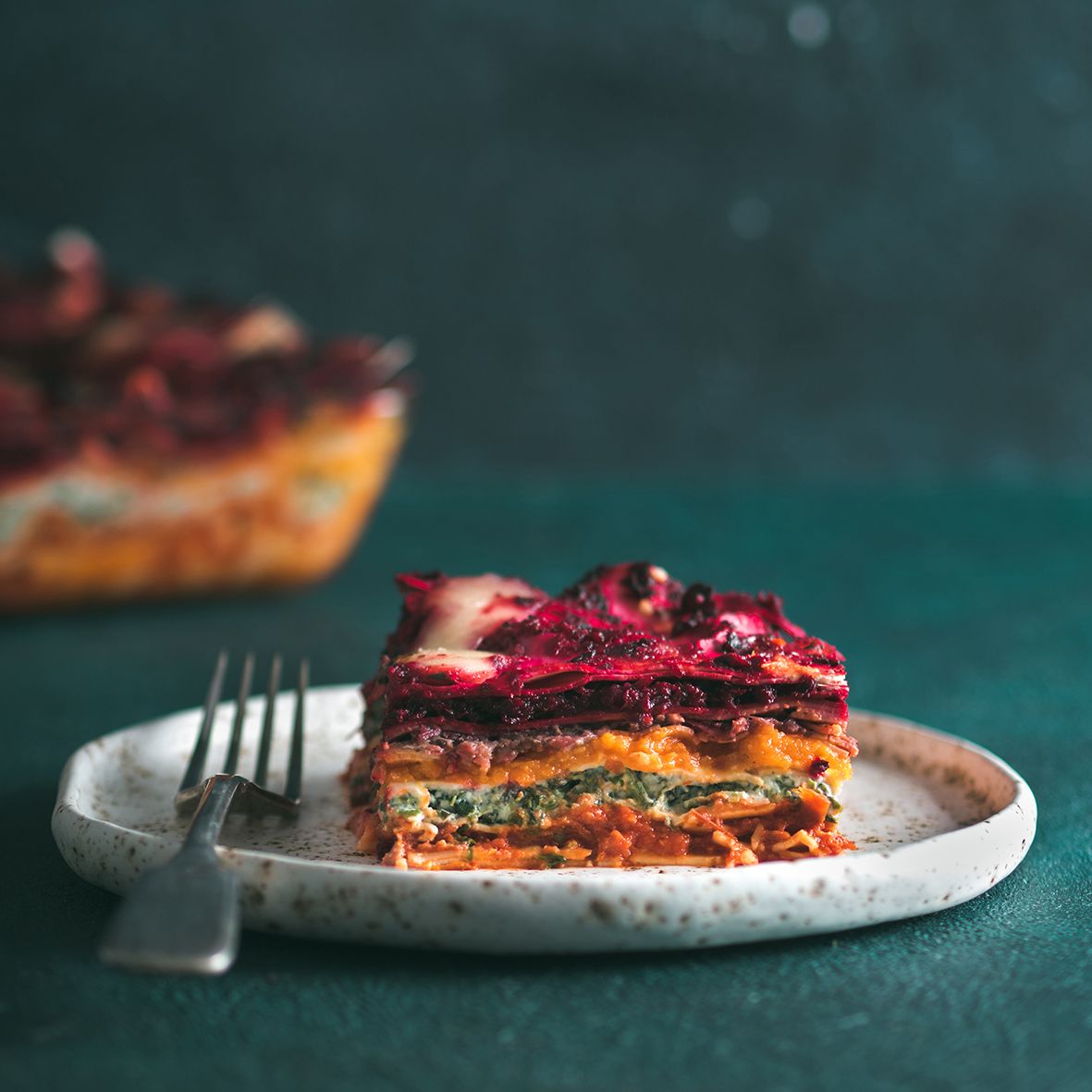 Veggie Rainbow Lasagne
This stunning vegetarian lasagne tastes just as good as it looks. Packed with fresh vegetables it is a tasty way to get the whole family eating more vegetables.
How long will it take?
45 minutes
What's the serving size?
Serves 6
---
What do I need?
1 butternut pumpkin, peeled and chopped into small pieces
4 large beetroot, peeled and chopped into small pieces
6 tbsp olive oil, divided
1 large brown onion, finely diced
1 ½ x 400 g tin whole peeled tomatoes
6 cloves garlic, divided – 3 cloves minced, 3 cloves whole
1 tsp dried basil
1 tsp dried oregano
1 tsp dried rosemary
1 tsp dried thyme
1 tsp dried parsley
1 tsp red chili flakes
1 ½ cups fresh basil leaves
200 g parmesan, grated, divided
¼ cup pine nuts, toasted
100 g baby spinach leaves
25-30 fresh lasagne sheets
150g buffalo mozzarella
How do I make it?
Preheat oven to 180C.
Using two baking trays, place chopped pumpkin on one tray and drizzle with a little olive oil and season with salt and pepper. Place chopped beetroot on the other tray, drizzle with olive oil and season with salt and pepper. Roast both in the oven for 20 minutes or until just cooked. Allow to cool slightly then puree pumpkn in a food processor or blender until smooth. Transfer to a bowl and set aside. Repeat pureeing process for beetroot and transfer to a separate bowl and set aside.
Heat 2 tbsp olive oil in a large frying pan over medium-high heat. Add onion and cook for 3 minutes or until the onion starts to colour, then add 3 cloves minced garlic and cook for a further 1 minute. Add tomatoes and reduce heat to low and simmer for 5 minutes. Add dried herbs, increase heat and bring sauce to the boil, stirring continuously. Reduce heat to low, cover pan and leave to simmer for 5-10 minutes or until the sauce has thickened. Remove from heat and set aside.
In a blender combine basil, 3 cloves garlic, 60 g of parmesan, pine nuts and 3 tbsp olive oil. Blitz until smooth and season to taste. Add spinach and blend until the spinach is roughly chopped. Set aside.
To assemble the lasagne start by spreading a thin layer of the tomato mix on the bottom of an ovenproof casserole dish, then add a layer of lasagne sheets. Next add a layer of the basil and spinach pesto mixture and top with lasagne sheets. Add a layer of pureed pumpkin, followed by lasagne sheets, then a layer of beetroot and top with lasagne sheets. Continue layering, finishing with a layer of beetroot. Top with torn mozzarella and remaining grated parmesan.
Bake the lasagne in the oven for 30-40 minutes.
Let rest for at least 15 minutes before serving.
---
Share this recipe
---
More recipes like this