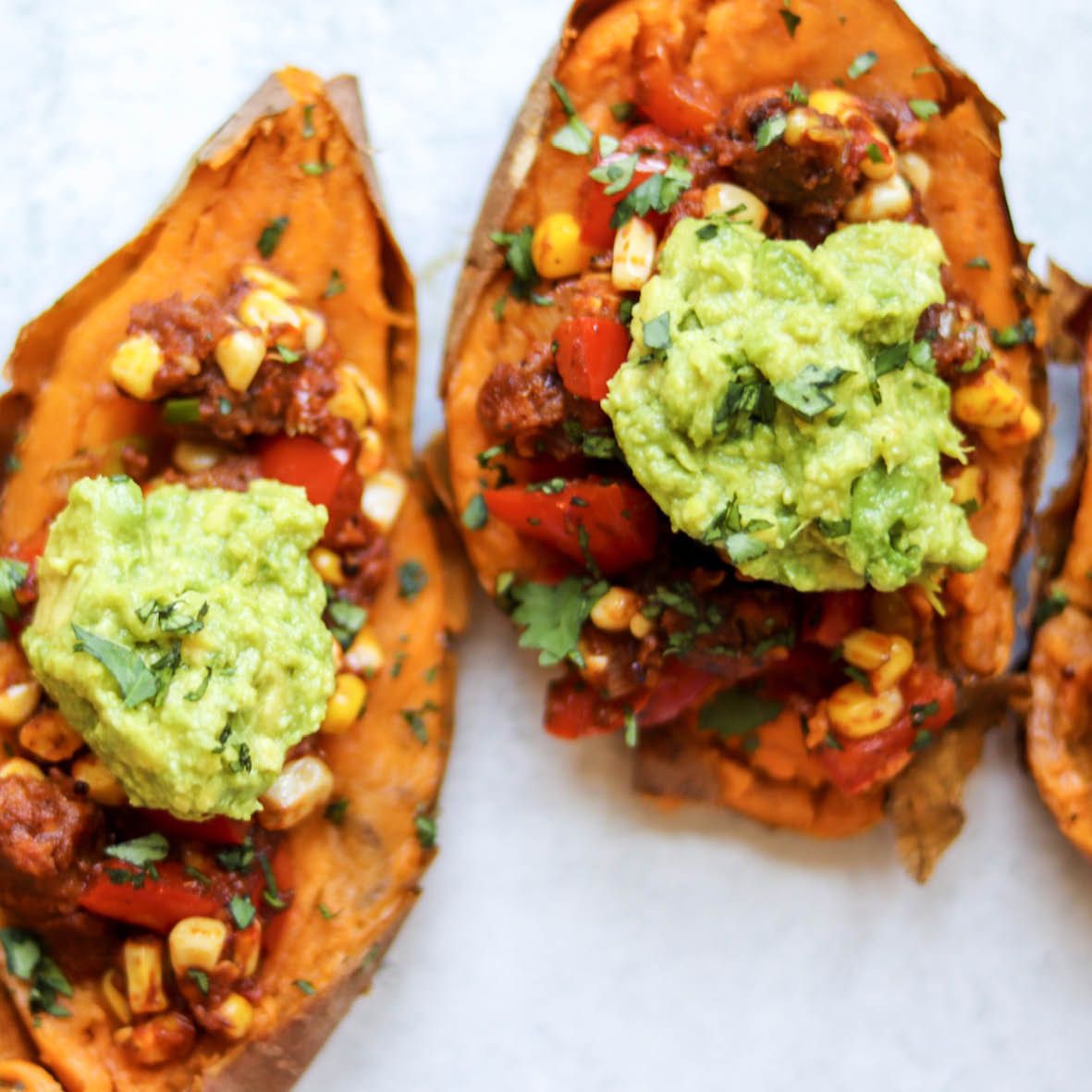 Stuffed Sweet Potatoes
These tasty sweet potatoes are a delicious meal that just happens to be vegan. Roasting the sweet potatoes makes them soft and creamy with a lovely caramelisation. You can experiment with adding other flavours to the filling but for us, it's just perfect the way it is.
How long will it take?
1 ½ hours
What's the serving size?
Serves 4
---
What do I need?
4 medium to large sweet potatoes
2 tbsp olive oil, divided
2 spring onions, thinly sliced
1 red capsicum, chopped
1 tsp chilli powder
1 tsp cumin
1 cup corn kernels
1 cup tofu, roughly chopped
75g tomato paste
1 clove garlic, minced
2 avocados
Juice of 1 lime
½ cup coriander leaves, finely chopped
Salt to taste
How do I make it?
Preheat oven to 220C. Line two baking trays with baking paper.
Place tofu on one tray and brush with 1 tbsp olive oil. Roast for 30 minutes, flipping halfway through cooking.
On the other tray place sweet potatoes. Poke holes in each sweet potato with a fork and roast for 1 hour or until tender.
While potatoes are cooking, prepare the filling by heating remaining olive oil in a frying pan and adding capsicum, onion, cumin and chilli powder. Cook, stirring occasionally for 4 minutes. Add corn and cook for a further minute then stir in the tomato paste and remove from heat. Set aside.
Make a guacamole by mashing avocado and combining with garlic, lime juice and coriander and salt.
To serve, remove tofu from the oven and add to the capsicum and tomato paste mixture, tossing to ensure the tofu is well coated.
Cut sweet potatoes in half and top each half with the tofu mixture. Add a scoop of guacamole and enjoy immediately.
---
Share this recipe
---
More recipes like this