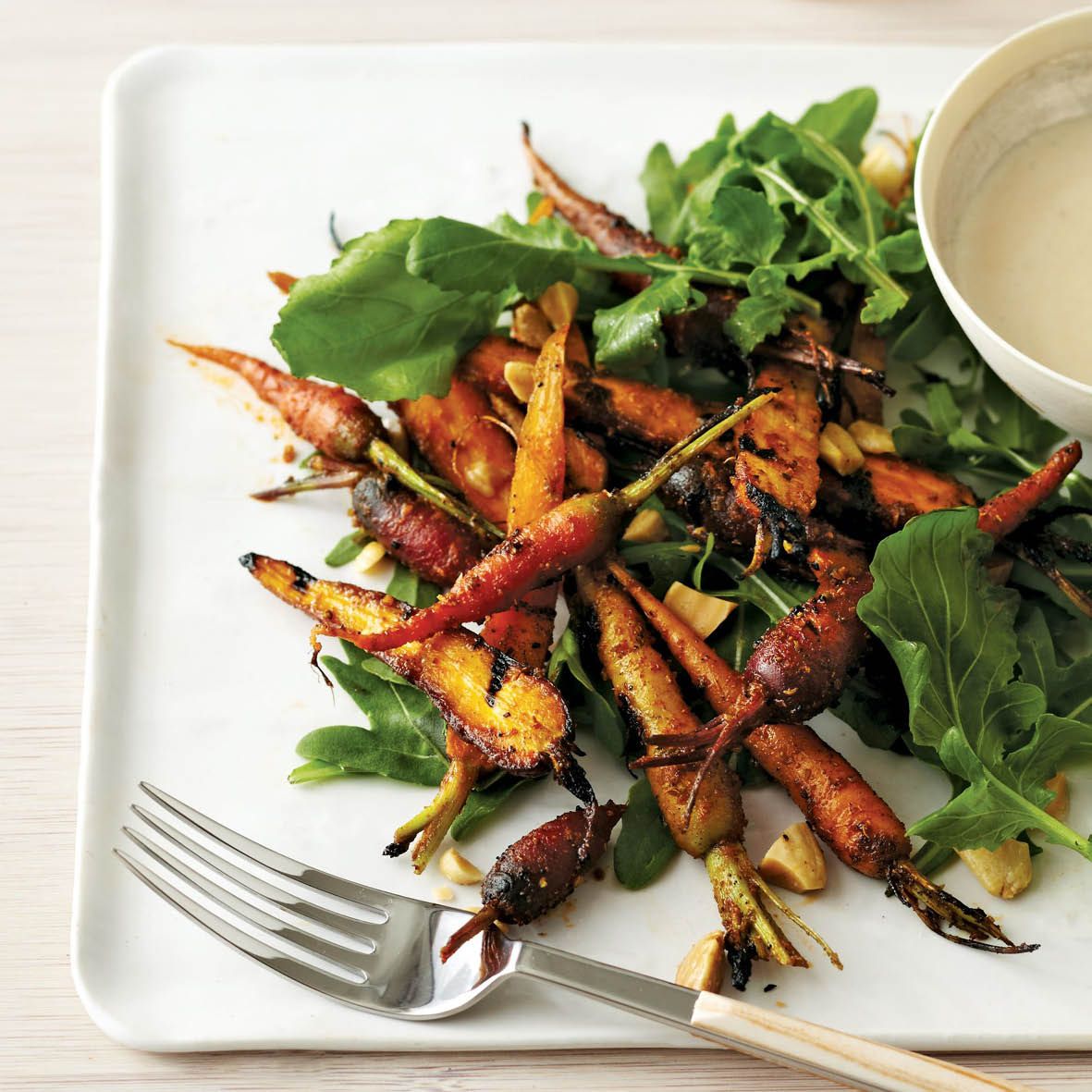 Grilled Carrot Salad with Brown Butter Vinaigrette
This fabulous recipe makes the most perfect side-dish. The carrots spend a couple of hours marinating in a herb and spice mix before hitting the grill. Grilling concentrates the sweet flavour and creates a lovely caramelisation of the marinade leading to an oh-so-tasty flavour.
How long will it take?
2 ¼ hours
What's the serving size?
Serves 6
---
What do I need?
½ cup extra-virgin olive oil
2 tbsp. smoked sweet paprika
1 tbsp. ground fennel
1 tbsp. ground coriander
2 clove garlic
4 sprig thyme
500g baby carrots
Salt
Freshly ground pepper
4 tbsp. unsalted butter
2 tbsp. sherry vinegar
1 tbsp. water
2 tbsp almonds
150g rocket
How do I make it?
In a bowl, combine the olive oil, paprika, fennel, coriander, garlic, and thyme. Add the carrots and let stand for 2 hours.
Preheat a grill pan. Remove the carrots from the marinade and season with salt and pepper. Grill over moderate heat, turning, until crisp and tender, 6 minutes. Transfer to a bowl.
Meanwhile, in a small skillet, cook the butter over moderate heat until lightly browned and nutty-smelling, shaking the pan gently, about 5 minutes. Scrape the butter and solids into a blender. Add the vinegar, water, and the 2 tablespoons of almonds; puree until smooth. Season the vinaigrette with salt and pepper.
Add the vinaigrette and rocket to the carrots; toss to coat. Transfer the salad to plates, sprinkle with chopped almonds and serve.
---
Share this recipe
---
More recipes like this