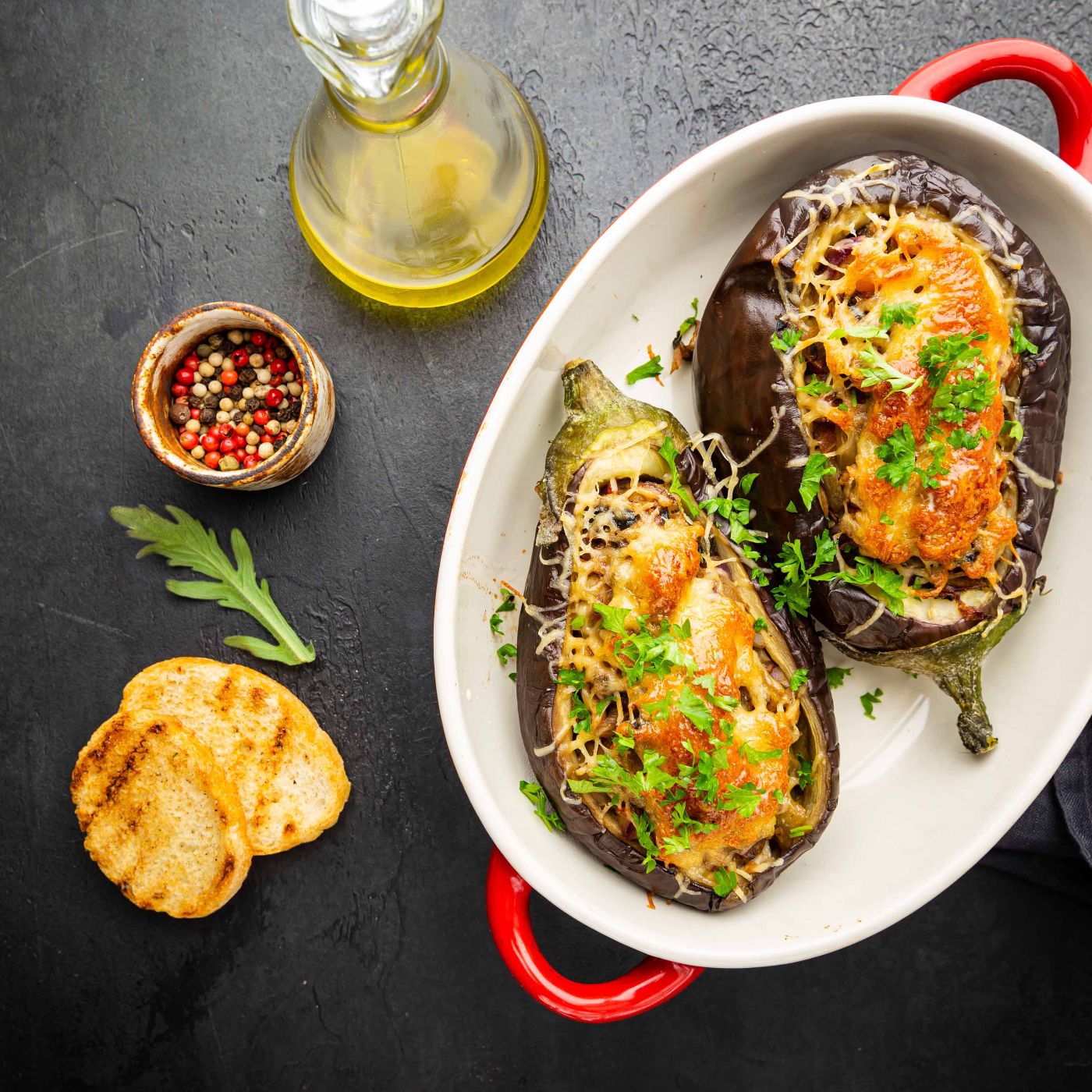 Cheesy Baked Eggplant
With their shape and size, eggplants are the perfect vegetable to pack with a tasty filling and bake in the oven. This Cheesy Baked Eggplant is vegetarian and has a subtle hint of heat from the cayenne pepper. If you don't like heat, use paprika instead of cayenne pepper.
How long will it take?
45 minutes
What's the serving size?
Serves 4
---
What do I need?
2 large eggplant
Olive oil
Salt, to taste
Freshly ground black pepper, to taste
½ small brown onion, diced
2 cloves garlic, minced
1 medium tomato, diced
1 tbsp tomato paste
Pinch cayenne pepper
100 g mushrooms, diced
80 g mozzarella, grated
2 tbsp flat leaf parsley, roughly chopped, to serve
How do I make it?
Preheat oven to 200C.
Cut each eggplant in half, leaving the tops intact. Use a sharp knife to score the flesh, then place on a baking tray with the cut side facing up. Drizzle with olive oil and season to taste. Bake for 30 minutes or until the eggplant are soft.
Meanwhile, add a splash of olive oil to a frying pan over medium heat. Add onion and garlic, and cook for 3 minutes, or until the onion starts to soften. Add tomato, tomato paste, and cayenne pepper, and cook until the tomato softens.
Remove the flesh from the roasted eggplants and roughly chop. Reserve eggplant skins. Add eggplant flesh and mushrooms to the pan and continue cooking until the mushrooms are softened. Season to taste, then remove from the heat.
Spoon mixture in eggplant skins and sprinkle over grated mozzarella. Cook, in oven, until the cheese is melted and golden, about 7 minutes.
Serve immediately.
---
Share this recipe
---
More recipes like this