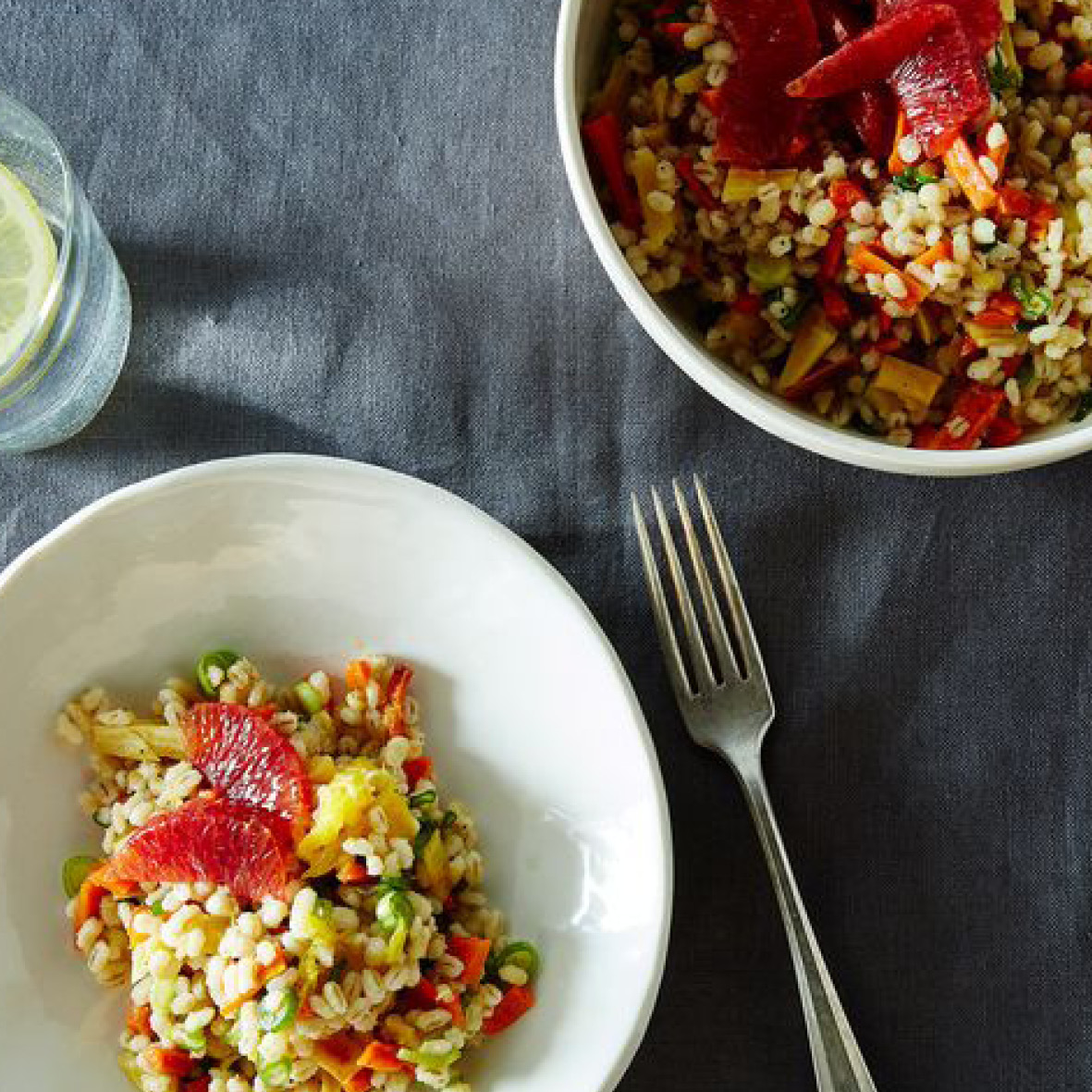 Blood orange, roasted root vegetables and barley salad
Use gorgeous, bright coloured seasonal citrus fruit and earthy root vegetables to chase the winter blues away.
How long will it take?
1 hour 40 minutes
What's the serving size?
Serves 4
---
What do I need?
1/3 cup barley
1 teaspoon salt, divided, plus more to taste
1 large parsnip, peeled and cut into sticks
3 medium carrots, peeled and cut into sticks
4 tablespoons olive oil, divided
Pepper, to taste
1 teaspoon ground flaxseed
2 green onions, chopped
½ blood orange, juiced (do not discard the pulp)
½ cup chopped almonds (or use almond meat leftover from making almond milk)
½ blood orange, segmented, to garnish
How do I make it?
Add the barley to a pot with 2 1/4 cups water and 1/2 teaspoon salt.
Bring the water to a boil, then reduce the heat to a low simmer, covered, until the barley is tender and the water is absorbed, about 45 minutes.
Remove from heat and drain off any excess water. This will make 2 cups.
Preheat the oven to 200º. Place the parsnip and carrots on a parchment-lined baking sheet and drizzle with 1 tablespoon olive oil and 1/2 teaspoon salt and pepper. Toss to coat evenly.
Roast for 30 to 40 minutes, until fork-tender and slightly browned. Remove from oven and allow to cool slightly. If you have over 1 cup of vegetables, reserve the rest in the refrigerator for your next salad.
Set aside the vegetables you are using. In a small bowl, combine the flaxseed and 3 teaspoons water and set aside to soak for at least 1 minute.
To assemble the salad, combine the green onions, orange juice, soaked flaxseed, and the remaining 3 tablespoons of the olive oil in a medium-sized bowl and stir to combine.
Add salt and pepper to taste. Add the barley and chopped root vegetables and toss the whole mixture to combine thoroughly.
Transfer the mixture to a large serving bowl with the segmented orange as garnish.
---
Share this recipe
---
More recipes like this