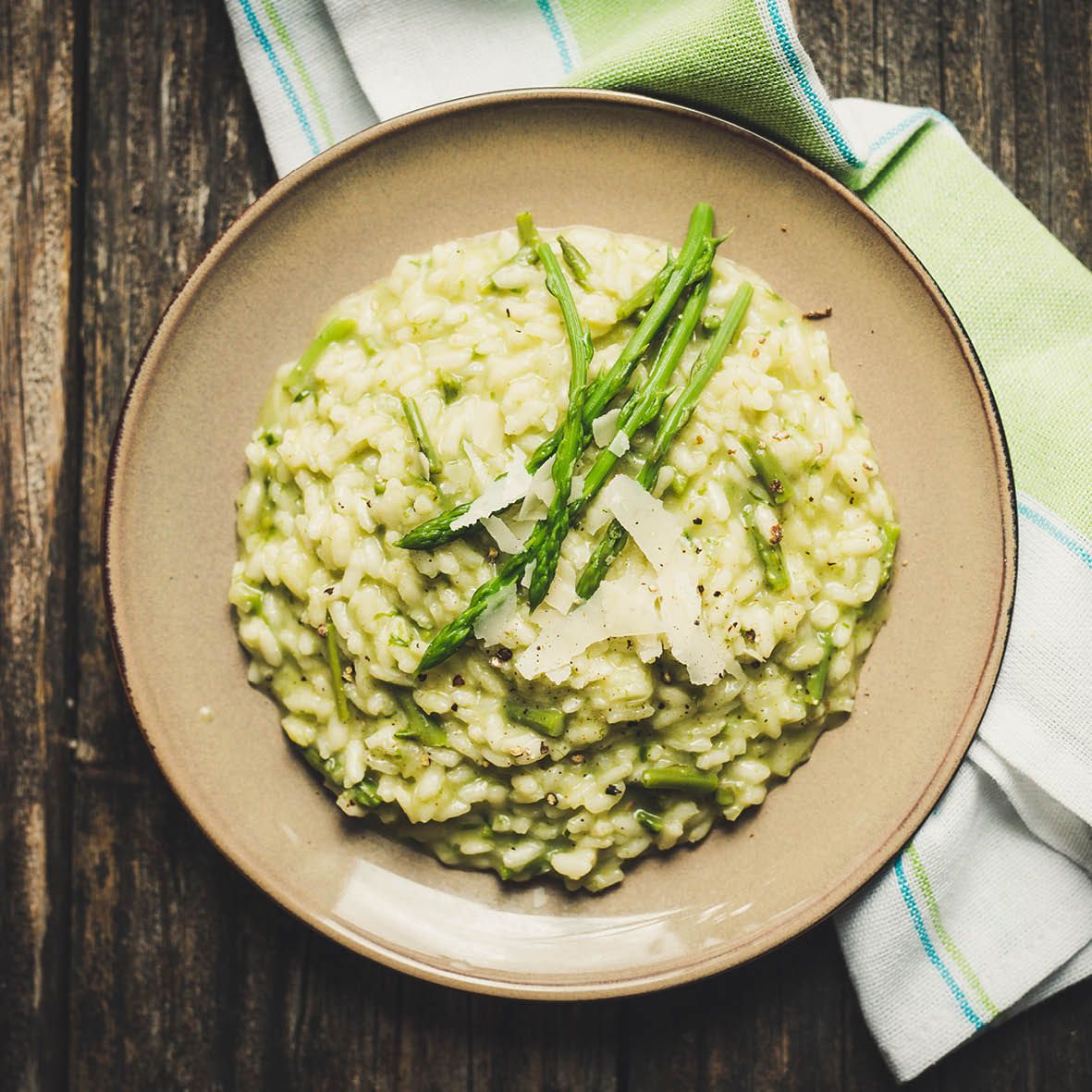 Asparagus Risotto
A warm and filling meal is exactly what you need to get through these cold Tassie nights. This Asparagus Risotto is creamy and full of fabulous flavour and although we've opted for a vegetarian version, you could add chicken if you prefer.
How long will it take?
40 minutes
What's the serving size?
Serves 4
---
What do I need?
2 tbsp unsalted butter, divided
1 tbsp olive oil
½ cup finely chopped shallots
2 cloves garlic, finely chopped
300 g arborio rice
¾ cup dry white wine
1 litre vegetable stock
3 bunches asparagus, ends trimmed
½ cup parmesan, grated, plus extra shaved parmesan for serving
Rind of ½ lemon, grated
¾ cup flat leaf parsley leaves, chopped
¼ cup mint leaves, chopped
How do I make it?
Heat vegetable stock in a small saucepan until it comes to a low simmer.
Take 2 bunches of asparagus and chop into pieces approximately 2.5 centimetres long. Set the remaining bunch aside.
Heat 1 tbsp butter and olive oil in a large frying pan or saucepan over a low-medium heat. Add shallots and garlic and cook for 5 minutes or until soft, but not brown.
Increase heat to high and add arborio, stirring to coat the grains.
Add white wine and stir, then begin adding stock about ½ cup at a time, stirring and letting each addition absorb into the rice before adding the next. Continue cooking, stirring, and adding stock until the rice is tender, about 25 minutes.
Meanwhile, take remaining bunch of asparagus and steam in the microwave or over a saucepan of boiling water for 2-3 minutes. Remove from heat and set aside.
Add chopped asparagus with the last addition of stock and stir well. Cook for a few minutes, or until the asparagus is just cooked through. Add remaining 1 tbsp of butter, ½ cup of grated parmesan and stir to combine, then remove from heat.
Add lemon rind, parsley and mint and stir well.
Serve garnished with shaved parmesan and steamed asparagus.
---
Share this recipe
---
More recipes like this