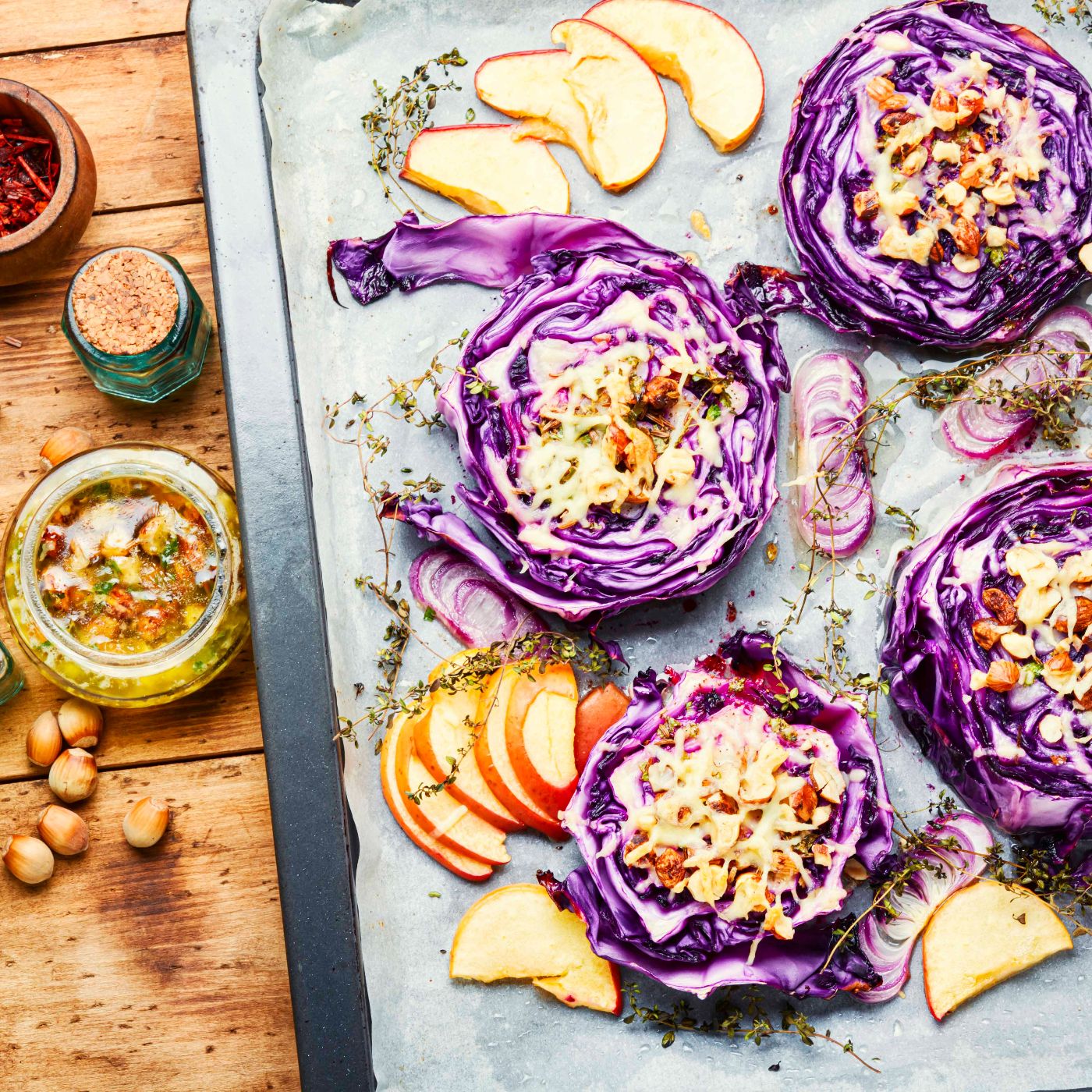 Roasted Red Cabbage Steaks
Looking for a tasty vegetarian dinner option? Red cabbage steaks are the answer. Roasted in the oven with a delicious topping of apple, hazelnuts and honey, this also makes a great side dish.
How long will it take?
45 minutes
What's the serving size?
Serves 4
---
What do I need?
1 large red cabbage
½ cup olive oil, divided
Salt, to taste
Freshly ground black pepper, to taste
4 apples
2 tbsp balsamic vinegar
2 tsp Dijon mustard
3 tsp honey, divided
1 clove garlic, minced
½ cup hazelnuts
½ cup mozzarella, grated
How do I make it?
Line a baking tray with baking paper.
Cut the bottom of the cabbage so that it sits flat on a chopping board, then cut into 4 even slices, about 3 ½ centimetres thick.
Lay cabbage steaks on baking tray and brush with ¼ cup olive oil. Season with salt and pepper.
Roast in the oven for 15 minutes, then remove from oven and turn over.
Peel and core apples. Cut 2 apples into slices and lay on the baking tray next to the cabbage. Drizzle apple slices with 1 tsp honey. Cut remaining 2 apples into a fine dice.
Add diced apple to a bowl with remaining olive oil, balsamic vinegar, Dijon mustard, 2 tsp honey, garlic, hazelnuts and mozzarella. Toss to combine ingredients, then spoon over the cabbage steaks. Return the baking tray to the oven and cook for a further 15 minutes.
Serve with cooked apple slices and an extra drizzle of honey, if desired.
---
Share this recipe
---
More recipes like this