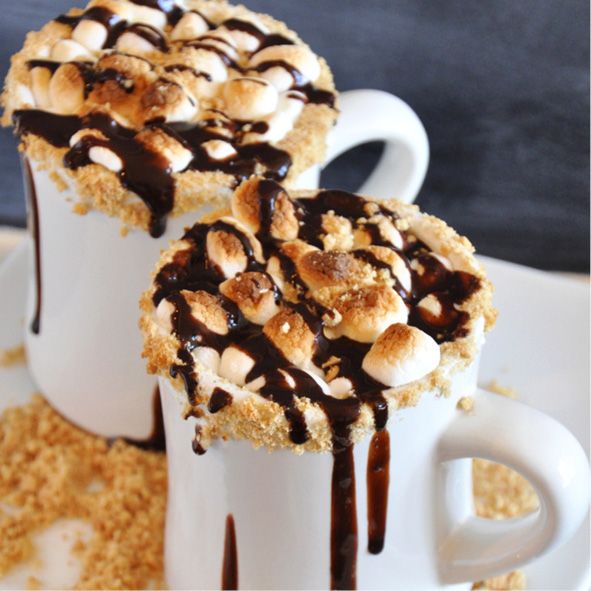 S'mores hot chocolate
S'mores are an American institution and this is a decadent twist on the traditional camp-fire treat.
How long will it take?
10 minutes
What's the serving size?
Serves 2
---
What do I need?
2 cups milk, any kind
1 cup water (or use 3 cups milk)
¼ cup cocoa powder
2 Tbsp light chocolate syrup
2 Tbsp sugar
¼ tsp non-bitter stevia (or add 1-2 Tbsp more sugar to taste)
Pinch of salt
Sweet biscuits of choice, crushed (for lining rim)
½ cup marshmallows
How do I make it?
Preheat oven to low grill and move oven rack to the second from the top (high enough up to grill your marshmallows). Place baking tray on rack.
Heat milk and water in a saucepan over medium heat until warmed through - about 5 minutes. Be careful not to overheat or scald.
Add cocoa powder, chocolate syrup, sugar, stevia and salt and whisk vigorously until thoroughly combined.
Meanwhile, take a few marshmallows and rub them around the top of your mugs so the biscuits will stick. Then, dip mug in biscuit crumbs until well lined. You could also add some biscuit crumbs to the bottom of your mug for extra biscuit flavour.
Pour in hot chocolate and top with ¼ cup marshmallows each. Carefully set mugs on the baking tray in the oven and grill marshmallows until browned, watching carefully as to not let them burn.
Carefully remove from the oven with a towel and serve with holders or a small towel to protect hand from heat (they should cool quickly for handling). Top with a drizzle of chocolate syrup and extra biscuit crumbs for serving (optional).
Notes
Adjust flavours before serving, adding more chocolate or sugar if you prefer.
Also, you could add a shot of Kahlua or Bailey's to make it a boozy hot chocolate.
Recipe from Minimalist Baker
---
Share this recipe
---
More recipes like this