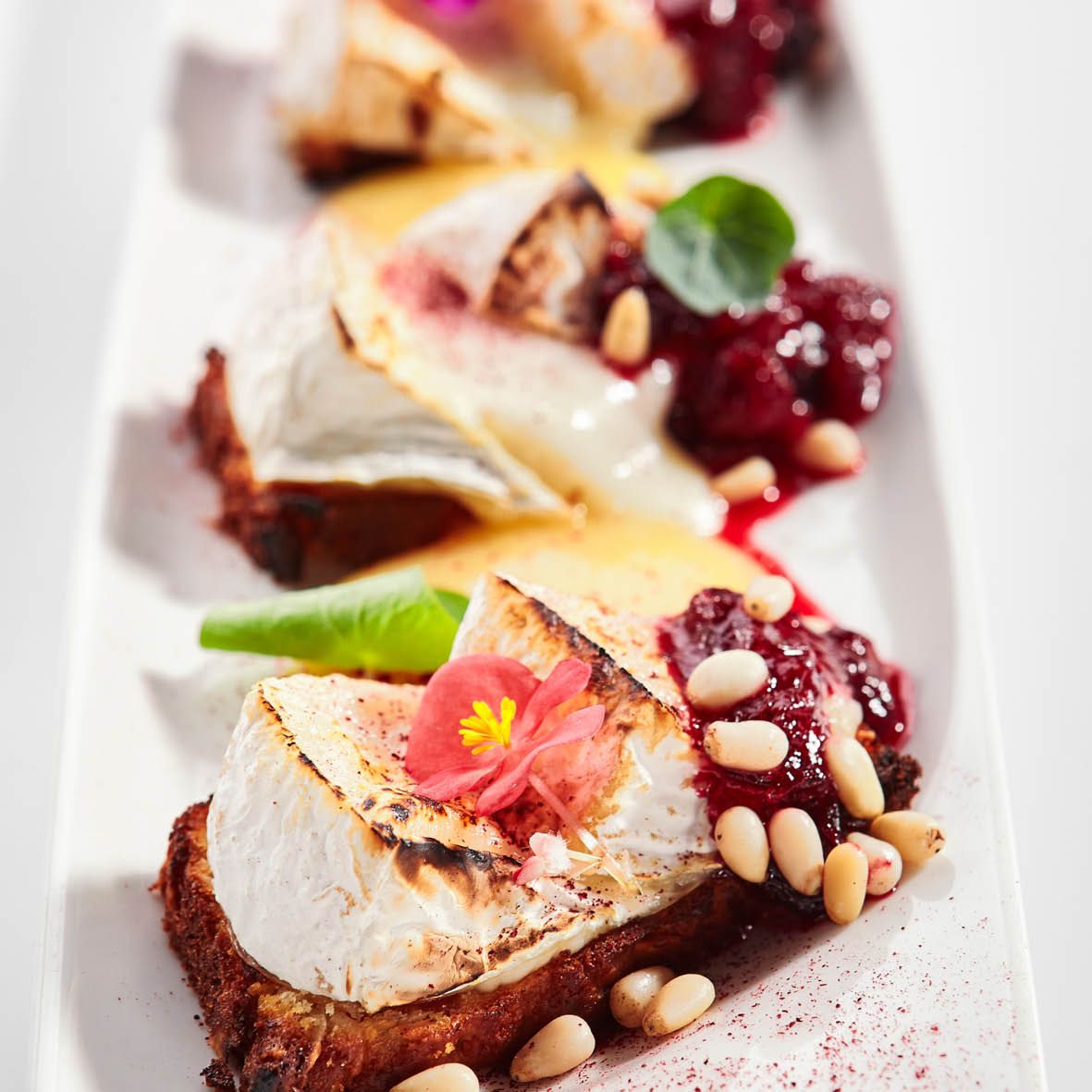 Brie with Beetroot Pachadi, Pear Jus and Pine Nuts
A fabulous combination of flavours and textures sees creamy brie served on pumpernickel, topped with a spicy beetroot pachadi, pear jus and gently toasted pine nuts.
How long will it take?
45 minutes
What's the serving size?
Serves 4
---
What do I need?
For the Beetroot Pachadi
1 tbsp olive oil
2 tbsp raw peanuts, chopped
1 clove garlic
1 green chilli
1 red chilli
1 tbsp coriander leaves
½ tsp cumin seeds
1 cup beetroot, finely diced
Salt
Lemon juice
For the Pear Jus
6 pears, peeled and diced
1 cup vegetable stock
1 tsp ginger, minced
1 shallot, thinly sliced
To serve
½ cup pine nuts
200 g brie
Pumpernickel, thickly sliced
Smoked paprika, to garnish
How do I make it?
Heat oil in a frying pan over high heat. Add peanuts and fry until golden and aromatic, then add garlic, red and green chilli, cumin seeds, and coriander leaves. Fry until the leaves become crisp, then remove from pan and set aside to cool. Add beetroot to the pan and cook for 5 minutes, or until it is slightly tender. Remove from heat and set aside to cool.
When ingredients have cooled, blend with a stick blender, leaving some chunks of beetroot. Taste and add lemon juice if desired. Refigerate until ready to serve.
Meanwhile make the pear jus by adding all ingredients to a saucepan. Bring to the boil, then reduce heat and leave to simmer until the sauce has reduced by half. Remove from heat and set aside to cool. When cool, puree with a stick blender until smooth. Refrigerate until ready to serve.
Preheat oven to 180C.
Heat a non-stick frying pan over medium-low heat. Add pine nuts and toast, stirring constantly until fragrant and golden. Transfer to a plate to stop them cooking and prevent burning.
Add thick slices of pumpernickel to a lined baking tray. Cut wedges of brie and lay on top of pumpernickel. Cook in the oven until the brie is starting to melt.
To serve, add pumpernickel and brie to serving plate, dollop some pear jus on the plate and add beetroot pachadi. Sprinkle with pine nuts and garnish with smoked paprika.
---
Share this recipe
---
More recipes like this