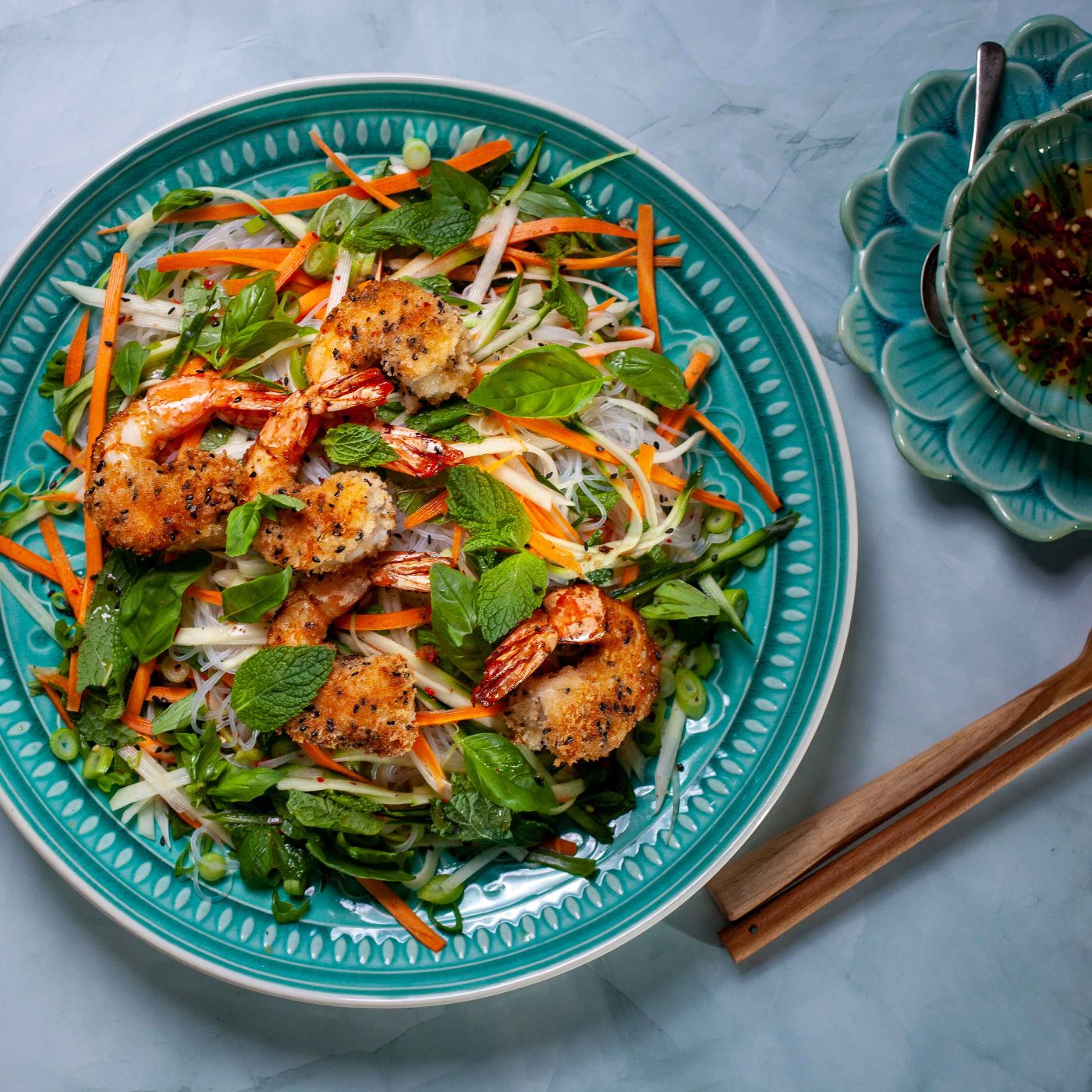 Crispy Panko Prawns with Green Mango Noodle Salad
Light and summery, this Asian-inspired dish is a tasty addition to your menu. If you are feeding more people, you can double or triple the recipe.
How long will it take?
30 minutes
What's the serving size?
Serves 4
---
What do I need?
100 g dried vermicelli noodles
50 g panko breadcrumbs
1 tbsp black sesame seeds, plus extra to serve
1 large free range egg white
1 kg whole jumbo green prawns
200g coconut oil
1 cucumber, julienned
1 large carrot, julienned
½ large green mango, julienned
4 spring onions, finely sliced
¼ cup basil leaves, torn
¼ cup mint leaves, torn, plus extra for garnish
For the dressing
3 birdseye chilli, roughly chopped
3 tbsp palm sugar, grated
5 tbsp lime juice
2 tbsp fish sauce
How do I make it?
Make dressing by blitzing the chilli and palm sugar in a small food processor until finely chopped. Add the lime juice and fish sauce and blitz to combine.
Peel and devein prawns, leaving the tails attached. Place in a bowl and add 3 tablespoons of dressing. Stir to combine and set aside to marinate.
Place noodles in a bowl and cover with boiling water. Set aside for 2 minutes or until the noodles have softened. Drain well, stir through half the remaining dressing, and set aside to cool.
Line a baking tray with baking paper.
Place egg white in a small bowl and lightly whisk. Place panko breadcrumbs and black sesame seeds in a separate bowl and mix to combine.
Using the tail to hold the prawns, dip half of each prawn into the egg white mix and then in the panko crumbs. Transfer to the lined baking tray.
Heat oil in a large frying pan over medium-high heat. Cook prawns in batches, for 1 minute each side or until golden, crisp and cooked through. Transfer to a plate lined with paper towel to drain.
Place the noodles, cucumber, carrot, green mango and herbs on a serving plate and toss to combine. Add prawns and drizzle with the remaining dressing. Sprinkle with black sesame seeds and herbs and serve.
---
Share this recipe
---
More recipes like this