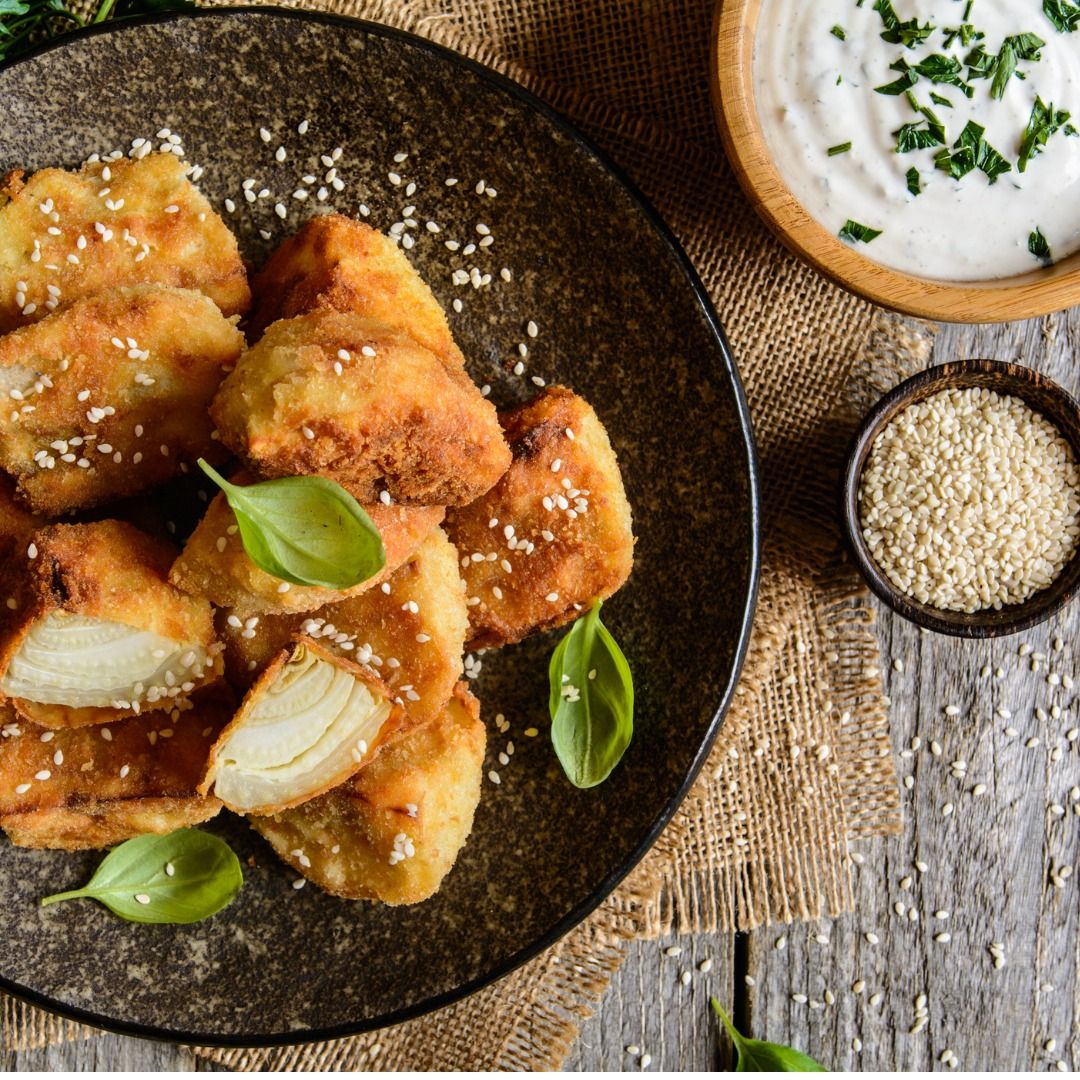 Crispy Fennel Wedges with Sour Cream Dip
Enjoy these crispy fennel wedges as an appetiser or alongside fish, lamb, pork or chicken. They're irresistibly delicious with a soft, tender inside and a crunchy coating on the outside.
How long will it take?
45 minutes
What's the serving size?
Serves 6
---
What do I need?
1 large fennel bulb, trimmed
1 tbsp salt
½ cup fine breadcrumbs
¼ cup finely grated parmesan
½ tsp ground fennel seed
2 eggs
Freshly ground black pepper
2 – 2/12 cups olive oil
For the Sour Cream Dip
½ cup sour cream
¾ tsp finely grated lemon zest
1 ½ tsp Lemon juice
How do I make it?
Make the Sour Cream Dip by adding sour cream, lemon zest and juice to a bowl and whisking to combine. Refrigerate until ready to serve.
Prepare the fennel bulb by cutting it in half lengthwise, then cutting each half into wedges about 1 centimetre wide.
Add 2 ½ litres of water to a large saucepan and bring to the boil over high heat. Add salt and fennel. Blanch for 5 minutes, or until tender but still firm and holding together. Remove from the heat, drain and transfer to a bowl of iced water to cool. Remove fennel from iced water when it has chilled and drain, patting dry with paper towel.
Combine breadcrumbs, parmesan, pepper, and ground fennel in a shallow bowl and set aside.
Lightly beat eggs in a shallow bowl, then working with in batches, dip fennel into egg, then into breadcrumbs and set aside on a lined tray. Repeat until all fennel is coated.
Pour oil into a deep sided frying pan and heat over high heat until the oil is hot. Add fennel, ensuring you don't overcrowd the pan, and cook until golden brown on both sides. Transfer the fennel to a plate lined with paper towel and repeat for remaining pieces of fennel.
Serve fennel hot with Sour Cream Dip.
---
Share this recipe
---
More recipes like this