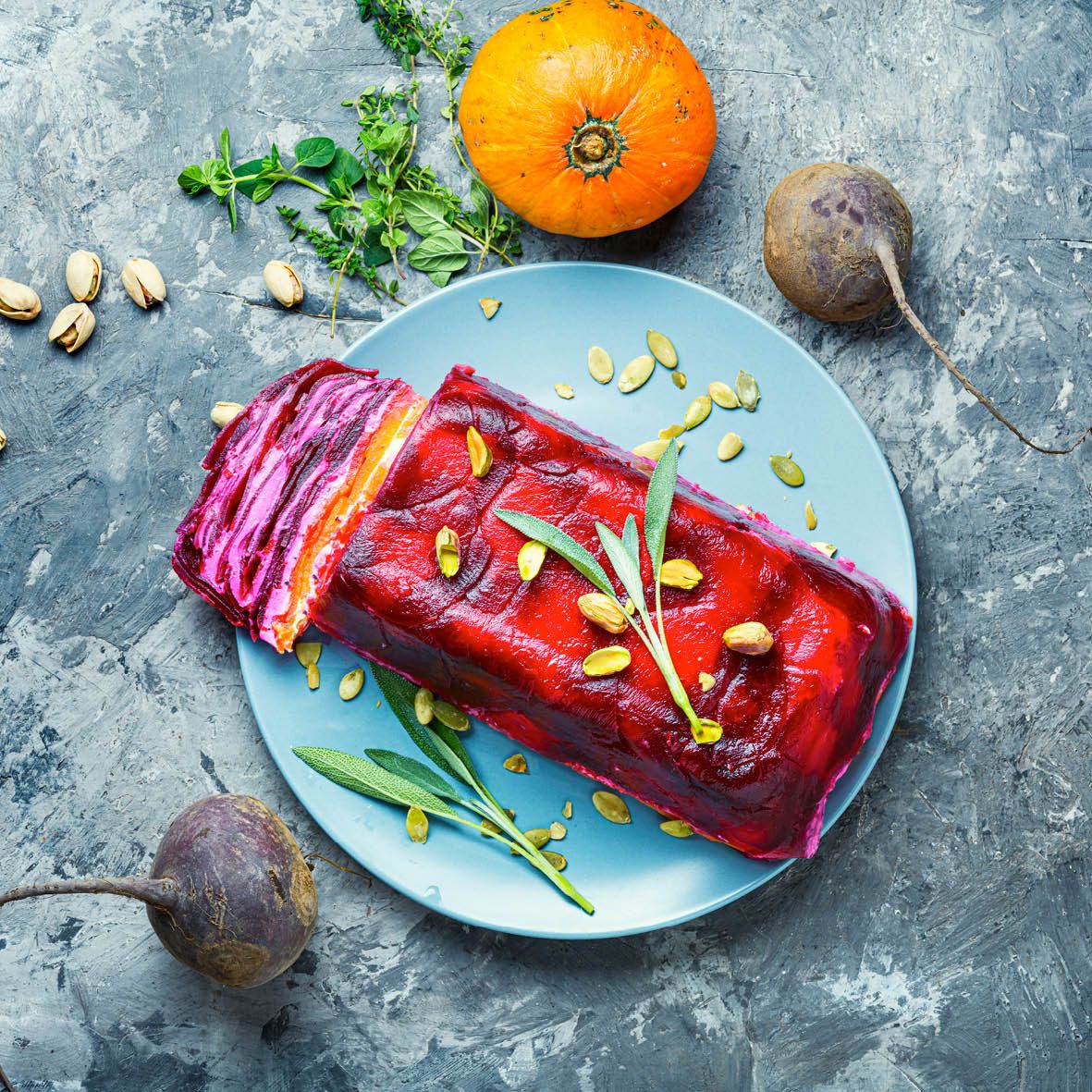 Vegetable Terrine
With its vibrant colour and fabulous flavour, this terrine will be the star of your vegan table.
How long will it take?
Takes 1 ½ hours plus overnight setting time
What's the serving size?
Serves 6
---
What do I need?
4 large beetroot
Olive oil
½ butternut pumpkin, peeled and chopped into small pieces
2 cloves garlic
Salt and freshly ground black pepper
12 basil leaves
For the Cream Cheese
1 ½ cups raw cashews, soaked
¼ cup unsweetened vegan yoghurt
1 tbsp lemon juice
1 tbsp apple cider vinegar
2 cloves garlic
How do I make it?
Soak cashews in cold water overnight in the fridge, or for a minimum of 30 minutes in hot water. Drain and rinse cashews and add to a food processor with yoghurt, lemon juice, apple cider vinegar, 2 cloves of garlic, thyme and salt. Blend until smooth. Set aside in the fridge.
Preheat oven to 180C.
Place beetroot in a saucepan and cover with water. Bring to the boil, cover, reduce heat and cook for 50 minutes or until the beetroot are tender. Place beetroot on a chopping board to cool.
Meanwhile place pumpkin and 2 garlic cloves on a baking tray and drizzle with a little olive oil. Cook for 20 minutes or until the pumpkin is cooked through. Remove from oven and place pumpkin and garlic into a food processor and blitz to make a puree. Season to taste and set aside in the fridge to cool.
Prepare a loaf pan by lining with clingfilm making sure to leave plenty of overhang on all sides. Drizzle clingfilm with olive oil and rub all over the clingfilm.
Remove skins from beetroot and use a mandoline or sharp knife to cut into very thin slices.
Assemble the terrine by placing basil leaves in the bottom of the prepared pan. Next, layer beetroot slices, then add a thin layer of the cashew mix followed by a layer of the pumpkin puree. Continue layering until you reach the top of the loaf tin.
Take the overhanging edges of the clingfilm and fold them over the top of the terrine, making sure it is completely covered. Cut out a piece of cardboard the same size as the top of the terrine and place on the top and add a weight such as a tin of soup to weigh it down. Place in the fridge for at least 8 hours, preferably overnight.
When ready to serve, remove from the fridge and unwrap. Lay a serving plate over the top of the terrine and flip. Gently lift the loaf pan away and remove the clingfilm.
---
Share this recipe
---
More recipes like this