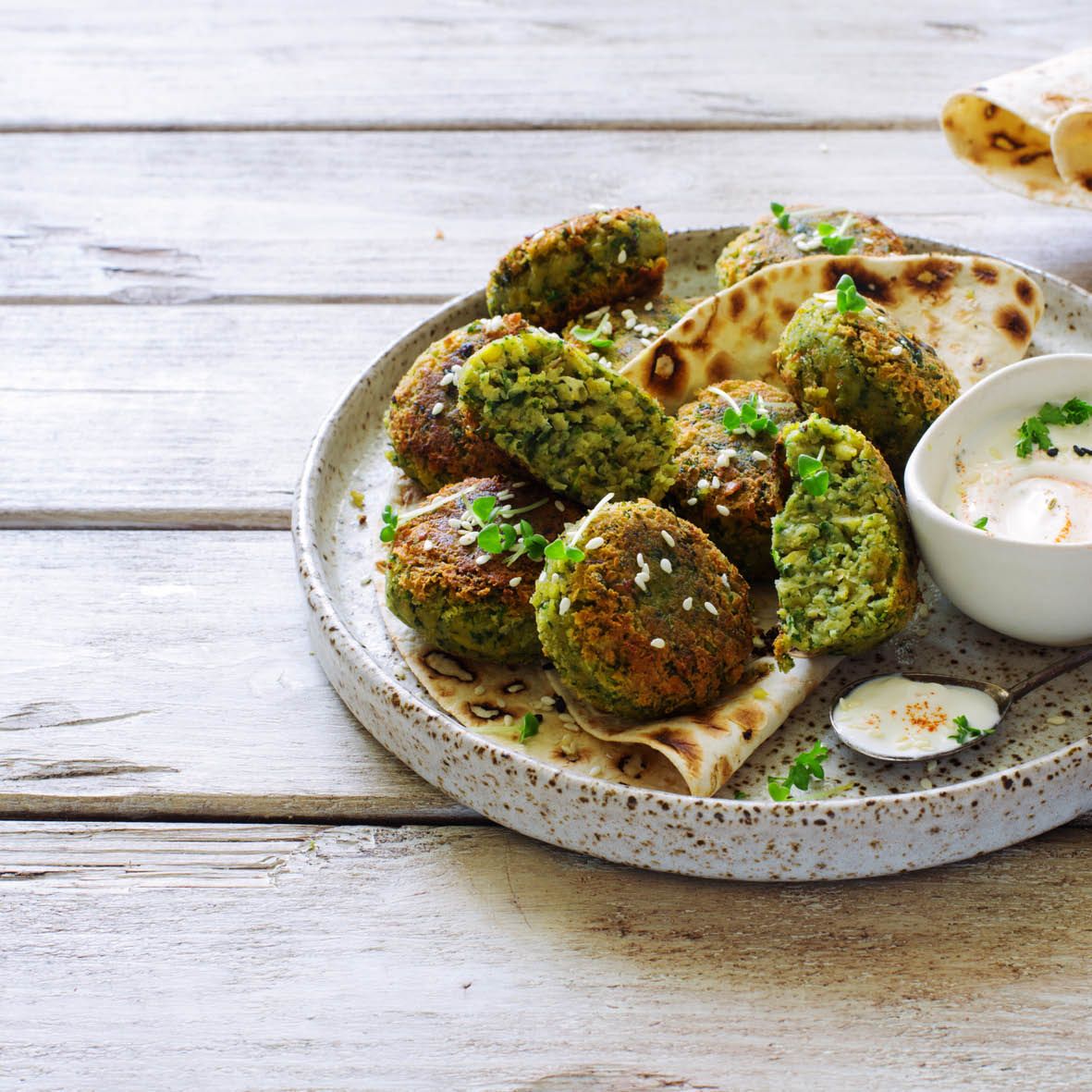 Crispy Falafel Patties
Packed full of healthy ingredients, these patties are easy to make and super-tasty. They are fantastic served hot but equally as good cold so you can double the mixture to make extras to pop in lunchboxes or for weekday lunches. They will keep in the fridge for up to 4 days or can be frozen for up to 3 months.
How long will it take?
40 minutes, plus soaking time
What's the serving size?
Makes approximately 12 patties
---
What do I need?
1 cup dried JC's Premium Chickpeas
½ tsp bicarbonate of soda
¼ cup + 1 tbsp olive oil
½ cup chopped red onion
½ cup dill
½ cup coriander
4 cloves garlic
1 tsp salt
½ tsp freshly ground black pepper
½ tsp ground cumin
¼ tsp ground cinnamon
How do I make it?
Rinse chickpeas under cold running water.
Put chickpeas and bicarbonate of soda in a large bowl and cover with water, ensuring that there is at least 5 centimetres water over the top of the chickpeas. Soak for at least 4 hours, preferably overnight.
When chickpeas have softened, drain and pat excess water with paper towel.
Preheat oven to 190C. Pour ¼ cup olive oil into a large baking tray and swirl to coat evenly.
Add remaining olive oil, chickpeas, onion, dill, coriander, garlic, salt, pepper, cumin and cinnamon to a food processor and blend until smooth.
Use your hands to scoop out 2 tablespoons of the mixture and form into a pattie about 5 centimetres wide and 1 centimetre thick. Place falafel into oiled pan. Repeat with remaining mixture.
Bake for 25 to 30 minutes, flipping the patties halfway through cooking. Cook until the patties are golden brown on both sides. Serve hot with pita bread, salad, hummus or Greek yoghurt.
---
Share this recipe
---
More recipes like this