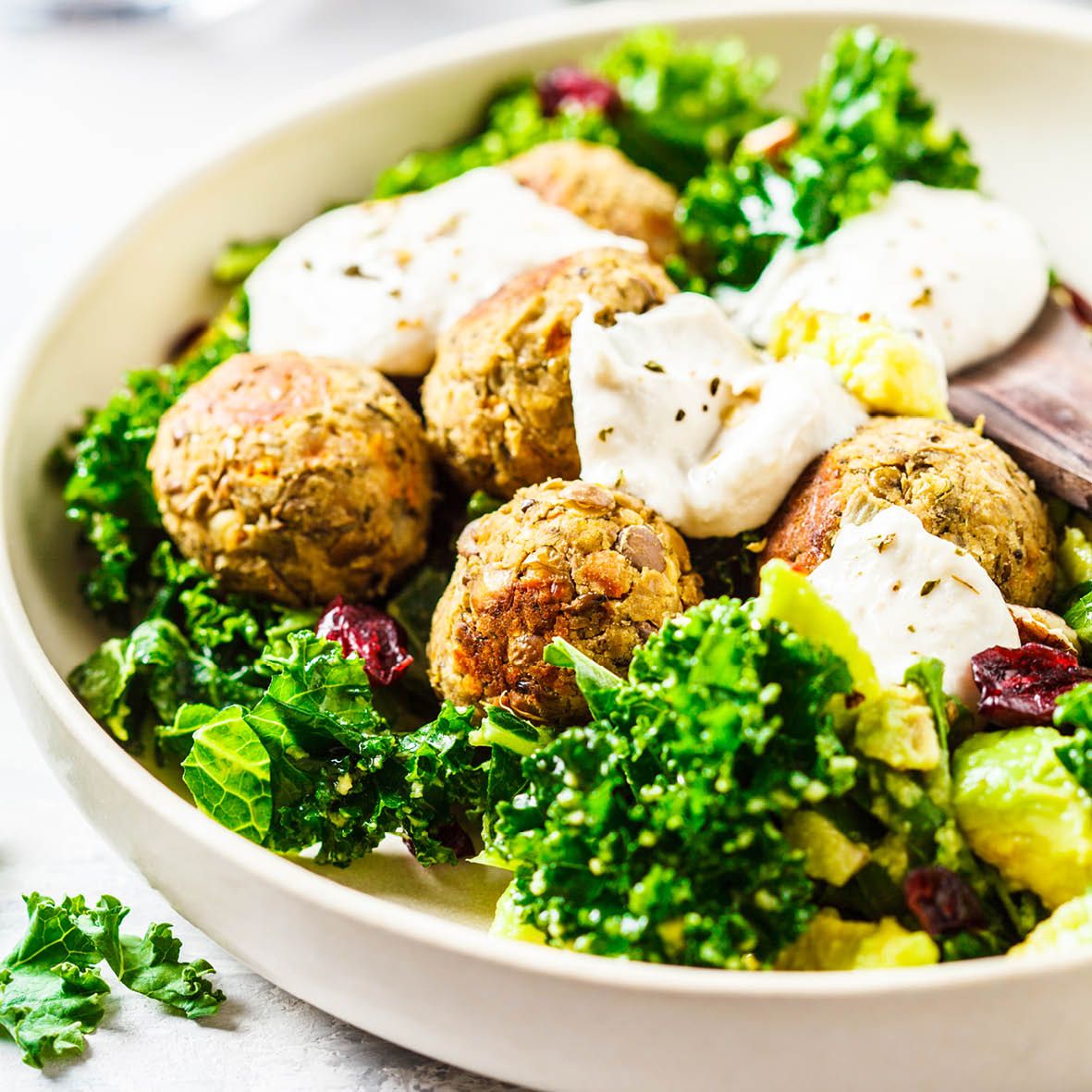 Vegan Meatballs with Green Kale Salad, Avocado and Tahini Dressing
These meatballs are healthy, easy to make and full of flavour that comes from cooking the lentils in Massel Vegetable Stock. Served with a simple green kale salad they are drizzled with a tasty tahini dressing.
How long will it take?
Takes 1 hour
What's the serving size?
Serves 4
---
What do I need?
For the meatballs
¾ cup dried lentils
1 ½ cups Massel Vegetable Stock
2 tsp olive oil
½ medium brown onion
1 cup grated carrot
2 cloves garlic, minced
½ cup rolled oats
¼ cup chopped flat leaf parsley
1 ½ tbsp tomato paste
1 tsp dried oregano
½ tsp salt
¼ tsp black pepper
3 tbsp aquafaba
For the Tahini Dressing
¼ cup tahini
3 tbsp water
2 tbsp lemon juice
2 tbsp olive oil
1 tbsp maple syrup
1 tsp sesame oil
1 garlic clove, minced
¼ tsp salt
To serve
1 bunch kale, roughly chopped
2 avocados, chopped
½ cup dried cranberries
How do I make it?
Pour lentils into a strainer and rinse well under cool water, then drain.
Add rinsed lentils to a saucepan with the Massel Vegetable Stock. Bring to a rapid simmer over medium high heat and then reduce to a low simmer. Simmer for 20 to 30 minutes, or until the lentils are tender. Check them as they cook to ensure that they are always covered by Massel Stock. If needed, add more Massel Stock to keep the lentils covered while they cook.
Remove from heat and drain.
Meanwhile heat oil in a medium frying pan over medium low heat. Add onion and cook until translucent, then add grated carrot and cook for 2 minutes. Add garlic and cook for a further 1 minute.
Add oats and parsley to a food processor and pulse a few times before adding lentils, onion mix, tomato paste, oregano, salt and pepper. Pulse again several times then add aquafaba and pulse until the mixture is combined but the lentils still have some texture.
Preheat oven to 210C. Line a baking tray with baking paper and spray the paper with cooking spray. Roll the lentil mixture into golf-ball sized balls and arrange in a single layer on the baking tray. Spray the tops with cooking spray and cook for 10 minutes, then flip, spray again and cook for a further 10 minutes or until the meatballs are brown and the outside is crisp.
While meatballs are cooking prepare the tahini dressing by combining all ingredients in a bowl and gently whisking. If it is too thick add more water until it can be drizzled.
To serve, add kale to a large bowl or serving plate and top with avocados. Add meatballs and scatter over dried cranberries then drizzle with tahini dressing.
---
Share this recipe
---
More recipes like this