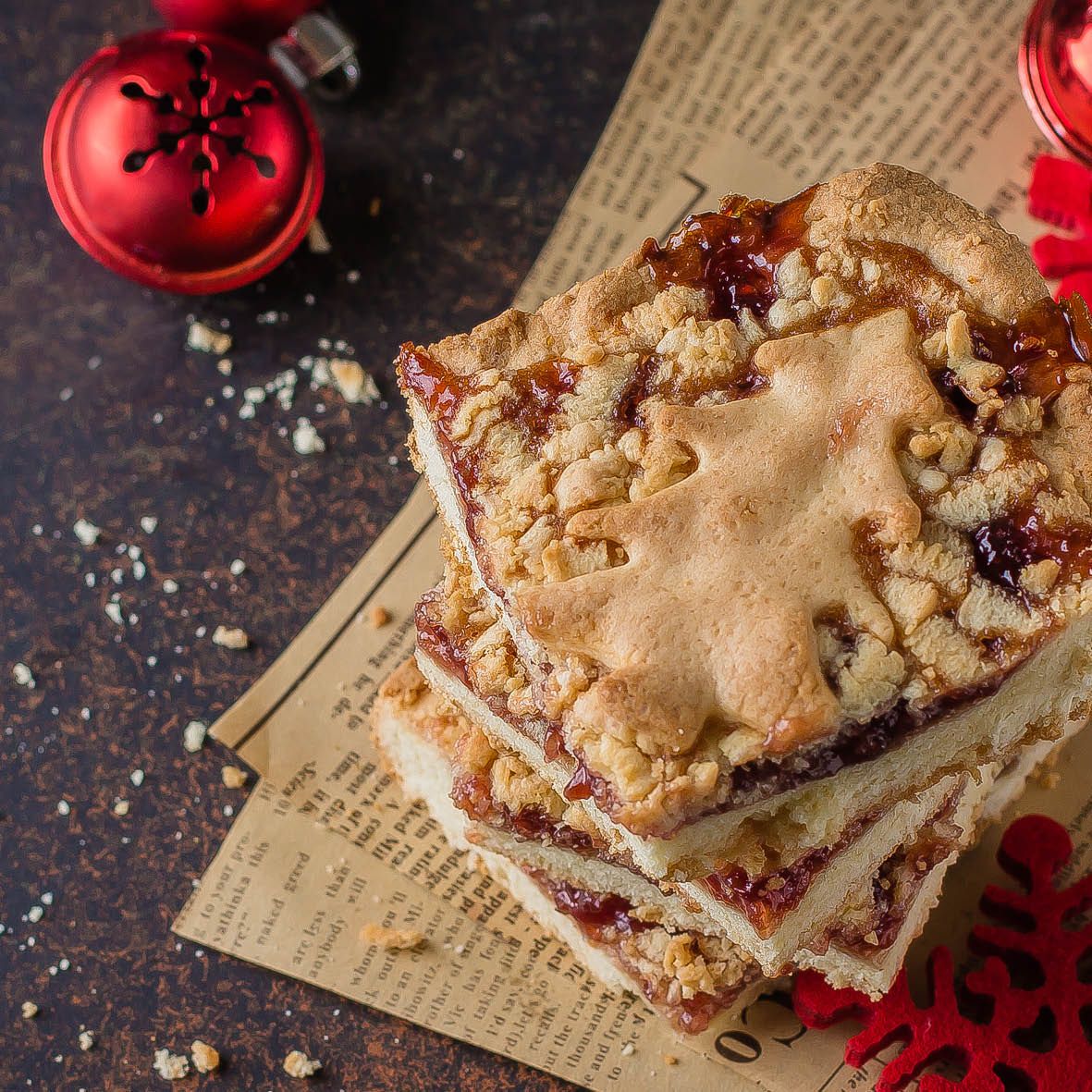 Rhubarb, Raspberry and Gingerbread Slice
Bring some Christmas cheer with this sweet raspberry slice that is topped with both a crumbly layer and a cute gingerbread Christmas tree.
How long will it take?
Takes 1 hour
What's the serving size?
Makes 8 pieces
---
What do I need?
2 cups plain flour
1 cup plant-based or vegan butter
½ cup sugar
½ tsp salt
350 g RhuBru Rhubarb Raspberry Jam
Icing sugar for dusting
For the gingerbread trees
25 g plant-based or vegan butter
50 g brown sugar
50 g molasses
¼ tsp vanilla extract
125 g plain flour
½ tsp bicarbonate of soda
1 tbsp ground flaxseed + 3 tbsp hot water
Pinch of salt
1 tsp ground ginger
1 tsp ground cinnamon
Pinch of allspice
Pinch of ground cloves
How do I make it?
Preheat oven to 175C.
Grease and line a 20 centimetre square cake tin.
In a food processor pulse 1 cup vegan butter with sugar and salt until crumbly. Divide mixture, keeping about ½ cup aside for topping. Press remaining mixture into the prepared cake tin. Cook in oven for 18 minutes.
Remove from oven and set aside to cool slightly. Spread jam over the base and crumble reserved crumb mixture over the top.
Make the gingerbread tree by creaming vegan butter and brown sugar using an electric mixer. Mix flaxseed with water and set aside for a couple of minutes. Add molasses, vanilla and flax mixture to the mixer and beat to incorporate.
Sift flour and add all dry ingredients to the mixer and stir to make a thick dough.
Flour a surface and roll dough out. Use a cookie cutter to cut out Christmas tree shapes.
Lay Christmas tree gingerbread on top of the prepared base and cook in the oven for 15 to 20 minutes or until golden brown.
Remove from oven and set aside to cool. Cut into 8 pieces when cooled.
---
Share this recipe
---
More recipes like this