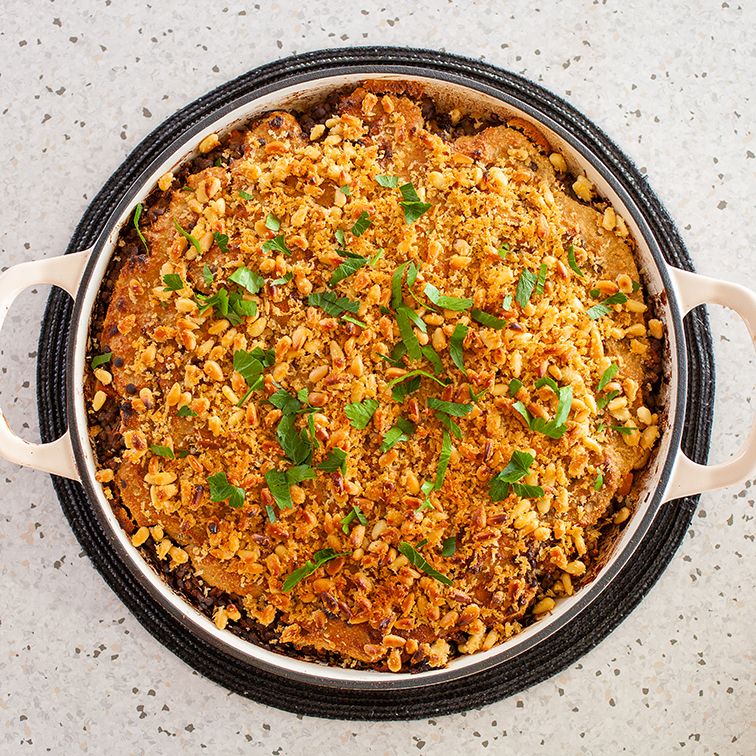 Vegan Veggie Bake with Cashew Cream
Hearty, warming and brimming with flavour, this vegan delight is ideal for a chilly Tasmanian winter meal.
How long will it take?
1 ½ hours
What's the serving size?
Serves 8
---
What do I need?
For the vegetables
1 cauliflower, cut into florets
3 cups butternut pumpkin, peeled and chopped
1 sweet potato, peeled and chopped
3 tbsp olive oil, divided
Salt and freshly ground black pepper
1 brown onion, diced
4 cloves garlic, minced
1 ½ cups Puy lentils
4 cups vegetable stock
4 tbsp tahini
2 tbsp white miso paste
2 tbsp balsamic vinegar
Flat leaf parsley, chopped to serve
For the cashew cream
1 cup raw cashews, soaked for 1 hour in boiling water
2 cloves garlic
2 tbsp nutritional yeast
1 ½ tbsp lemon juice
Salt and freshly ground black pepper
For the topping
1 tbsp olive oil
½ cup panko breadcrumbs
½ cup pine nuts
How do I make it?
Preheat oven to 200C.
Place cauliflower, pumpkin and sweet potato in a bowl with half the olive oil. Season with salt and pepper and toss to combine. Place vegetables in a baking tray and cook until golden and cooked through, about 30 minutes. Remove from the oven and reduce heat to 180C.
Meanwhile, add remaining 1 ½ tbsp of olive oil to a large deep casserole dish, sauté onion until lightly browned, about 5 minutes. Add garlic and cook for a further 2 minutes. Stir through the lentils and stock and bring to the boil. Reduce heat to a simmer and cook until almost all the liquid is absorbed, and the lentils are al dente, about 30 minutes. Remove from heat and stir through the tahini, miso paste and balsamic vinegar. Transfer the lentil mix to a bowl. Layer the vegetables in a base of the casserole dish and then cover the vegetables with the lentils. Set aside
Drain cashews and place in a food processor along with the garlic cloves, nutritional yeast, lemon juice and ½ cup of water. Season with salt and pepper and blitz until smooth and creamy. If the mixture is too thick add an extra tablespoon or two of water. Spread the cashew cream over the top of the lentil mix. Bake in oven for 20 minutes.
While it is baking, make the topping by heating olive oil in a frying pan over medium heat. Add breadcrumbs and cook, stirring constantly until they are golden brown, about 3 minutes. Remove from heat, add pine nuts and stir to combine.
Sprinkle breadcrumb mix over the casserole and return to the oven until the topping is golden. Garnish with parsley and serve.
Video & photography by David Pyefinch, food by Sarah Joseph
---
Share this recipe
---
More recipes like this