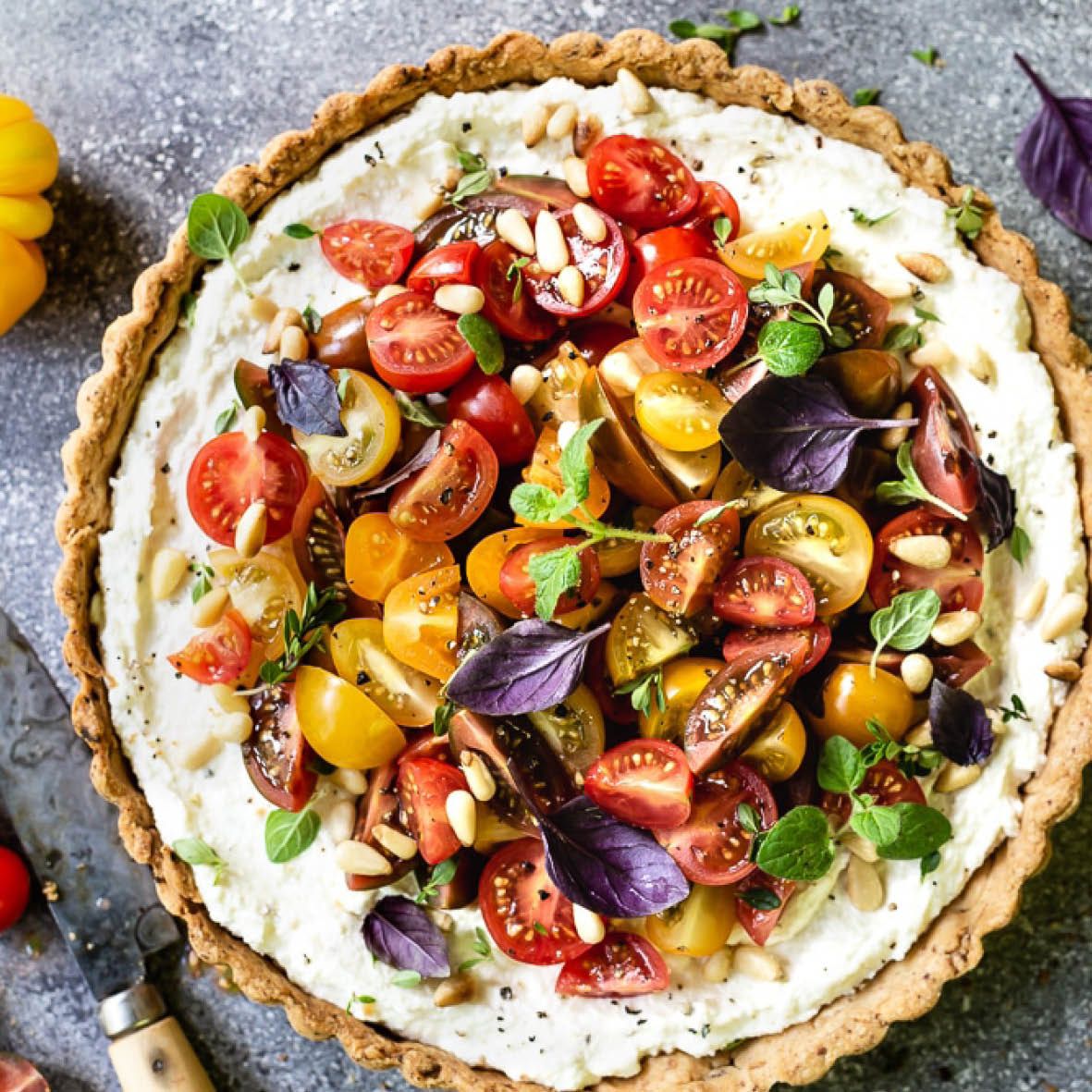 Tomato and Thyme Vegan Tart
Undoubtedly a show-stopper, this gorgeous tart is perfect for entertaining. You can make the tart dough and filling in advance and just assemble when you are ready to serve.
How long will it take?
45 minutes
What's the serving size?
Serves 4
---
What do I need?
For the Tart Dough
150 g plain flour
3 tbsp almond meal
Pinch of salt
75 ml sunflower oil
3 tbsp iced water
For the Filling
450 g firm tofu
1 cup cashews, soaked for at least 4 hours
2 tbsp nutritional yeast
4 cloves garlic
Juice of 1 lemon
½ tsp lemon zest
1 tsp salt
For the Topping
2 cups assorted tomatoes
1 tbsp olive oil
½ tsp salt
½ tsp freshly ground black pepper
¼ cup fresh basil leaves
2 tbsp fresh oregano leaves
1 tbsp pine nuts
How do I make it?
Preheat oven to 180C.
To make the dough
Mix flour, almond meal and salt together in a large bowl. Add sunflower oil gradually, rubbing it into the flour using your fingertips, until the mixture resembles rough breadcrumbs. Add 3 tablespoons of iced water and mix until the dough comes together to form a ball. Lightly dust bench with flour and dust a rolling pin. Roll dough out to a 28 centimetre circle. Place dough in a greased 22 centimetre tart pan, pushing it in to cover bottom and sides. Trim excess dough from sides and prick the bottom of the tart all over with a fork. Line the dough with baking paper and add baking weights. Blind bake for 15 minutes, then remove the weights and paper and bake for a further 5 minutes, or until the dough is crisp. Remove from oven and set aside to cool.
To make the filling
Add all ingredients to a food processor and pulse until well combined. The mixture should be thick and slightly chunky. Refrigerate until you are ready to assemble the tart.
To assemble the tart
Halve or quarter the tomatoes and place in a bowl, stir in olive oil, salt and pepper.
Remove tart from tart tin and place on a serving plate. Spoon the filling into the tart case and spread the top with the back of a spoon to smooth. Top with tomatoes, garnish with basil, oregano and pine nuts.
---
Share this recipe
---
More recipes like this