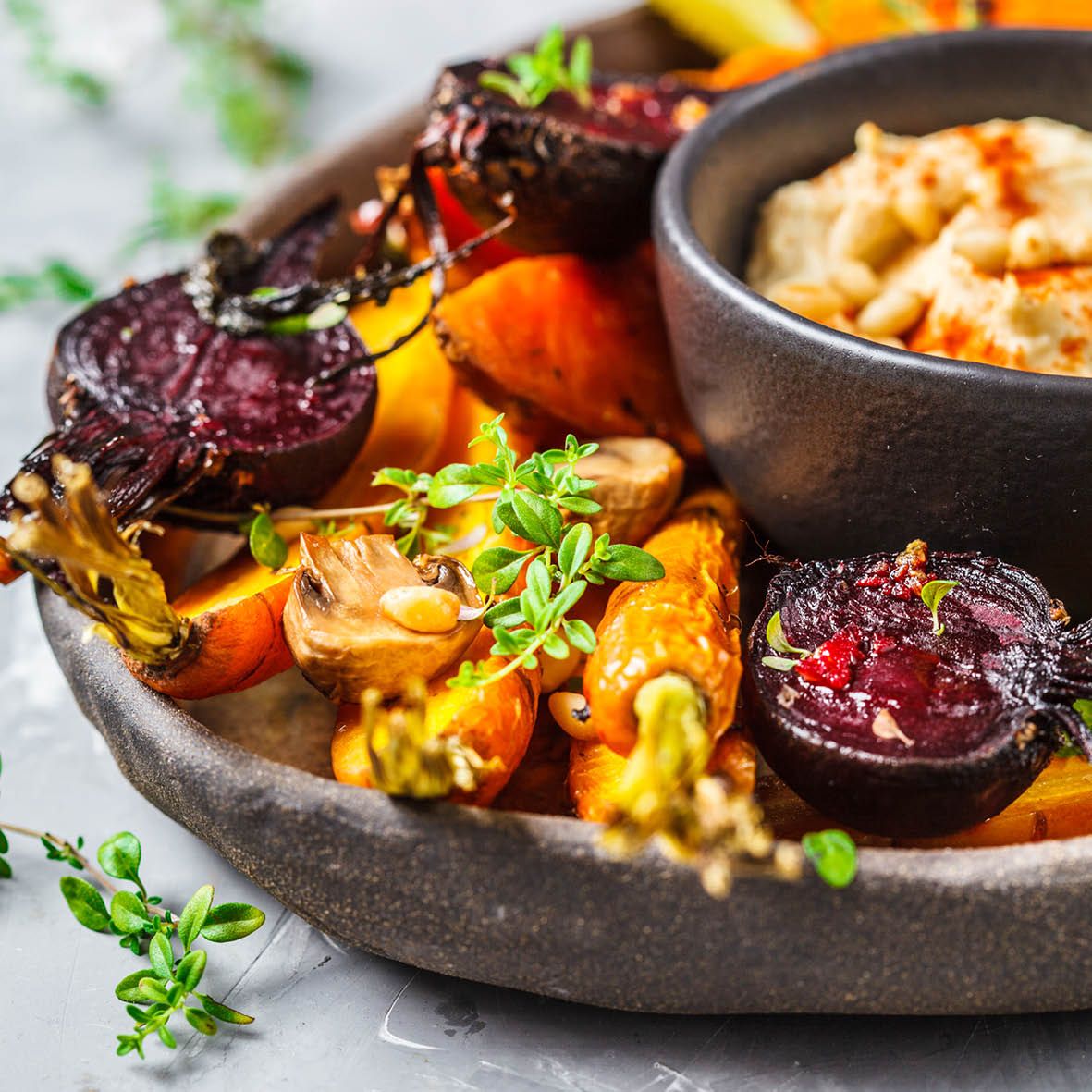 Roasted Vegetables with Hummus
Bring some colour and flavour to the table with this assortment of veggies that are roasted to perfection and served with a homemade hummus
How long will it take?
1 hour 20 minutes
What's the serving size?
Serves 6
---
What do I need?
3 parsnips, peeled and cut in half lengthways
3 carrots, peeled and cut in half lengthways
3 beetroot, peeled and halved
1 large sweet potato, peeled and cut into wedges
12 mushrooms, halved
12 garlic cloves, peeled
¼ cup olive oil
Salt and freshly ground black pepper
2 tbsp red wine vinegar
2 tbsp brown sugar
Fresh thyme to garnish
For the Hummus
1/3 cup tahini
2-4 tbsp cold water
2 tbsp olive oil
½ tsp ground cumin
¾ tsp fine sea salt
2 cloves garlic, peeled and minced
Juice of 1 lemon
1 x 400g can chickpeas, rinsed and drained
How do I make it?
Preheat oven to 200C.
Combine all vegetables, garlic, olive oil and salt and pepper in a large bowl. Toss to combine and coat the vegetables.
Put vegetables in a large roasting pan, distributing them out evenly. Roast in oven for 45 minutes.
Combine red wine vinegar and sugar in a bowl and stir until the sugar dissolves. Remove vegetables from the oven and pour the vinegar mixture over the top. Use a large metal spoon to toss well to coat all vegetables.
Return to the oven and roast for a further 15 minutes or until tender.
To make the Hummus
Add tahini, water, olive oil, cumin, salt, garlic and lemon juice to a food processor. Puree until smooth. Add chickpeas and puree until smooth. If it is too thick, add more water. Taste and season.
To serve
Put hummus in a bowl and place in the centre of a serving platter. Arrange vegetables around the hummus and garnish with thyme.
---
Share this recipe
---
More recipes like this