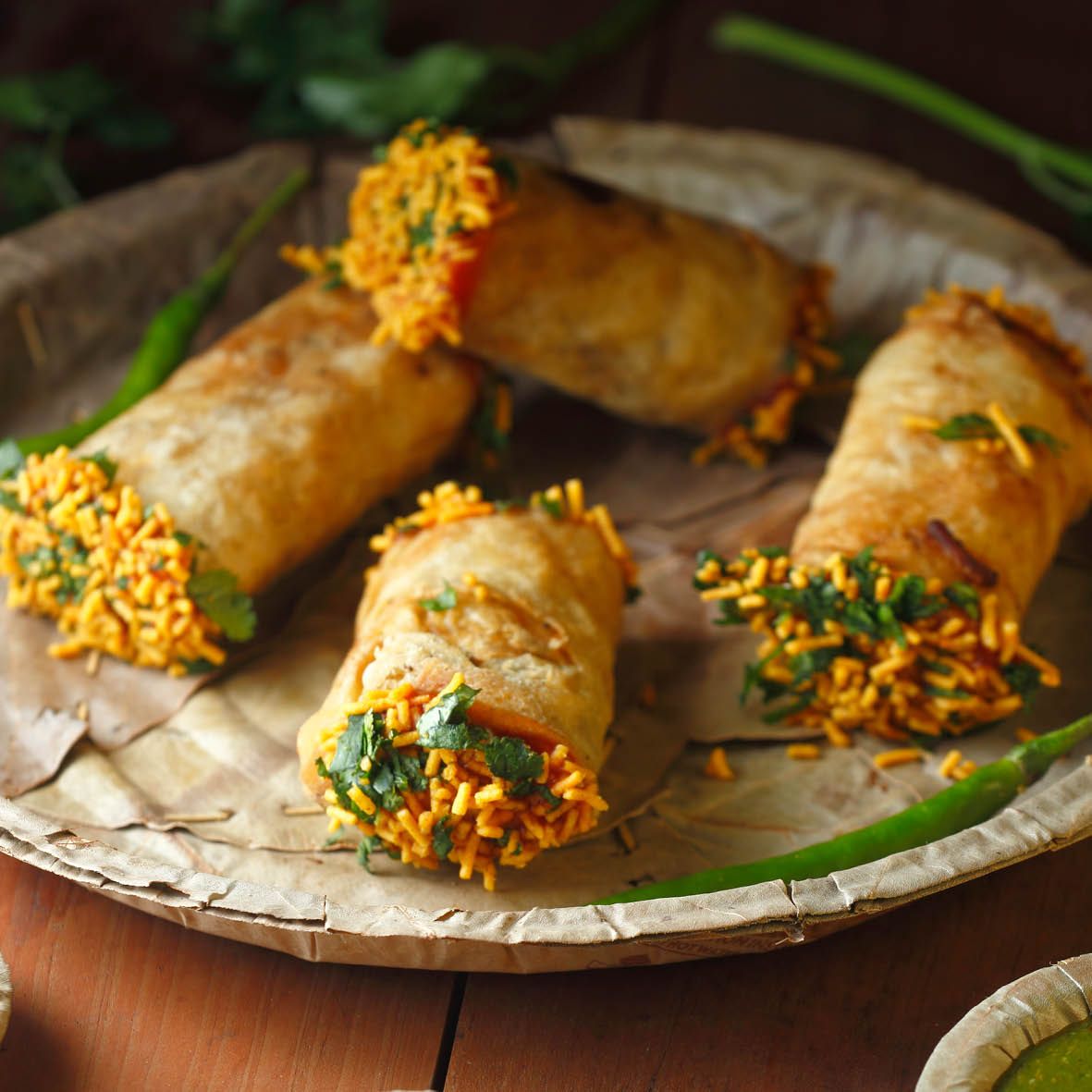 Kothmir Rolls
Taking inspiration from Indian cuisine these rolls feature a tasty pastry encasing a spice-rich potato and coriander (kothmir) filling.
How long will it take?
40 minutes
What's the serving size?
Serves 6
---
What do I need?
For the Dough
1 ½ cups plain flour
½ tsp salt
½ tsp ground cardamom seeds
2 tbsp olive oil
½ cup water
For the Filling
4 potatoes, boiled and mashed, cooled
2 tsp coriander seeds
1 tsp cumin seeds
1 tsp fennel seeds
1 tbsp olive oil
1 tsp chilli jam
1 tsp salt
1 tsp dried fenugreek leaves
1 tsp chilli powder
1 cup fried noodles
½ tsp chaat masala
2 tsp mango chutney
1 cup coriander leaves, finely chopped
Juice of ½ a lemon
For the Slurry
1 tbsp cornflour
1 tbsp plain flour
¼ tsp salt
2 tbsp water
2 litres vegetable oil for frying
For serving
2 tbsp coriander leaves, finely chopped
2 tbsp fried noodles
½ tsp chaat masala
Juice of ½ a lemon
¼ cup tomato sauce
How do I make it?
Combine flour, salt, cardamom seeds and oil in a food processor with about half the water. Process and gradually add more water until it comes together into a thick dough. Use your hands to knead the dough for 1-2 minutes or until it is smooth. Set aside in a warm place.
Meanwhile, make the filling by adding all ingredients to a bowl and using a wooden spoon to combine them. Set aside.
Mix slurry ingredients together in a small bowl. Set aside.
Divide dough into 4. Roll one of the pieces of dough out into a thin rectangle, about 1 millimetre thick. Cut rectangle into equal-sized strips, about 5 centimetres wide.
Take some of the filling mixture and dip it in the slurry, then lay it on the short end of the rectangle strip. Roll the dough up until the filling is enclosed, then cut dough with a sharp knife about 2 centimetres from where the filling stops. Brush some slurry mixture along the edge to seal it shut. Dip both the open ends of the roll in the slurry. Set aside and repeat with remaining dough and filling.
Heat vegetable oil in a large saucepan over high heat. Test if it is ready by dropping a cube of bread in the oil. If it bubbles immediately it is ready. Cook rolls in batches for 4-5 minutes or until they are golden brown and crisp. Drain on a plate lined with paper towel.
Combine coriander leaves, fried noodles and chaat masala in a bowl. In a separate bowl whisk together lemon juice and tomato sauce. Dip the ends of the rolls into the tomato sauce mix and then into the coriander leaf mixture and serve.
TOP TIPS
- You can control the spiciness of these rolls by choosing mild, medium or hot chilli powder depending on your preference.
- Make sure you cook and mash your potatoes in advance to allow them time to cool as you need cooled mash to achieve the right texture.
- Serve with tomato sauce or mango chutney if desired.
---
Share this recipe
---
More recipes like this