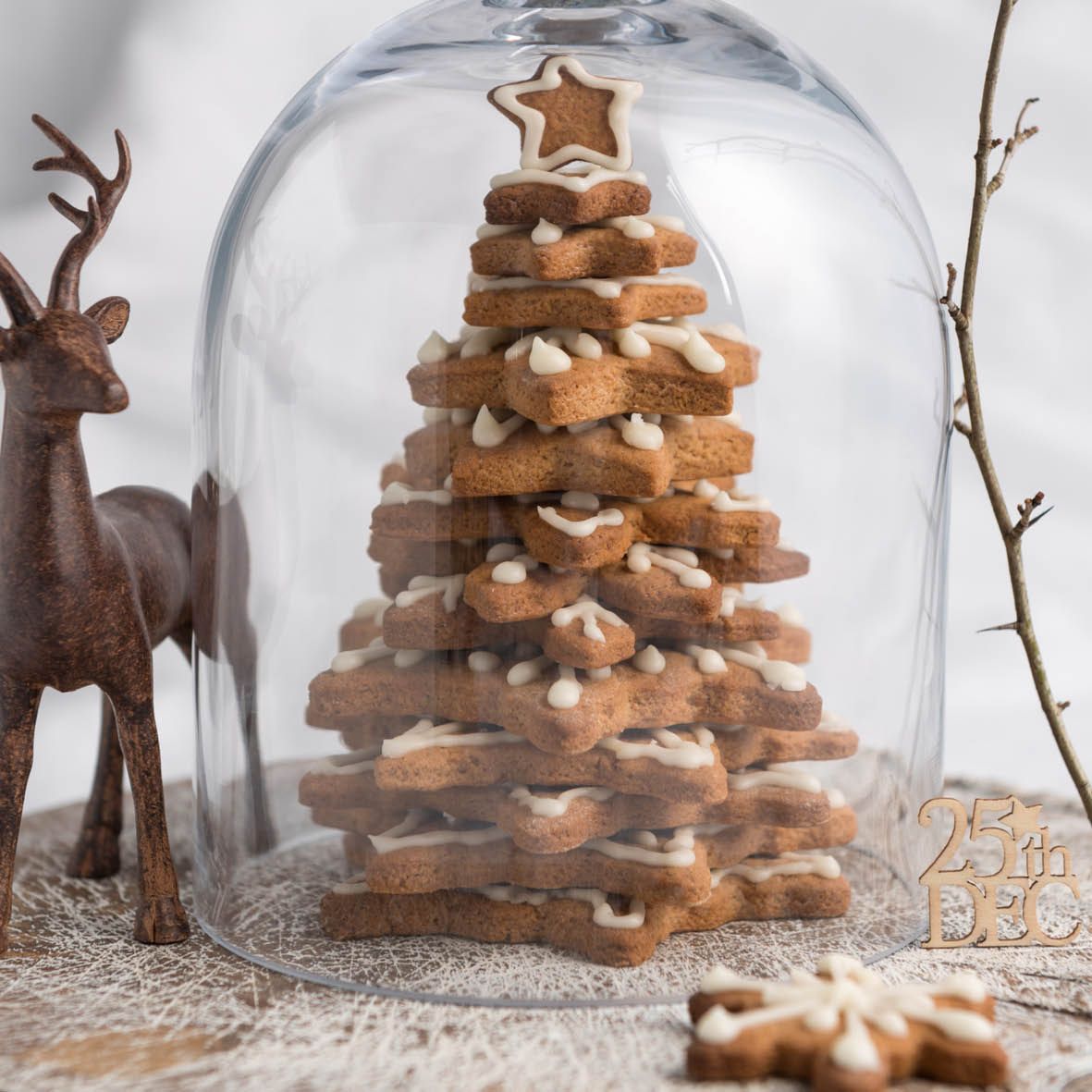 Gingerbread Christmas Tree
The perfect centrepiece for your vegan Christmas celebrations, this dessert is made from gingerbread cookies stacked to make the tastiest Christmas tree that ever there was. This recipe will yield enough dough to make four Christmas trees, or you can make one and use the rest of the dough to make gingerbread cookies.
How long will it take?
2 hours
What's the serving size?
Makes 4 Christmas trees
---
What do I need?
Star cookie cutter set including 4cm, 6cm, 7cm, 8cm and 9cm cutters
150g vegan butter
120g brown sugar
100g golden syrup
50g molasses
3 ½ tsp ground ginger
3 ½ tsp ground cinnamon
¼ tsp ground cloves
¼ tsp allspice
¾ tsp bicarbonate of soda
380g plain flour
For the icing
300g icing sugar, sifted
1tbsp lemon juice
2 tbsp aquafaba
How do I make it?
Place butter, sugar, golden syrup and treacle in a medium saucepan over a low heat and stir until melted. Remove from the heat.
Add ginger, cinnamon, cloves, allspice and bicarbonate of soda and whisk until smooth. The mixture will foam up a bit.
Add flour and stir with a wooden spoon until well combined into a smooth dough. Flatten into a disc shape, wrap in clingfilm and refrigerate for 1 hour or until just firm.
Preheat oven to 180C. Line two baking trays with baking paper. Divide dough in half. Roll each half between sheets of baking paper to 5mm thick.
Using cookie cutters, cut eight stars for each cutter size from dough. You will have 40 stars in total. You will need to bring the scraps of dough together and re-roll the dough to get the correct number of stars.
Place them well spaced apart on baking trays. Bake for 10-12 minutes and cool on trays.
Once the cookies are cold make the royal icing. Place the sifted icing sugar in a bowl and stir in the lemon juice and aquafaba. The icing should be thick but pourable. If it is too thick stir in a drop more lemon juice, and if it is too runny add some extra sifted icing sugar.
Transfer the icing to a piping bag fitted with a small nozzle and decorate the cookies following the shape of the stars.
Assemble the trees by adding each star, slightly offsetting it with another star of the same size. Continue stacking stars with largest at the bottom, gradually moving up to the smallest size star.
Top each tree with a small star standing upright.
---
Share this recipe
---
More recipes like this