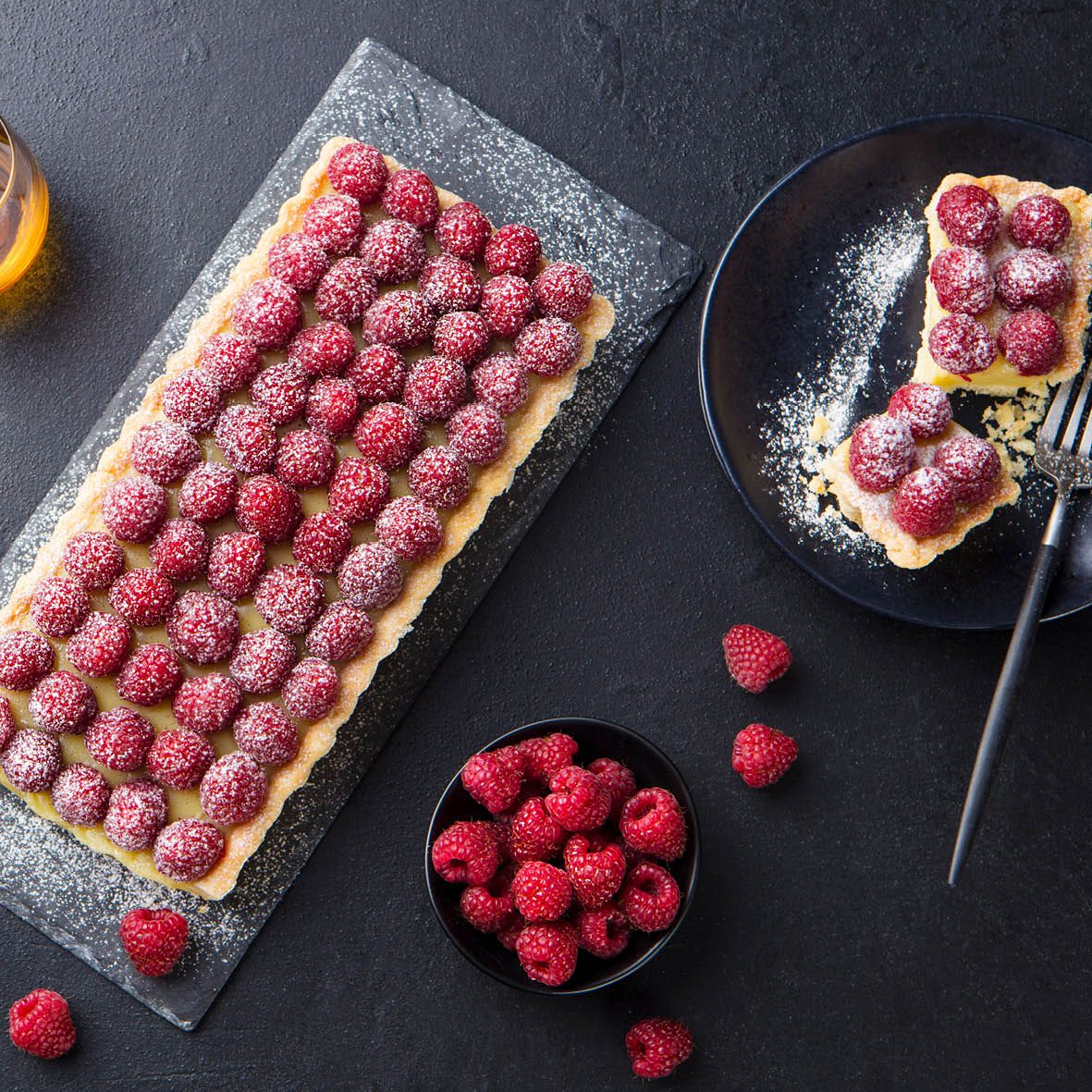 Custard and Raspberry Tart
Topped with fresh seasonal raspberries, this creamy custard tart is our vegan version of the classic dessert favourite.
How long will it take?
45 minutes
What's the serving size?
Serves 8
---
What do I need?
For the pastry
155 g plain flour
75 g vegan or plant-based butter
35 g caster sugar
1 tbsp cold water
For the custard
360 g silken tofu
310 mL plant based milk
55 g cornflour
65 g caster sugar
2 tbsp vegan or plant-based butter
1 tbsp vanilla extract
Pinch of turmeric
To serve
Fresh raspberries
Icing sugar, to dust
How do I make it?
Preheat oven to 180C.
Grease and line the base of a 36 x 13 centimetre tart tin.
Add plain flour, butter and caster sugar to a food processor and blend. If the mix is too crumbly, add some cold water and mix until you have a dough that is pliable but not too wet.
Turn dough out onto a lightly floured surface and roll out to ½ centimetre thickness. Place dough into the prepared tin, pressing into the base and sides. Trim excess dough and prick the bottom with a fork. Bake for 10-15 minutes or until it is a light golden colour. Set aside to cool in the tin.
Blend the tofu using a stick blender or in a food processor until smooth, then add the other custard ingredients and blend until smooth. Transfer ingredients to a saucepan over medium heat and cook for 10-15 minutes, stirring constantly. The custard is ready when it has a thick, pourable consistency. It will thicken and firm up when it cools. Remove from heat and allow to cool for 10 minutes, stirring occasionally.
Pour custard into tart base and refrigerate until set, approximately 4 hours.
To serve, decorate with raspberries and dust with icing sugar.
---
Share this recipe
---
More recipes like this