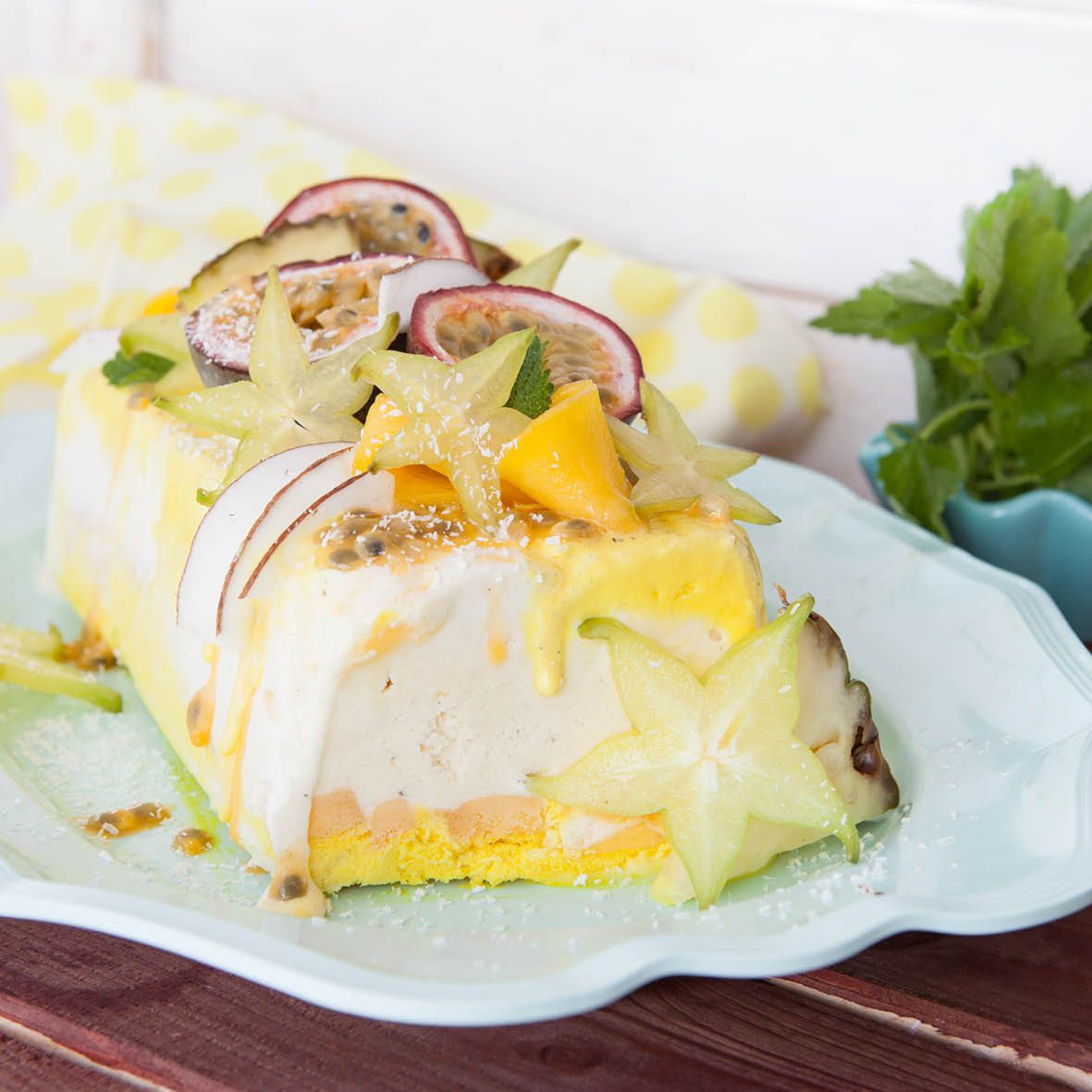 Coconut and Mango Ice Cream Cake
Tropical flavours abound in this sensational summery dessert.
How long will it take?
30 minutes plus setting time.
What's the serving size?
Serves 8
---
What do I need?
4 large mangoes, peeled, pitted and chopped
390 g caster sugar, divided
900 mL coconut milk, divided
400 mL coconut cream
How do I make it?
To make the mango ice cream, add mango to a food processor and blitz to a puree.
Add 230 grams of the caster sugar and 700 millilitres of coconut milk to a saucepan over medium heat. Cook until the sugar has dissolved, ensuring that it does not boil.
Pour mango puree into a bowl, cover with milk and sugar mixture and stir to combine. Cover and refrigerate for 8 hours.
To make the coconut ice cream, add remaining sugar and coconut milk to a saucepan with the coconut cream. Cook over medium heat until the sugar dissolves, ensuring that it does not boil.
Transfer to a bowl, cover and refrigerate for 8 hours.
Take coconut ice cream from the fridge and place in an ice cream machine, churning according to the machine's directions.
Line a 7 x 9.5 x 19.5 centimetre loaf pan with baking paper, extending the paper 4 centimetres above the edges on all sides.
Scoop coconut ice cream into the loaf pan and smooth the top with a spatula.
Repeat with the mango ice cream, churning and scooping on top of the coconut ice cream layer.
Place in the freezer for at least 8 hours, or overnight.
To serve, remove from the freezer and use the extra baking paper to help unmould the cake onto a serving plate. Top with fresh tropical fruit of you choice.
---
Share this recipe
---
More recipes like this