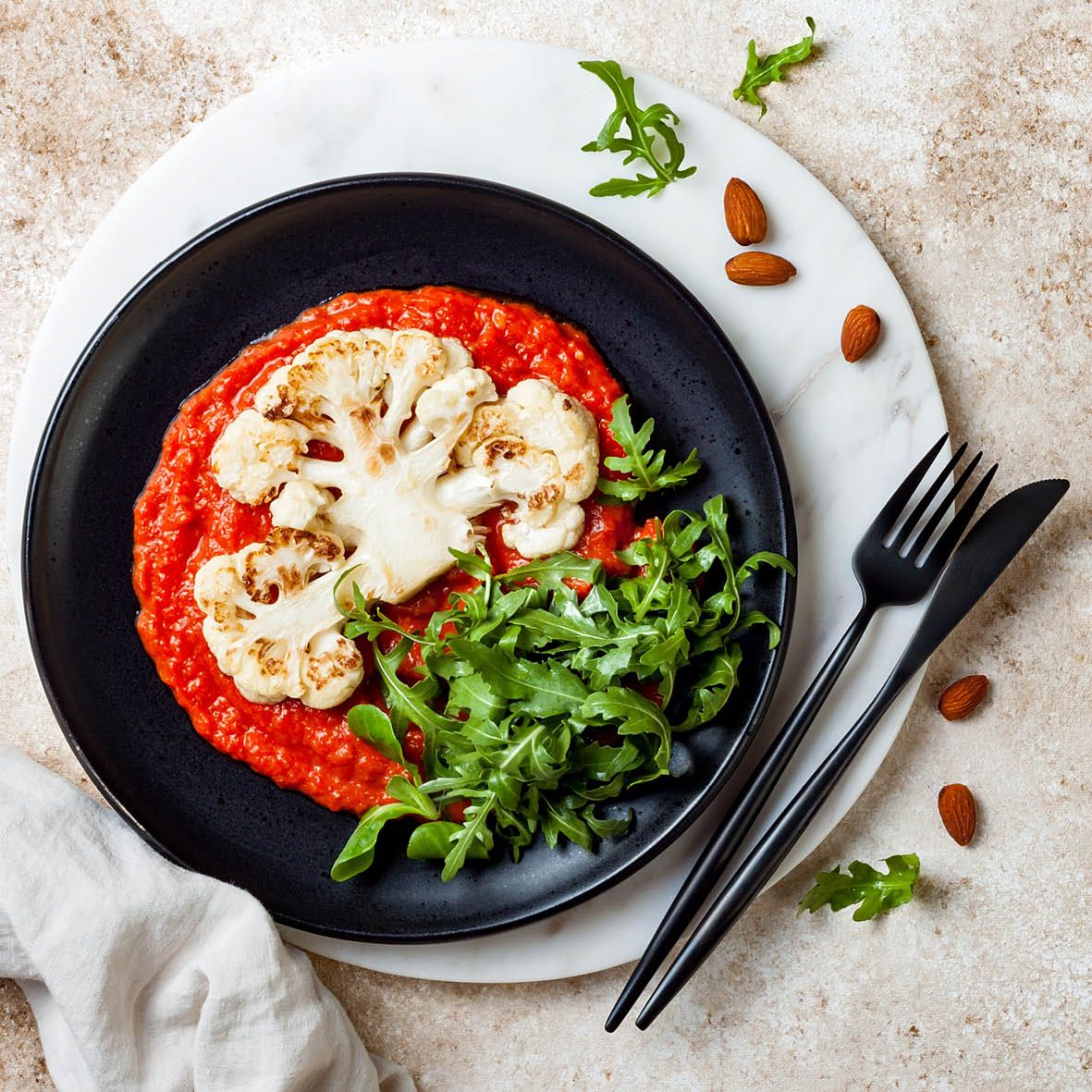 Cauliflower steaks with Red Romesco Sauce
A divine Spanish-inspired Romesco sauce accompanies these cauliflower steaks that are tender on the inside, and crisp on the outside. If you have extra sauce, you can store it in the fridge for up to a week or freeze it. The sauce is fantastic with grilled chicken, eggs, vegetables, or even as a dipping sauce with crackers.
How long will it take?
40 minutes
What's the serving size?
Serves 4
---
What do I need?
For the cauliflower steaks
1 large cauliflower
2 tbsp olive oil
Salt and pepper
For the Red Romesco Sauce
350g roasted capsicum from the Deli
400g tin whole peeled tomatoes
1 cup raw almonds
¼ cup flat leaf parsley
1-2 tbsp olive oil
2 cloves garlic
Juice of half a lemon
Salt to taste
How do I make it?
Preheat oven to 220C.
Make sauce first by combining all ingredients in a blender and whizzing until everything is well combined. The sauce doesn't have to be super smooth, a little texture is nice. Set aside.
Prepare cauliflower by trimming the bottom stem (green leafy part) from the cauliflower and standing the head upright on a chopping board. Cut into 4 vertical slices approximately 3 to 4 centimetres thick. Place cauliflower steaks on a baking tray and brush both sides with olive oil and season with salt and pepper. Roast in oven for about 30 minutes, flipping once during cooking.
Serve cauliflower steaks with Red Romesco Sauce and salad greens.
---
Share this recipe
---
More recipes like this