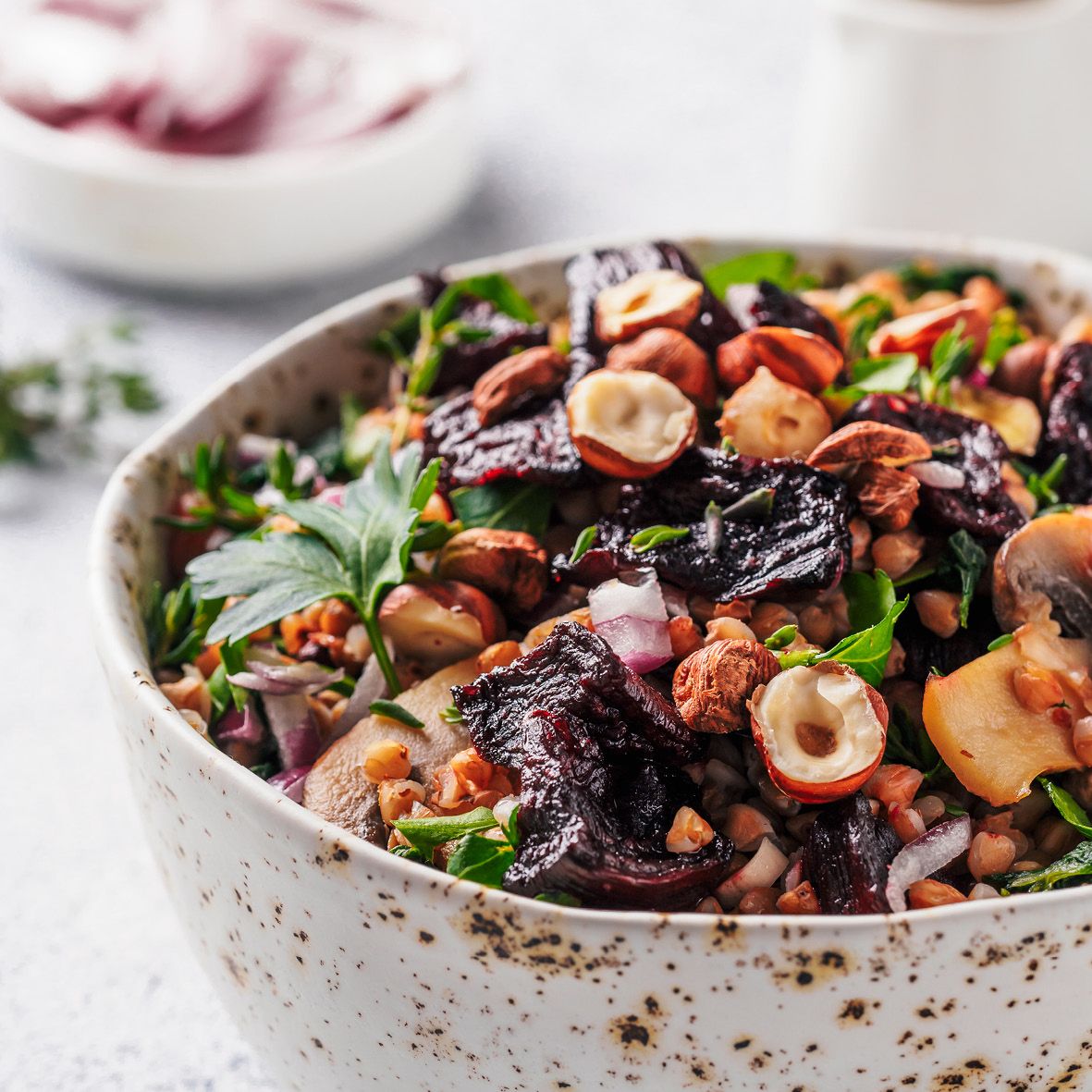 Warm buckwheat and beetroot salad
Perfect fare for these cooler days, this Warm Buckwheat and Beetroot Salad is vegan and gluten-free as well as being nutritious and filling. Serve it as a meal on its own or if you are not vegan it makes a lovely accompaniment to fish or chicken.
How long will it take?
1 hour
What's the serving size?
Serves 4
---
What do I need?
2 cups roasted buckwheat
3 large beetroots
50g baby spinach
2-3 large mushrooms
½ leek, white and green part, sliced
2 large garlic cloves, finely diced
1 tsp dried rosemary
1/3 tsp coarse sea salt
Freshly ground black pepper
2 tbsp hazelnuts, chopped, plus extra for serving
3 tbsp olive oil
1-2 tbsp balsamic vinegar
Fresh parsley, to serve
How do I make it?
Preheat oven to 200° C.
Peel beetroots and roughly chop into large pieces.
Make rosemary salt by pounding dry rosemary and sea salt using a mortar and pestle until you get a fine powder. You can also blitz in your food processor if you don't have a mortar and pestle.
Place beetroot chunks in a bowl. Coat in 1 tablespoon of olive oil and 1 tablespoon of balsamic vinegar and season with rosemary salt and a sprinkle of freshly ground pepper. Bake on a baking tray lined with baking paper for about 40 minutes, until tender.
Put buckwheat into a small saucepan and add 3 cups of water. Cover with a lid and bring to the boil. Once the water comes to the boil, turn the heat down to low and cook on a low heat until all the water has been absorbed. Once the water has been fully absorbed, rest the pot for another 10 minutes (with the lid firmly on) so that the buckwheat finishes cooking in its own steam.
Heat up the remaining two tablespoons of olive oil in a frying pan. Add sliced leeks and fry, on a low heat, until almost soft. Add diced garlic and fry until translucent and fragrant. Add sliced mushrooms and fry until cooked. Season with salt and pepper and a tablespoon of balsamic vinegar. Allow it to cook out. Add spinach and let it wilt into the salad. Finally add cooked buckwheat. Mix well to combine all ingredients. Season if needed.
Divide between bowls, top with roasted beetroot chunks, hazelnuts and some fresh parsley.
---
Share this recipe
---
More recipes like this