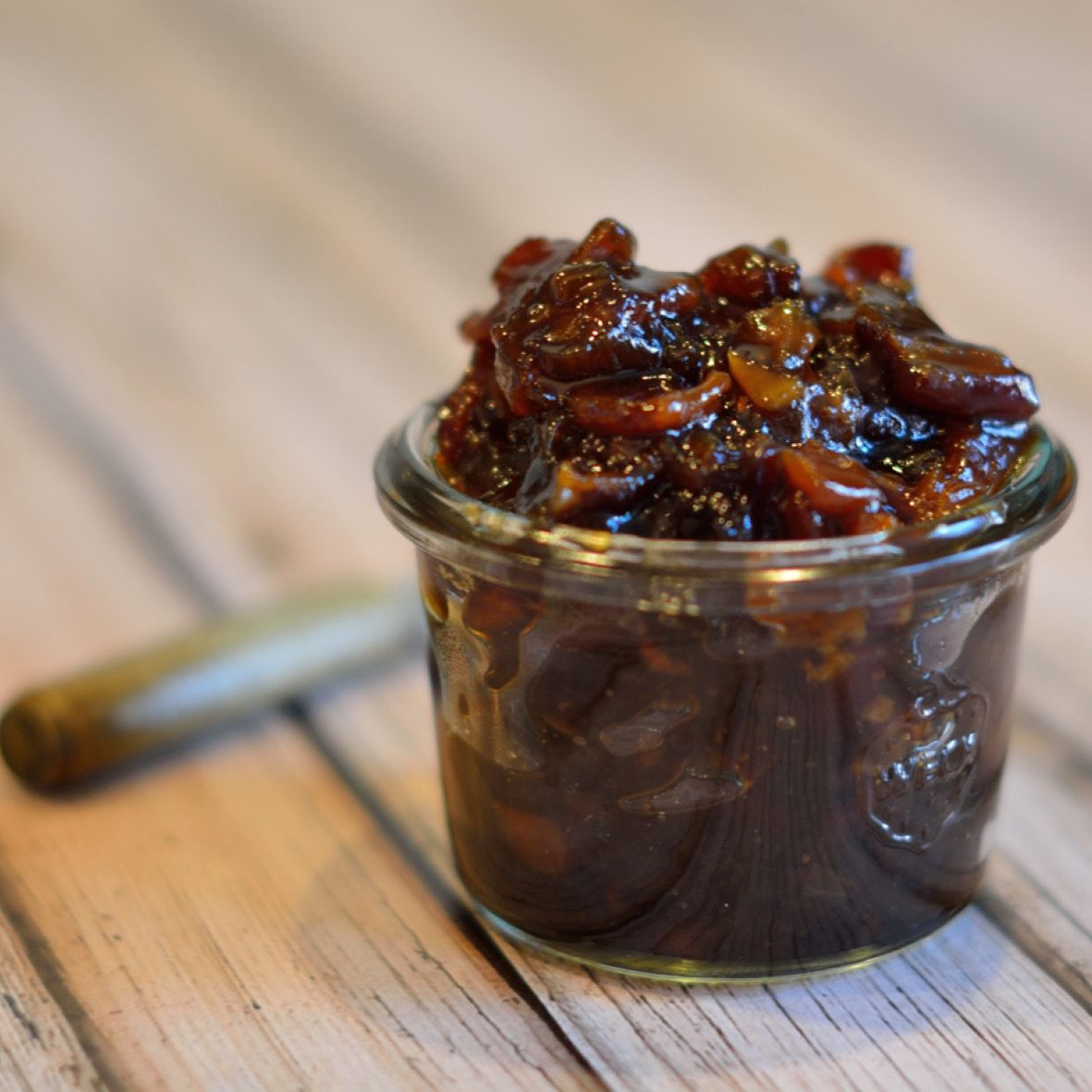 Bacon jam
Bacon jam can be used in a multitude of ways from spreading on your morning toast to adding a smoky-sweet bite to soups.
How long will it take?
40 minutes
What's the serving size?
Makes 1 ½ cups
---
What do I need?
285g bacon
1 cup chopped onions (about 2 small onions)
1/2 teaspoon paprika
4 cloves garlic, pressed
3 tablespoons maple syrup
2 tablespoons dark brown sugar
1/4 cup apple cider vinegar
3/4 cup stout or beer
Notes
Measure all your ingredients before you start cooking, as once you start cooking it all happens very quickly.
How do I make it?
Start by chopping your bacon into 1cm strips so that the pieces cook quickly and evenly. Heat a medium-sized fry pan over medium heat and add your sliced bacon. Move the bacon around with a wooden spoon, making sure it cooks evenly and does not stick. Let it get crispy if you like texture in your jam. When cooked remove bacon from heat and place on a plate lined with paper towel.
Leave a thin coating of bacon grease along the bottom of the pan (about 1 tablespoon) for cooking your onions. Put onions into the pan and cook until translucent, about 8 to 10 minutes. Reduce heat to low and add paprika and garlic.
Stir to evenly distribute the garlic, then add maple syrup and brown sugar. Cook until the brown sugar has dissolved and the liquid has thickened slightly: when you pull a spoon along the bottom of the pan, the liquid should slowly move back into place.
Add the vinegar and beer to the pan, turn the heat back up to medium-high, and bring your mixture to a boil. As soon as it has reached a boil, reduce the heat, add the bacon back into the pan, and let it cook at a gentle simmer for about 15 minutes, or until the liquid is slightly reduced.
After 15 minutes, test your jam by running your spoon along the bottom of the pan: It should leave a trail, indicating that the liquid has thickened. Turn off the heat and let the jam sit for 10 to 20 minutes, then pour the bacon jam into a blender or food processor.
Pulse for 1 to 2 minutes, until the desired consistency is reached. Refrigerate the jam for about an hour before eating so it solidifies a bit. But don't worry if you can't wait—it also tastes great warm. Store in an airtight container in your refrigerator for up to 1 month.
---
Share this recipe
---
More recipes like this