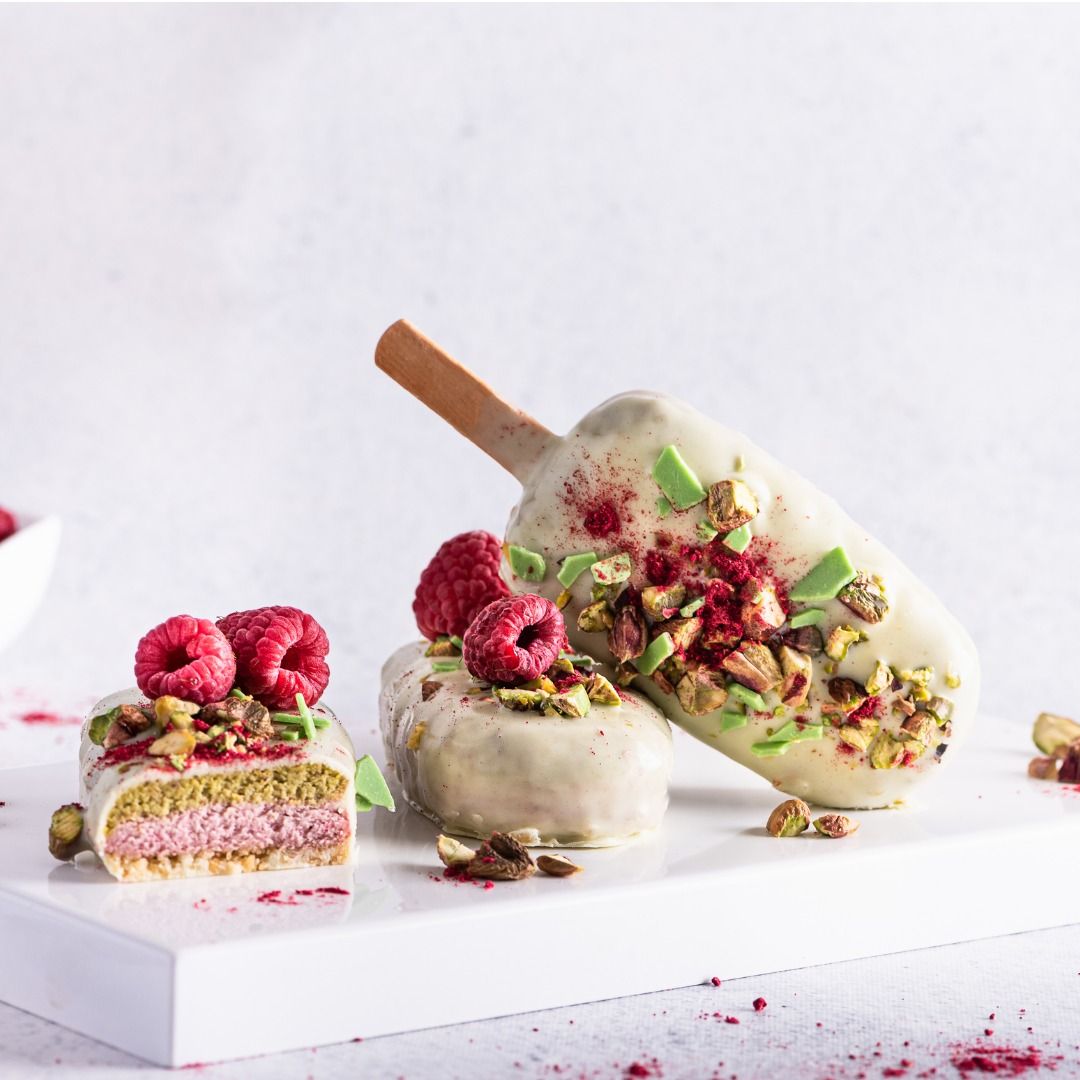 Raspberry and Pistachio Cakesicles
Designed to look like an ice cream, these cakesicles are actually filled with delicious raspberry and pistachio cake, making them a gorgeous gift idea.
How long will it take?
2 hours plus setting time
What's the serving size?
Makes approximately 8
---
What do I need?
For the Cakes
1 cup My Berries Aussie Grown Rich Ripe Raspberries
1 cup unsalted pistachios, shelled
250 g unsalted butter, softened
1 ½ cups caster sugar
4 eggs
3 cups self-raising flour
1 cup milk
For the Raspberry Sugar
50 g My Berries Aussie Grown Rich Ripe Raspberries, at room temperature
200 g caster sugar
For the Frosting
230 g unsalted butter, softened
3 cups icing sugar
2 -3 tbsp cream
1 tsp vanilla extract
Pinch of salt
For Decorating
300 g white cooking chocolate
100 g pistachios, chopped
Fresh raspberries
Ice cream sticks
How do I make it?
Preheat oven to 180C.
Grease and line 2 x 25.5-centimetre square cake tins.
Pulse pistachios in a food processor until ground into a very fine crumb. Pour into a small bowl and set aside.
Wipe out food processor then blitz raspberries to a puree. Set aside.
Cream butter and sugar with an electric mixer until light and fluffy. Add eggs, one at a time, beating well after each addition.
Add half the flour and milk, mix, then add remaining flour and milk and beat well.
Divide the cake batter in two by pouring half the batter into a clean mixing bowl.
Fold raspberry puree through one half of the cake batter.
Fold pistachio crumb through the other half of the cake batter.
Pour raspberry mixture into one of the prepared cake tins and pistachio mixture into the other cake tin. Bake each for 25-30 minutes or until a skewer inserted comes out clean. Remove from oven, allow to cool for 10 minutes in the tin, then turn out onto a wire rack to cool completely.
Reduce oven temperature to 50C to make the Raspberry Sugar. Line a baking tray with baking paper. Place a strainer over a small bowl. Use the back of a spoon to press the raspberries through the strainer, catching the juice. Add the sugar to the juice and stir to combine. Scatter the wet sugar on the baking tray and place in the oven for 30 minutes with the oven door slightly ajar so that the moisture can escape. Remove from the oven and use a fork to break any clumps up. Transfer to a bowl and set aside.
Meanwhile make the frosting by beating the butter with an electric mixer until smooth. Add icing sugar and mix on low speed, then increase to medium speed and continue mixing for 1 to 2 minutes or until fully combined. Add cream, vanilla and salt and continue mixing until well combined.
Make the cakesicle mixture by crumbling the raspberry cake into a large bowl. In a separate large bowl crumble the pistachio cake.
Add 1/3 to ½ cup of the frosting mixture to each bowl and mix it into the cake crumbs, ensuring that it is evenly distributed. Squeeze the mixture in your hands, if it holds together it is ready; if it is still crumbly add more frosting and mix again.
Lay two sheets of clingfilm on a work surface. Scoop the contents of each bowl out and place on a sheet of clingfilm. Wrap the clingfilm around each piece of dough and refrigerate for 30 minutes.
After 30 minutes in the fridge, it is time to form the cakesicles. Use an ice cream mould or your hands to shape some of the raspberry dough into a bar shape, repeat for the pistachio dough. Repeat using remaining dough and then refrigerate the shaped dough for 1 hour.
Remove from fridge and unmould. Lay pistachio layer on top of raspberry layer and gently press together. Repeat for remaining pieces of dough and then insert ice cream sticks into the dough. Place in the freezer for 1 hour to firm up.
Break white chocolate up into small pieces and place in a glass bowl. Zap in the microwave in 30 second increments until fully melted. Working quickly, take the cakesicles from the freezer and dip into the white chocolate, turning to ensure that all sides are coated, then place on a lined baking tray. Sprinkle over the chopped pistachios and raspberry sugar and top with fresh raspberries. Return to the fridge to set hard.
TOP TIPS
- These look great individually wrapped in clear bags or presented in a box for gifting.
- Cakesicles are best kept in the fridge.
---
Share this recipe
---
More recipes like this