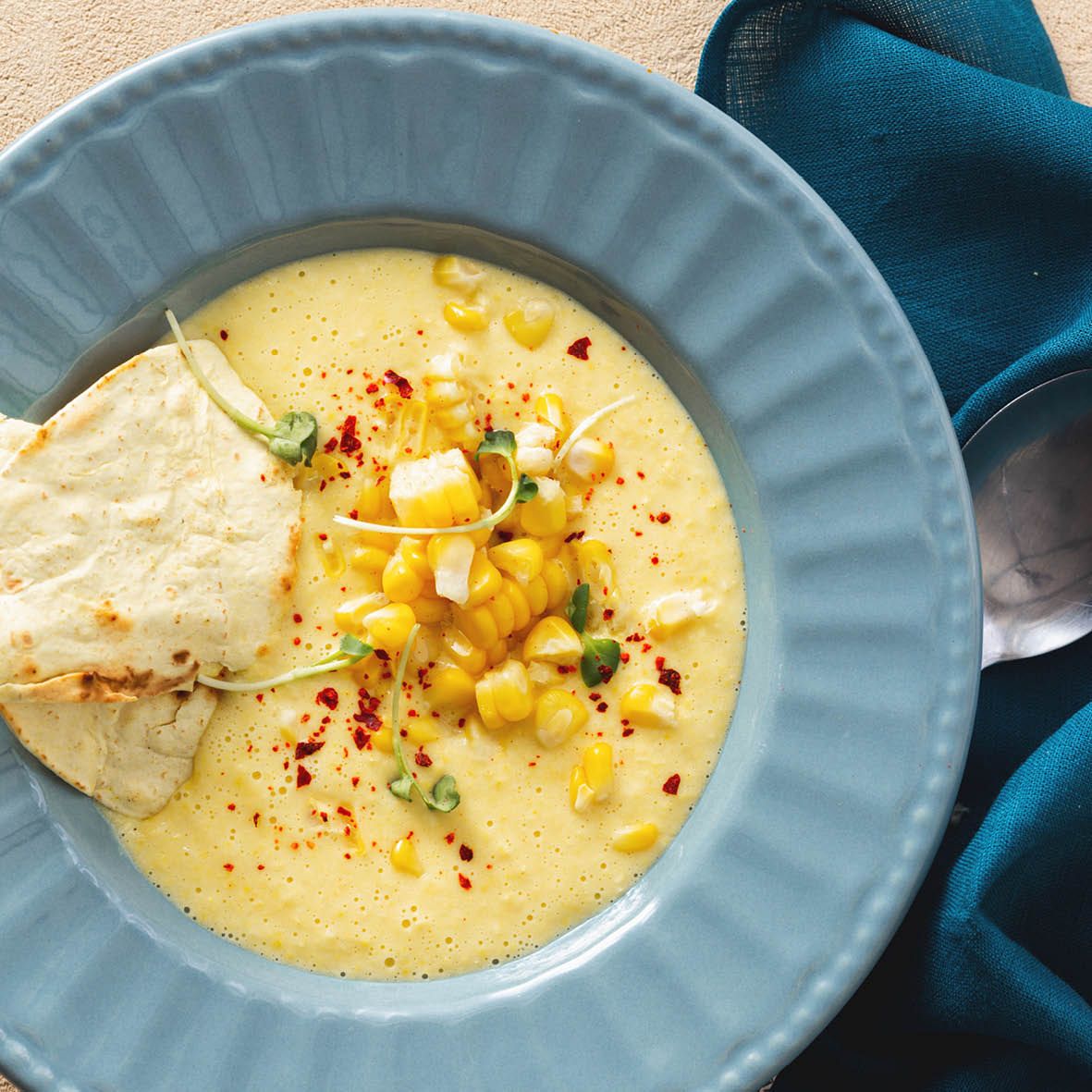 Sweet Corn Soup
This silky soup is super versatile and can be served hot or cold.
How long will it take?
Takes 1 ½ hours
What's the serving size?
Serves 6
---
What do I need?
6 cobs corns, shucked
2 brown onions, 1 quartered and 1 thinly sliced
2 ½ centimetre piece of fresh ginger, finely diced
3 ¼ litres water, divided
1 tbsp coconut oil
1 tsp minced ginger
4 cloves garlic, minced
415 mL coconut milk
1 tbsp fresh lime juice
Salt and pepper
To garnish
Chilli oil
Grilled corn kernels
How do I make it?
Cut kernels from the corn cobs. Set kernels aside and reserve cobs.
Add corn cobs, quartered onion, diced ginger and 3 litres of water to a large saucepan and bring to a boil over high heat. Reduce heat and simmer for 1 hour. Strain through a sieve into a large bowl and discard the solids. Set corn stock aside.
Heat a medium saucepan over medium-high heat. Add oil, sliced onion, minced ginger, garlic and cook, stirring often for 1 minute, then add remaining water. Reduce heat to medium-low, cover and cook, stirring occasionally until the onion is soft and most of the water has evaporated.
Add corn kernels to the saucepan and cook over medium heat, stirring occasionally until the kernels are softened, about 10 minutes. Add reserved corn stock, cover and simmer, stirring occasionally for 30 minutes, then add in coconut milk and simmer for a further 3 minutes.
Remove from heat and use a stick blender to blend soup until smooth. Pass soup through a sieve into a clean saucepan. Add lime juice, stir and season to taste.
Serve soup hot or cold topped with grilled corn kernels and chilli oil.
---
Share this recipe
---
More recipes like this