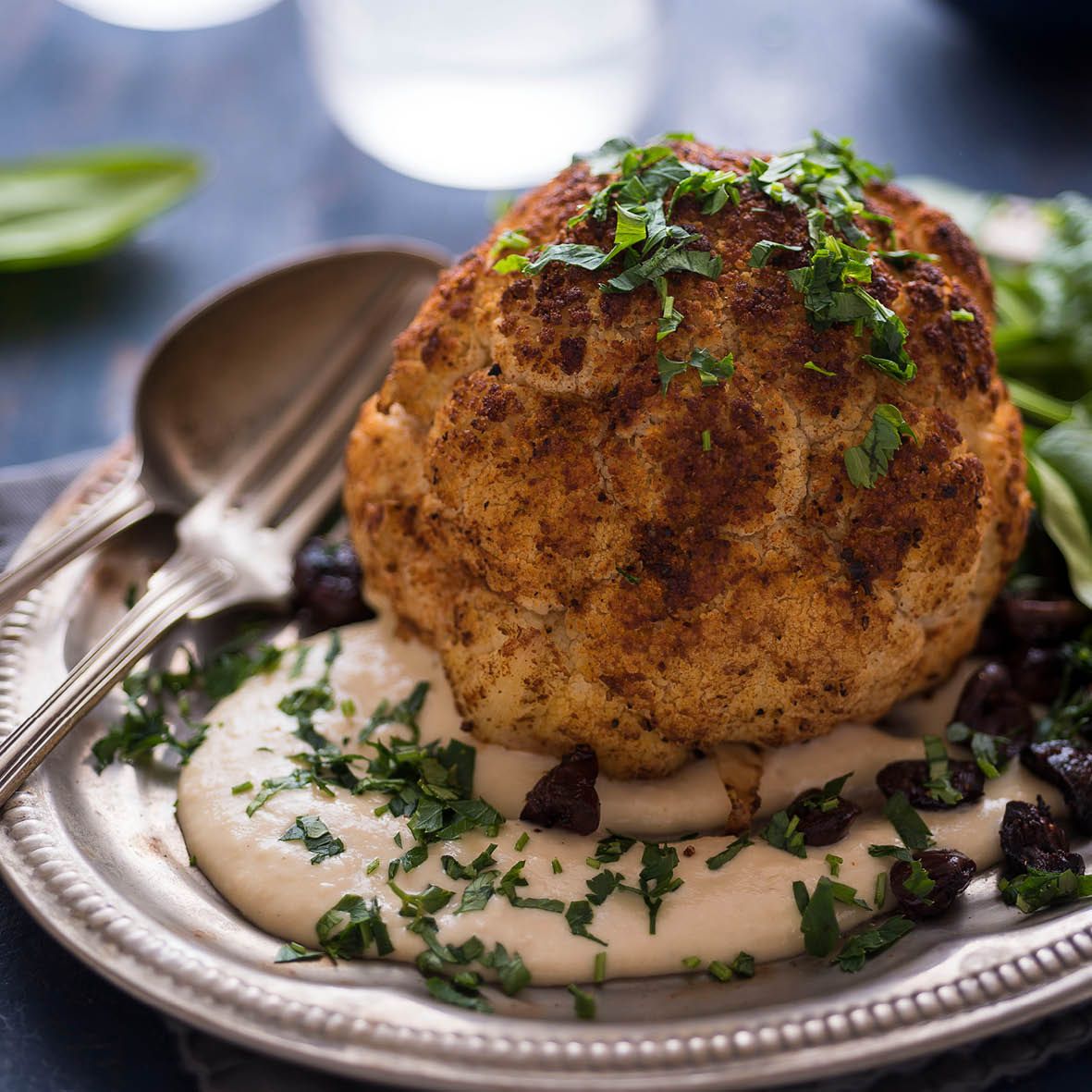 Roasted Cauliflower with Almond Miso Sauce
A flavourful almond miso sauce accompanies whole roasted cauliflower in this easy to make main course.
How long will it take?
1 ¼ hours
What's the serving size?
Serves 6
---
What do I need?
1 large whole cauliflower
2 tbsp olive oil
½ tsp salt
For the sauce
½ cup blanched almonds, lightly toasted
1 ¼ tbsp white miso paste
1 clove garlic, finely chopped
2 tbsp vegan or plant-based butter
1/3 cup olive oil
1 tsp white wine vinegar
2 spring onions (green part only), finely chopped
½ tsp chilli flakes
1/3 cup water
How do I make it?
Make the sauce by adding almonds, miso paste, garlic and butter to a food processor and pulsing a few times. Next add oil, vinegar, half the spring onion, chilli flakes and half the water. Blend until smooth, adding more water if needed. Set aside.
Place a large oven-proof dish in the bottom of the oven and fill it three-quarters full with water.
Trim the cauliflower stalk so that it will sit flat. Place the cauliflower in a roasting dish and drizzle with 1 tbsp olive oil. Rub the oil into the cauliflower and then season with salt. Place in oven and cook for 30 minutes, then drizzle with remaining olive oil and return to oven for a further 30 minutes (the cauliflower should be easily pierced with a knife if it is cooked through). Remove cauliflower and dish of water from the oven.
To serve, place sauce on a serving plate and add cauliflower. Sprinkle with remaining spring onion.
---
Share this recipe
---
More recipes like this