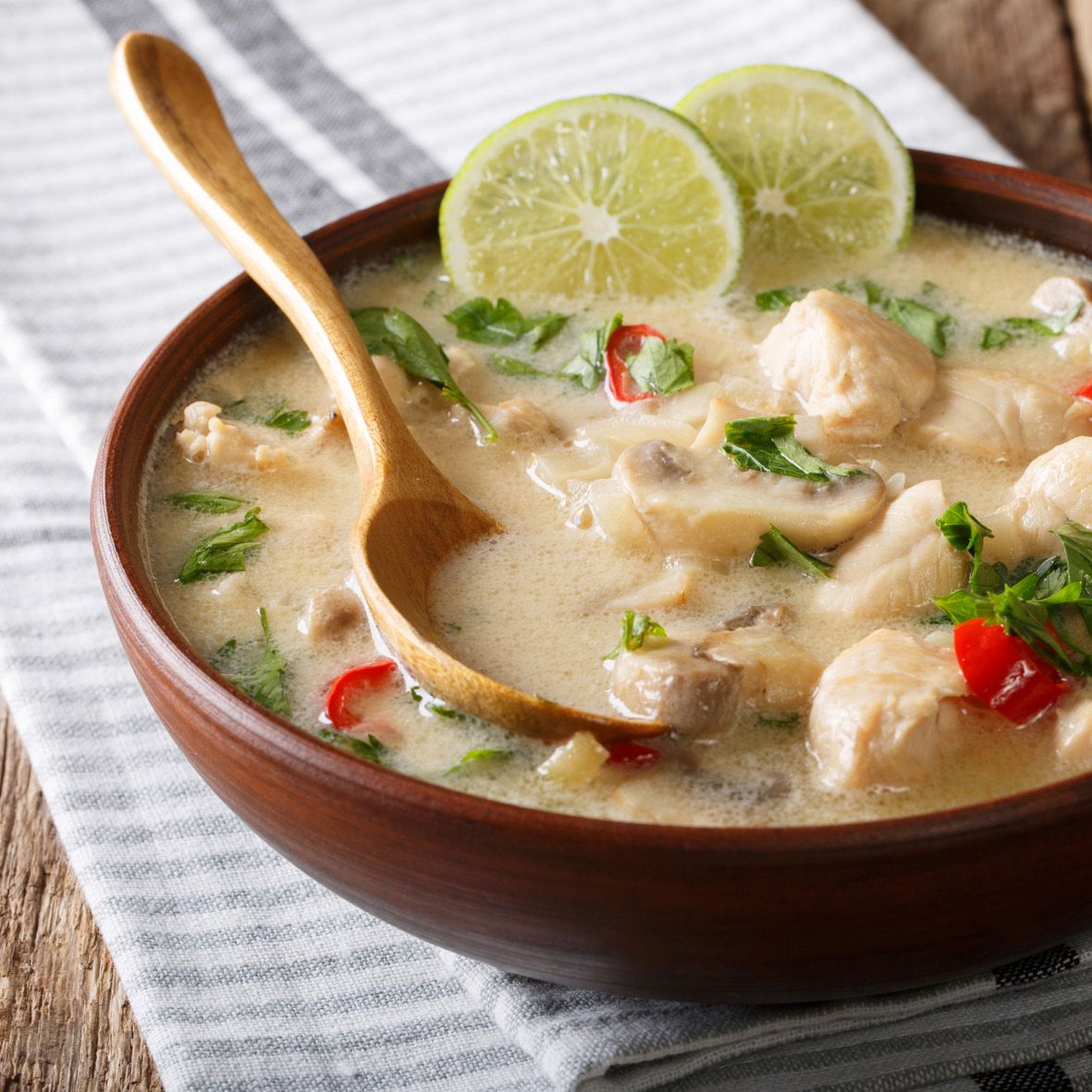 Thai chicken coconut soup
You cant go wrong with this Thai classic
How long will it take?
40 minutes
What's the serving size?
Serves 2
---
What do I need?
125g cellophane noodles
6 cups chicken stock
1–2 red Thai (or jalapeño) peppers, seeded and finely chopped (plus slices for garnish)
1 additional red Thai (or jalapeño) pepper slices for garnish
3 cloves garlic, chopped
1 tablespoon grated ginger
2 teaspoons grated lemon zest
1 teaspoon grated lime zest
1/4 cup fresh lemon (or lime) juice
4 tablespoons Thai fish sauce, divided
225g shiitake mushrooms, sliced (3 cups)
2 boneless, skinless chicken breasts (about 150g each), cut into 1cm-wide strips
1 cup light coconut milk
2 cups baby spinach
2 tablespoon chopped coriander (plus sprigs for garnish)
Coriander sprigs for garnish
How do I make it?
Place noodles in a bowl; add enough warm water to cover and let sit until soft, this will take about 15 minutes.
Once soft, drain the noodles. Combine stock, pepper, garlic, ginger, lemon zest, lime zest, lemon juice and 3 tablespoon fish sauce in a medium saucepan. Season with salt. Bring to a simmer, add noodles and cook 3 minutes more.
Using tongs, transfer noodles to a bowl and cover with foil to keep warm. Add mushrooms to stock; season with salt, if desired; simmer 3 minutes more. Add chicken and coconut milk and simmer, stirring, until chicken is just cooked, about 3 minutes.
Stir in spinach until it begins to wilt, about 1 minute. Add chopped coriander and season with remaining 1 tablespoon fish sauce.
Using tongs, divide noodles among 2 bowls. Ladle soup into bowls and garnish with sprigs of coriander and slices of pepper.
---
Share this recipe
---
More recipes like this