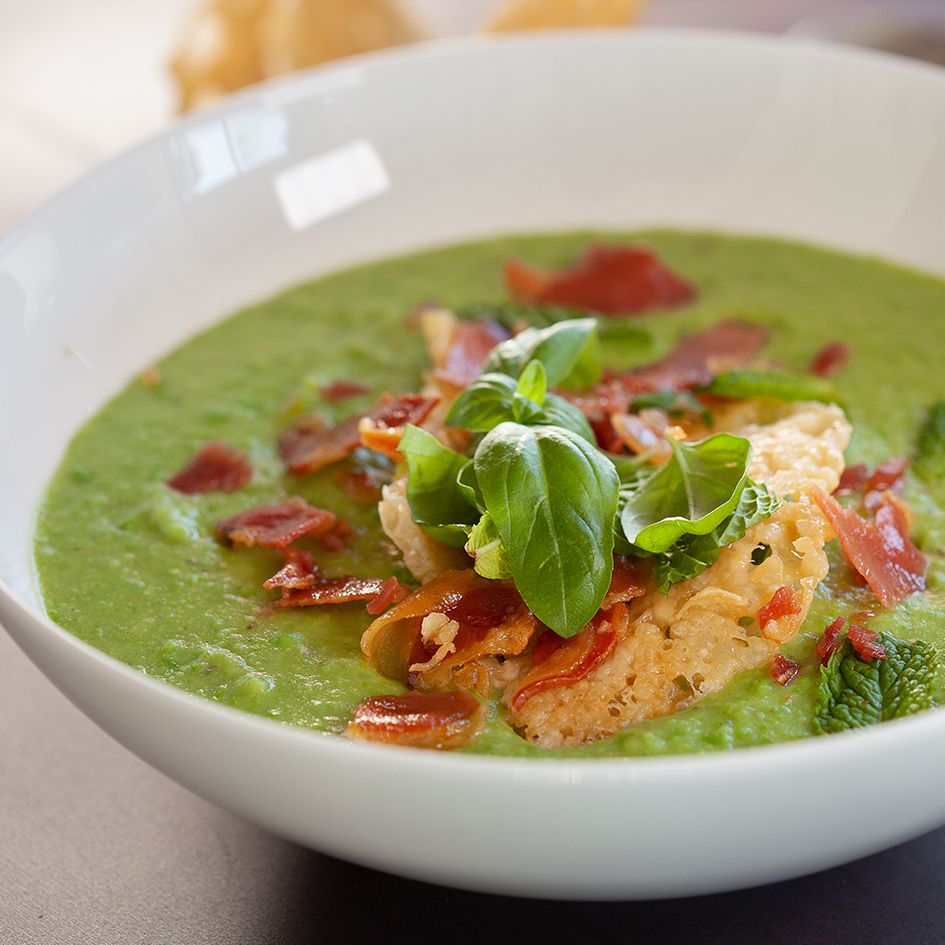 Pea Soup with Crispy Pancetta and Parmesan Tuille
Take the chill off a Tassie winter with this vibrant soup.
How long will it take?
45 minutes
What's the serving size?
Serves 4
---
What do I need?
For the Soup
2 tbsp olive oil
1 large brown onion, roughly chopped
2 cloves garlic, sliced
1 celery stick, roughly chopped
2 medium potatoes, peeled and roughly chopped
1 tbsp fresh mint leaves, chopped
1 tsp fresh thyme leaves, chopped
1 tbsp fresh basil leaves, chopped
500 g frozen peas, thawed
Salt and freshly ground black pepper
Toppings
2 cups grated parmesan
8 slices pancetta
Mint and basil leaves
How do I make it?
Preheat oven to 200C.
On a tray lined with baking paper, sprinkle grated parmesan into four rough circles about 8 centimetres wide. Cook in the oven until the cheese melts and turns golden, about 5 minutes. Remove from the oven and shape by bending the cheese over a rolling pin. Set aside to cool.
Prepare pancetta by adding slices to a lined baking tray. Cook for 15 minutes or until the pancetta is crisp. Remove from oven and set aside.
Meanwhile, heat olive oil in a medium sized saucepan. Add onion, garlic, celery, potatoes, mint, thyme and basil, and sauté for about 5 minutes. Cover with 1 litre of water and bring to a simmer. Reduce heat and gently simmer for 20 minutes or until the vegetables have all softened.
Add peas to the saucepan and bring back to the boil. Remove from heat and blend with a stick blender. Taste and season.
Add the soup to serving bowls and top with Parmesan tuille, pancetta, and herbs to garnish.
---
Share this recipe
---
More recipes like this