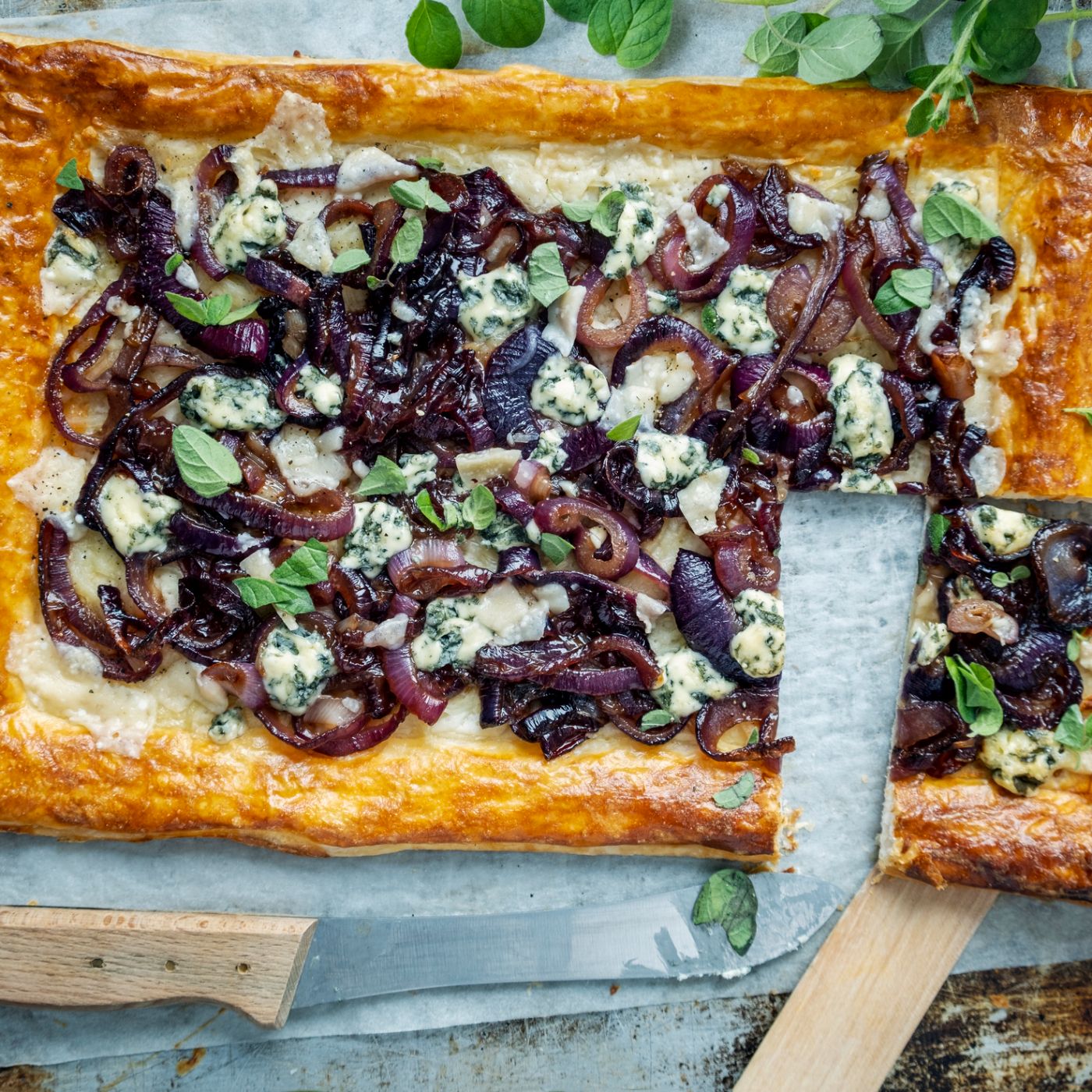 Red and Blue Tart
This tasty tart gets its name from the red onions and blue cheese that are the stars of the dish. The onions are gently caramelised so they have a lovely sweetness that is perfectly balanced by the bite of the blue cheese.
How long will it take?
45 minutes
What's the serving size?
Serves 4
---
What do I need?
2 tbsp butter
2 sprigs fresh thyme, leaves picked
1 kg red onions, thinly sliced
1 clove garlic, minced
1 tsp freshly ground black pepper
1 tsp salt
3 tsp white sugar
1 tbsp balsamic vinegar
2 sheets rolled puff pastry
1 egg, lightly beaten
150 g blue cheese
How do I make it?
Add butter to a large nonstick frying pan over medium heat. When the butter has melted, add thyme leaves, onion, and garlic and stir to combine. Add pepper, salt, sugar and balsamic vinegar and stir, then cook for 30 minutes, stirring occasionally, until the onions are soft and jammy.
Meanwhile, preheat oven to 200C.
Line a flat baking tray with baking paper and then add the pastry, slightly overlapping the two sheets in the middle of the pan so that you have enough pastry to cover the baking tray. Use your fingers to press the two edges together to join the sheets together.
Use a knife to score a rectangle about 2 centimetres from the edge, being careful not to cut through the pastry. Brush the edge with beaten egg and prick the inside of the rectangle with a fork to allow steam to escape during cooking. Bake for 15 minutes, or until golden all over. Remove from the oven and use the back of a spoon to gently push down the pastry in the inside of the rectangle.
Crumble blue cheese over the pastry, then top with onions. Return to the oven and bake for 15 minutes.
Serve warm or allow to cool on a wire rack and enjoy cold.
---
Share this recipe
---
More recipes like this