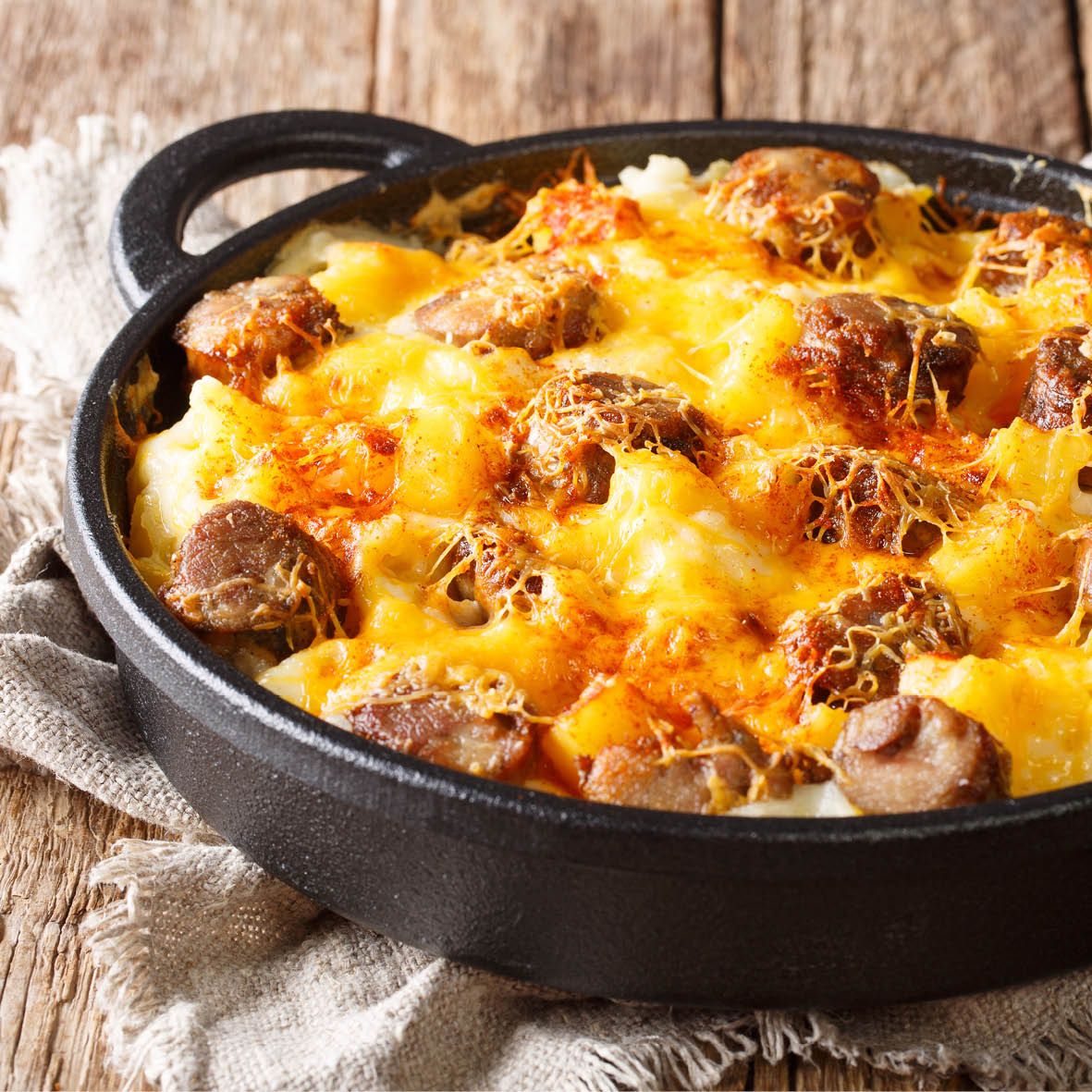 Cheesy Potato and Sausage Casserole
Feed the family with this tasty casserole. This comfort-food classic is easy to make and very versatile, you can substitute the beef and tomato sausages for any variety that you prefer and add in extra veggies such as green beans or broccoli to make it a complete meal.
How long will it take?
40 minutes
What's the serving size?
Serves 4
---
What do I need?
1 tbsp olive oil
1 medium brown onion, peeled and finely diced
1 clove garlic, minced
6 Wursthaus Beef and Tomato Sausages, chopped
1 tin red kidney beans, drained
1 red chilli, seeds removed, finely sliced
500g potatoes, peeled and cubed
3 tbsp butter, divided
2 tbsp plain flour
1 ¼ cups milk, divided
½ cup grated cheddar cheese
½ cup grated parmesan
How do I make it?
Cook potatoes in a pot of boiling water until soft. Drain and mash with 1 tablespoon of butter and ¼ cup milk. Season with salt and pepper and set aside.
In a frying pan, heat olive oil, add onion and cook over medium-high heat until the onion has softened. Add sausages, chilli and garlic and cook until the sausages have browned. Add in beans and cook for 1 minute, stirring constantly. Remove all ingredients from pan and set aside for later.
Over medium heat, add 2 tablespoons butter to the frying pan. When the butter has melted add flour and cook for a minute, stirring constantly. Slowly incorporate the remainder of the milk, whisking constantly and cook until thickened. Stir in half the grated cheese and half the parmesan cheese and set aside.
Lightly spray an oven proof dish with cooking spray. Transfer the mashed potatoes to the dish and cover with the sausage and bean mix. Pour the cheese sauce evenly over the potatoes and sausages. Sprinkle remaining cheeses on top and bake in a 180C oven for 20 minutes or until the cheese has melted and turned golden brown.
Serve with green vegetables or a garden salad.
---
Share this recipe
---
More recipes like this