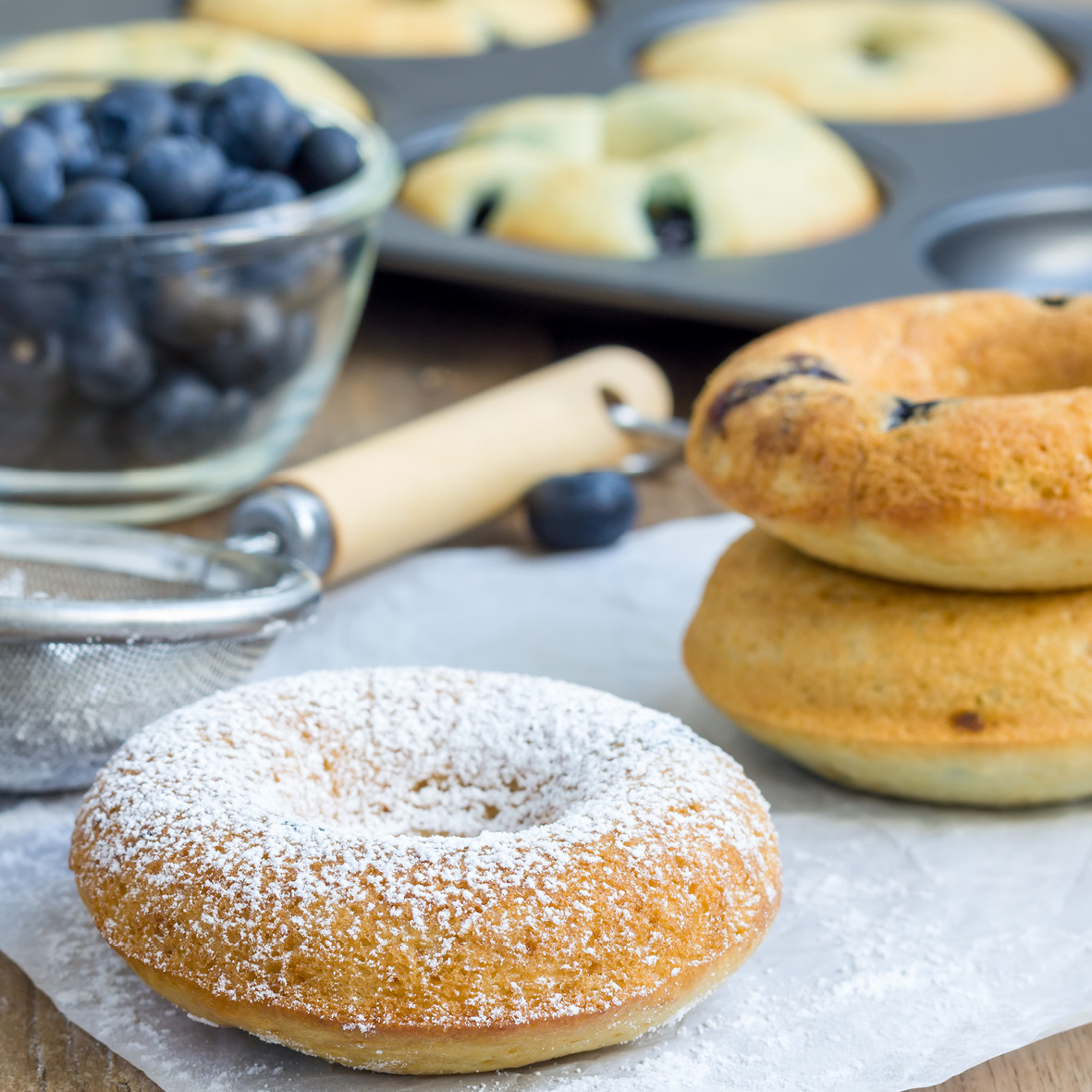 Baked Blueberry Doughnuts
Baked is better for this special treat
How long will it take?
45 minutes
What's the serving size?
Makes 20 - 24
---
What do I need?
1 ½ cups plain flour
½ cup plus 2 tablespoons caster sugar
1 teaspoon baking powder
½ teaspoon bicarbonate soda
¼ teaspoon salt
1 egg
1 cup Greek yogurt (or ¾ cup of plain yogurt)
3 tablespoons milk
3 tablespoons apple sauce
½ teaspoon vanilla extract
zest of 1 orange
1 ¼ cups fresh blueberries
Glaze (optional):
¾ cup fresh blueberries
juice of ½ an orange
2 cups icing sugar, sifted
How do I make it?
In a mixing bowl combine flour, sugar, baking powder, bicarbonate of soda, and salt. Whisk together to remove any lumps and set aside.
In another mixing bowl combine the remaining ingredients except for the blueberries and whisk together.
Stir the wet mixture into the dry mixture and stir together. Gently fold in the blueberries until just combined (batter should be thick)
Scoop mixture into a piping bag or a re-closeable plastic bag and snip the tip. Pipe mixture into prepared doughnut moulds and bake for 22-25 minutes or until slightly darker than golden brown on top and doughnuts have begun to brown on the bottoms.
Remove from oven and allow doughnuts to sit for 5 minutes. Remove from moulds and place onto a cooling rack.
For the glaze: Place blueberries into a food processor and puree until smooth. Add the orange juice and icing sugar, ½ cup at a time) until fully incorporated and no lumps remain (the glaze should be very thin).
To assemble: Fully dip each doughnut into the glaze and shake to remove any excess. Allow glazed doughnuts to sit on a cooling rack for 5-10 minutes before serving (doughnuts should still be sticky after glazed; the glaze should stay wet).
If you do not wish to glaze the doughnuts you can simply sprinkle with icing sugar.
---
Share this recipe
---
More recipes like this