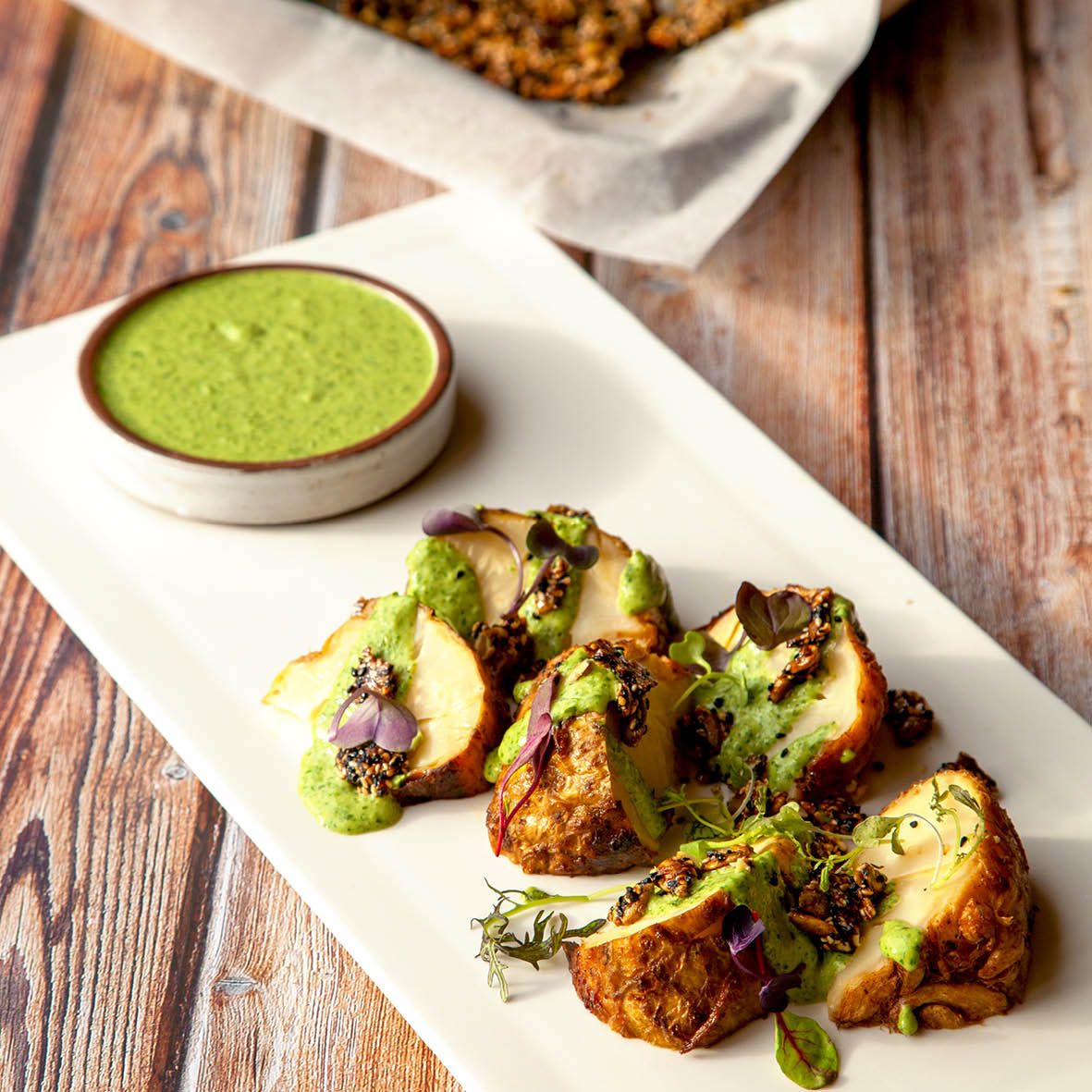 Whole roasted celeriac with green tahini sauce and spiced seeds
If you haven't already found a place in your kitchen for celeriac, now is the time. Slow cooking of the whole root marries gentle celery flavours with rich nutty butter tones. Add to that the creaminess of a herb filled tahini sauce and sweet-almost-spicy seeds. Who knew a knobbly root could taste, and look, so good.
How long will it take?
2 ½ hours
What's the serving size?
Serves 4
---
What do I need?
1 large celeriac (1.2kg), roots scrubbed clean (no need to trim or peel)
3 tbsp olive oil, plus a little extra to drizzle
6 sprigs of fresh thyme
30 g unsalted butter
Sea salt and black pepper
For the green tahini sauce
½ cup parsley leaves
½ cup basil leaves
1 garlic clove, crushed
1 tbsp honey
1/3 cup tahini
¼ cup lemon juice
¼ cup water
For the sweet spiced seeds
½ cup pepitas
2 tbsp sesame seeds
1 tbsp nigella seeds
¼ tsp cayenne pepper
1 tsp garamasala
1 tbsp honey
1 tbsp olive oil
¼ cup micro herbs
1 lemon, cut into wedges
How do I make it?
Heat the oven to 180C. Scrub the celeriac clean, using a brush to clean away any soil from the root. Place 2 sheets of foil on a tray in a cross pattern and position the celeriac in the middle, root side up. With the tip of a small, sharp knife, pierce the celeriac all over about 10 times. Rub with olive oil, sea salt and pepper and sprinkle over the thyme sprigs.
Place the butter on top of the celeriac and fold the foil over tightly to seal. Roast for around 2-2.5 hours until tender, basting twice through cooking.
Around 10 minutes before the celeriac is ready, carefully open the foil, baste and cook uncovered until golden.
Tahini sauce
In a food processor blitz the tahini ingredients and ½ teaspoon of salt until smooth. Taste for seasoning, blitz again and set aside.
Sweet spiced seeds
Combine all ingredients in a small saucepan and warm over medium heat. Cook until the seeds are lightly golden. Pour the mix onto a tray lined with baking paper and, when cool, lightly break up.
Place the celeriac on a board and carve into wedges. Drizzle with the sauce and scatter over the seeds and micro herbs. Serve with a wedge of lemon.
---
Share this recipe
---
More recipes like this