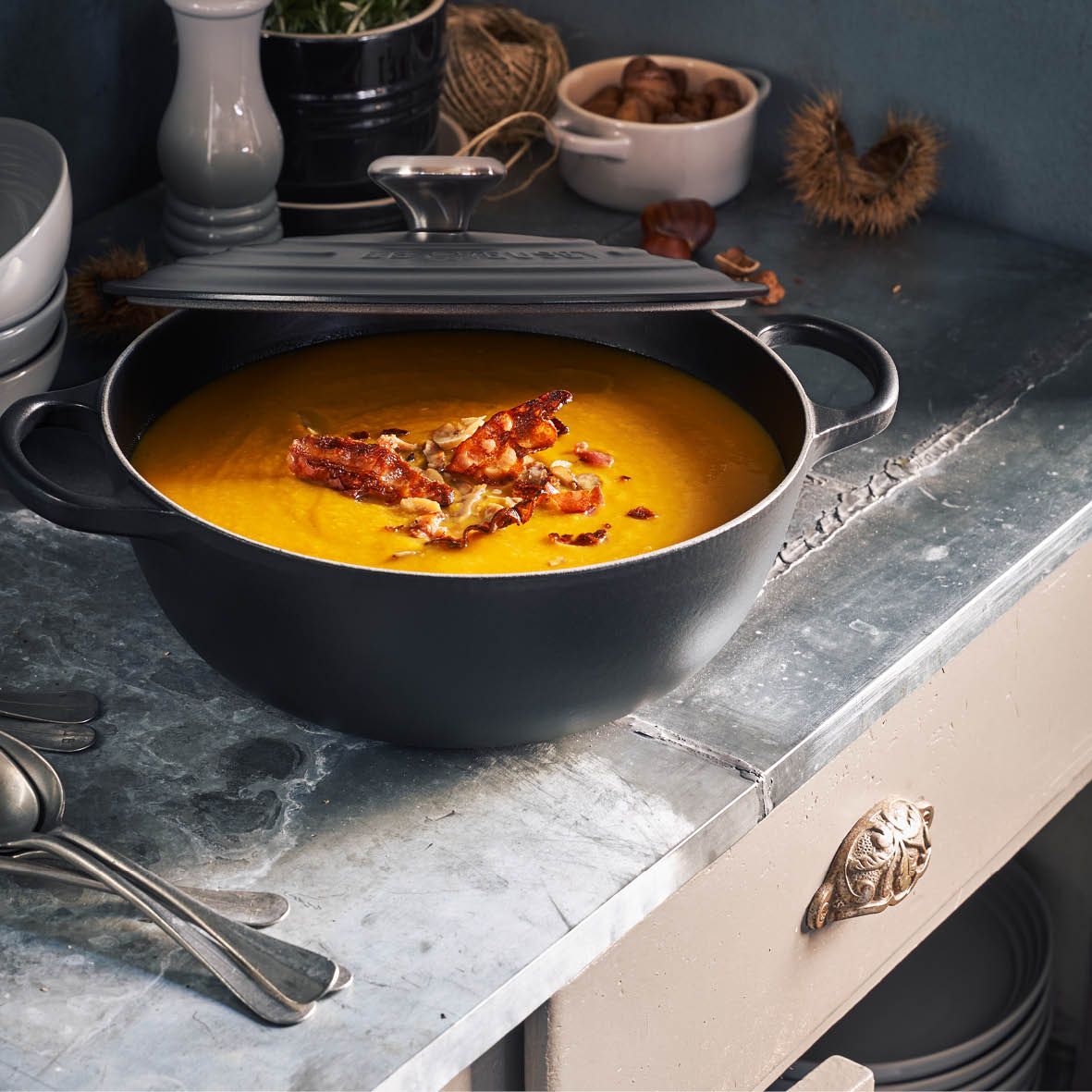 Roasted Pumpkin and Thyme Soup
Rich and creamy, this soup is a bowl full of comfort on a cold winter's day.
How long will it take?
1 ½ hours
What's the serving size?
Serves 6-8
---
What do I need?
2.25kg pumpkin
3 tbsp olive oil
70g butter
2 medium onions, chopped
Leaves from 6 sprigs of thyme, plus extra for garnish
1.75 litres light chicken or vegetable stock
300ml double or single cream
Salt and freshly ground black pepper
Le Creuset Cast Iron Signature
How do I make it?
Preheat oven to 200C.
Peel pumpkin, scoop away fibres and seeds and cut the flesh into chunky pieces. Put them in a large roasting tin with the olive oil and some seasoning and toss together well. Spread in an even layer and roast for 30 – 40 minutes until tender.
Meanwhile, melt the butter and add the onions, half the thyme leaves and some seasoning. Cover and cook gently for about 10 minutes until the onion is very soft but not browned. Add roasted pumpkin to the pan with the stock, cover and simmer gently for 20 minutes.
Leave the soup to cool slightly then blend in a food processor or liquidiser with the rest of the thyme leaves, until smooth.Return the pot to a medium-low heat and bring back to a gentle simmer. Stir in 200ml of the cream and adjust the seasoning to taste.
Ladle the soup into warmed bowls and swirl in the remaining cream. Scatter with the extra thyme leaves and serve.
Recipe courtesy of Le Creuset
---
Share this recipe
---
More recipes like this