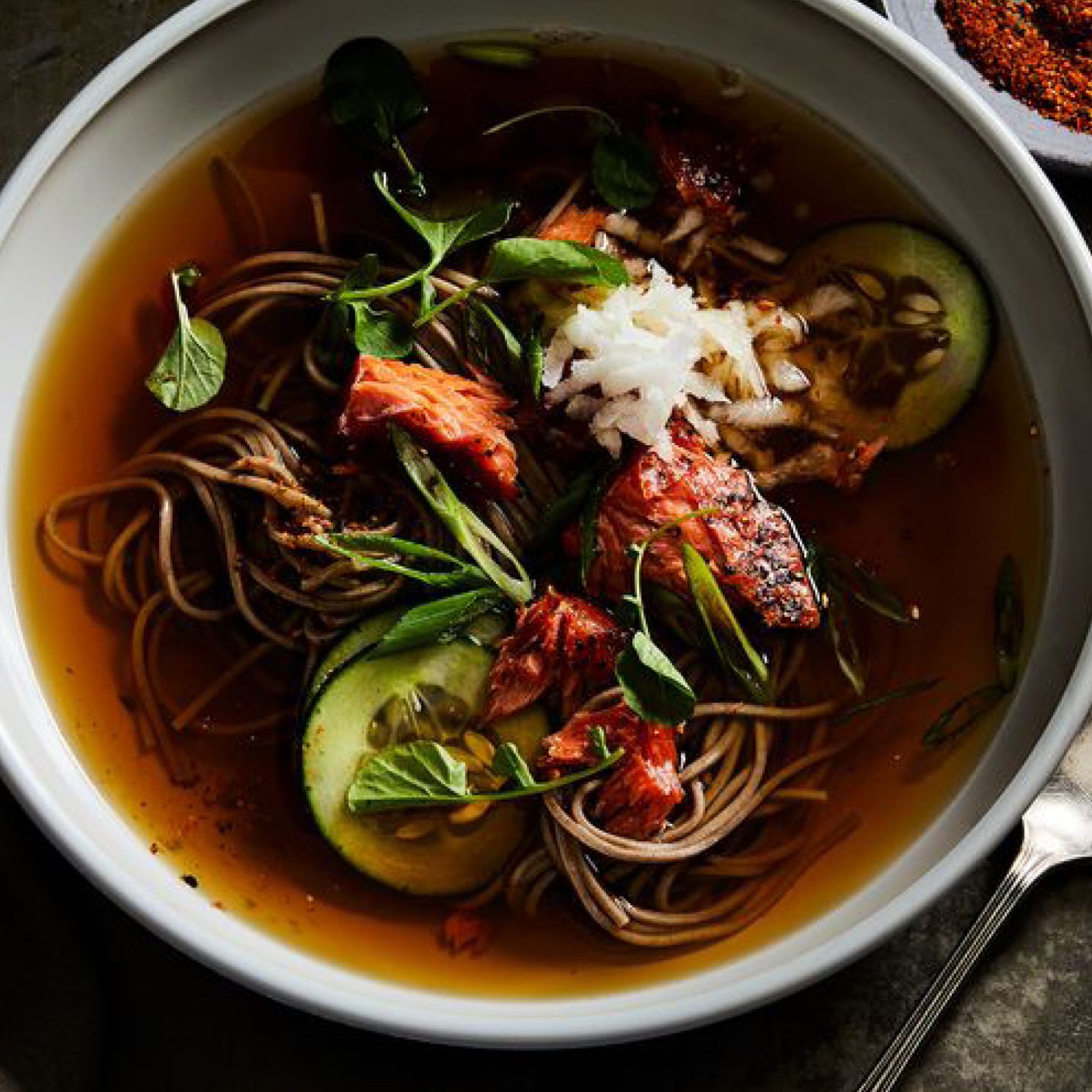 Hot Soba Noodle Soup with Salmon, Cucumber and Togarashi
This soba noodle soup features traditional Japanese flavours that combine to produce a delightful dish. The flavourful Japanese broth, dashi forms the basis of this dish. You can make a big batch of dashi and freeze some for miso soup. Dashi will keep in the fridge for a few days or in the freezer indefinitely.
How long will it take?
45 minutes
What's the serving size?
Serves 4
---
What do I need?
2 litres cold water, plus up to ¾ cup additional
50g dried kombu or other dried kelp
50g bonito flakes
2 tsp sea salt
1 tbsp sugar
4-6 tbsp soy sauce
2 tbsp mirin
500g dried soba noodles
4 spring onions, thinly sliced, white and light green parts only
1 bunch watercress, trimmed
½ cucumber, thinly sliced
4 tbsp grated daikon
400g salmon, cut into bite-sized pieces
Togarashi to garnish
How do I make it?
Begin by making a dashi – rinse kombu under cold water and place it in a medium saucepan with 2 litres of cold water. Heat over medium-high heat until tiny bubbles form at the edges, about 12 to 14 minutes. Don't let the water come to a full boil. Remove kombu from water with tongs. Add ½ cup cold water and bonito flakes. Bring just to a boil, about 2 minutes, then remove from the heat and cover. Set aside for 10 minutes and then strain through a fine mesh sieve or cheesecloth into another pot. Do not press the bonito flakes.
To make the noodle broth add dashi, salt, soy sauce, sugar, mirin plus ½ cup additional water to a large pot over medium-high heat and bring to the boil. Remove from heat.
To make noodles – boil noodles according to packet directions. Drain and rinse well under cold water. Shake to remove excess water.
To cook salmon – line a baking tray with baking paper and cook in a preheated 180C oven for 5 minutes. Remove and set aside.
Divide noodles among four bowls. Add salmon and pour over broth. Top each bowl with vegetables, and togarashi.
Recipe from Food52
---
Share this recipe
---
More recipes like this