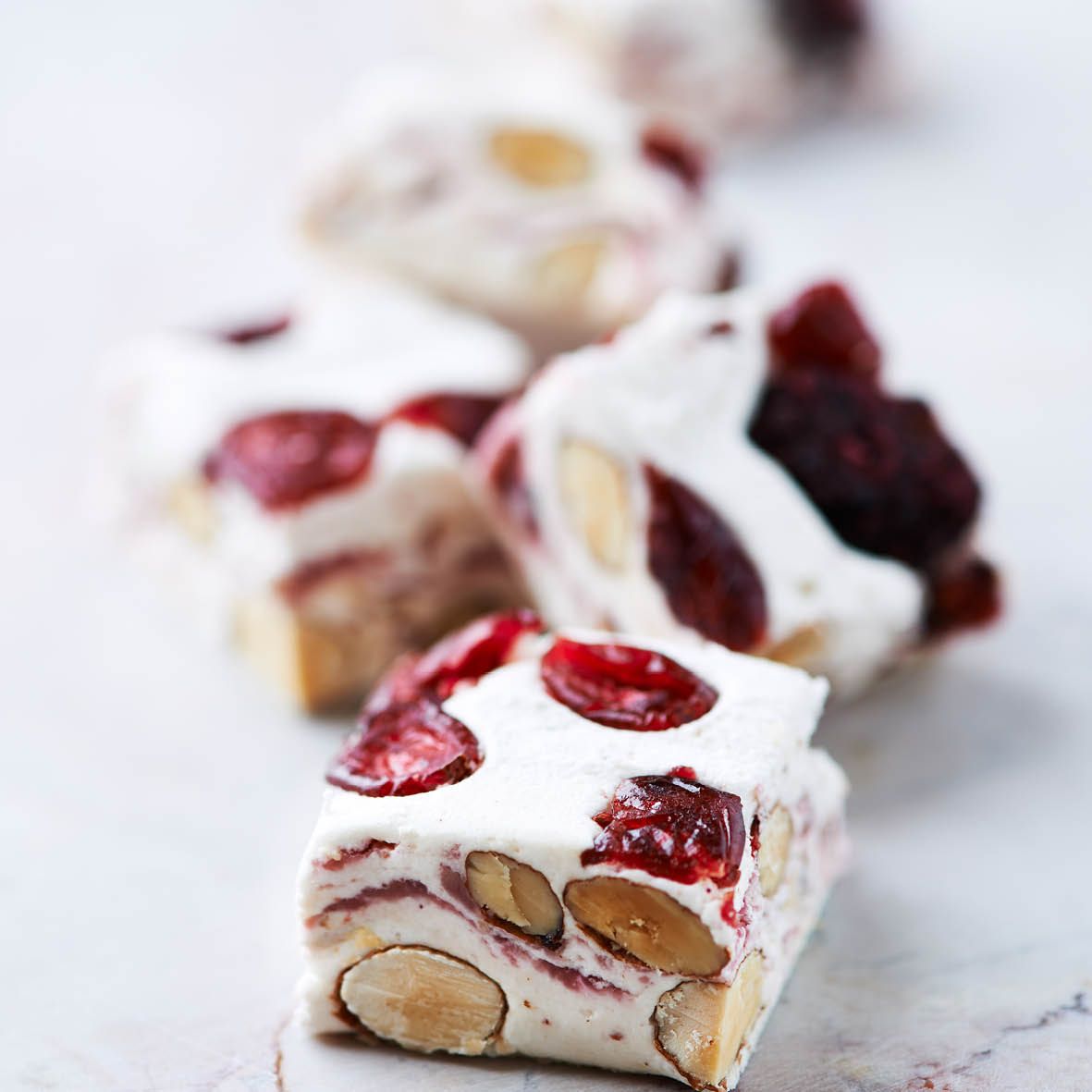 Cranberry and Nut Vegan Nougat
A Christmas favourite, nougat is a delicious treat whether for yourself or packaged up to gift to friends and family.
How long will it take?
Takes 45 minutes plus cooling time
What's the serving size?
Makes approx. 12 pieces
---
What do I need?
400 g nuts of your choice, roasted
4 sheets edible rice paper
2 cups liquid glucose
1 cup water
3 cups caster sugar
150 mL aquafaba
½ tsp cream of tartar
250 g dried cranberries
How do I make it?
Preheat oven to 100C.
Place nuts on a baking tray lined with baking paper and keep warm until ready to use.
Line base and sides of a 18 x 28 centimetre slab tray with baking paper.
Cut 2 sheets of rice paper to line base of tray. Place rice paper with rough side up.
Place glucose, water, and sugar in a saucepan and stir over a low heat until the sugar has dissolved.
Brush down sides of pan using a pastry brush and water.
Increase heat to medium and use a sugar thermometer cook to a temperature of 130C. Do not stir.
Using an electric mixer beat aquafaba and cream of tartar until soft peaks form.
Once mixture has reached 130C remove from heat and allow bubbles to subside.
Continue to beat aquafaba at low speed and slowly drizzle the hot mixture into beaten aquafaba.
Once all mixture has been added continue on a low/medium speed for 3 minutes.
Using a metal spoon, stir in warm nuts and cranberries.
Quickly pour the nougat into the prepared pan and use a spatula to spread it evenly and smooth the surface.
Cover with remaining sheets of rice paper rough side down. Leave to cool for about 6 hours at room temperature.
Lift nougat from the pan and place on a cutting board. Remove baking paper but not rice paper. Use a serrated knife to cut the nougat into pieces. Store in an airtight container with baking paper separating layers for up to 2 weeks. It can be kept in the fridge for up to 3 weeks but bring it to room temperature before serving.
---
Share this recipe
---
More recipes like this